15 amazing things to do in Nevis
The Caribbean island of Nevis may be only 7 miles wide but it packs in a surprising amount of interest for its size. Just a short ferry ride from neighbouring St Kitts, there are gorgeous beaches, hiking trails, historic sugar plantations and heritage sites. Nevis has a laid back charm that takes you back in time for an authentic Caribbean experience. Read on for 15 fun things to do in Nevis, that we enjoyed when we stayed there.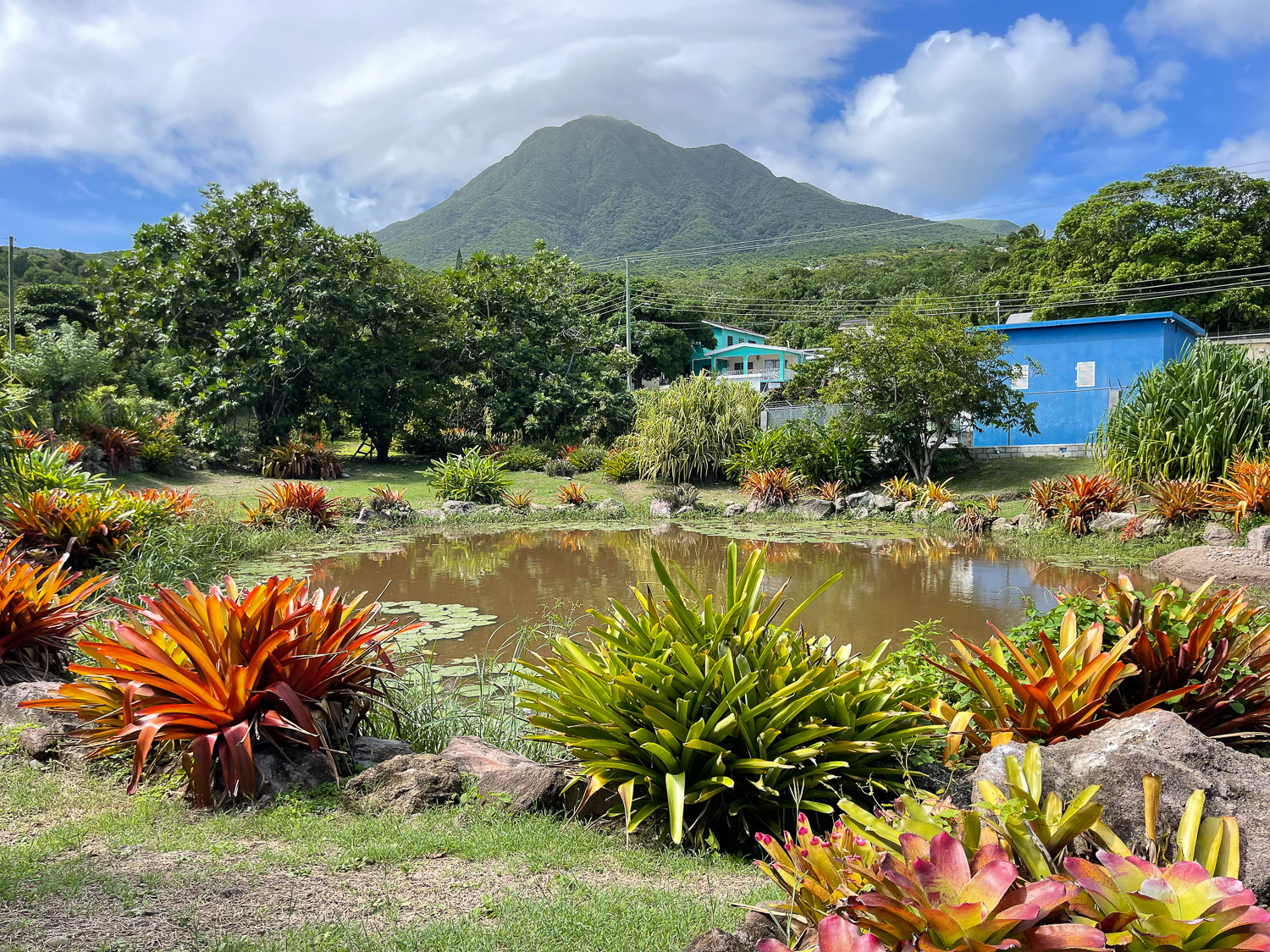 This article may contain affiliate links that provide commission on purchases you make at no extra cost to you. As an Amazon Associate I earn from qualifying purchases.
1. Visit Charlestown, Nevis
The island capital of Charlestown is a charming first stop on your visit to Nevis. Public ferries run regularly throughout the day from St Kitts to Nevis, arriving at the ferry port in the centre of Charlestown. Outside the port it's easy to find a taxi, if you want a tour of Nevis.
But before you head off, be sure to wander around and enjoy Charlestown's stone buildings along Main street. With their traditional wooden upper floors and balconies, many date back to the 18th and 19th centuries.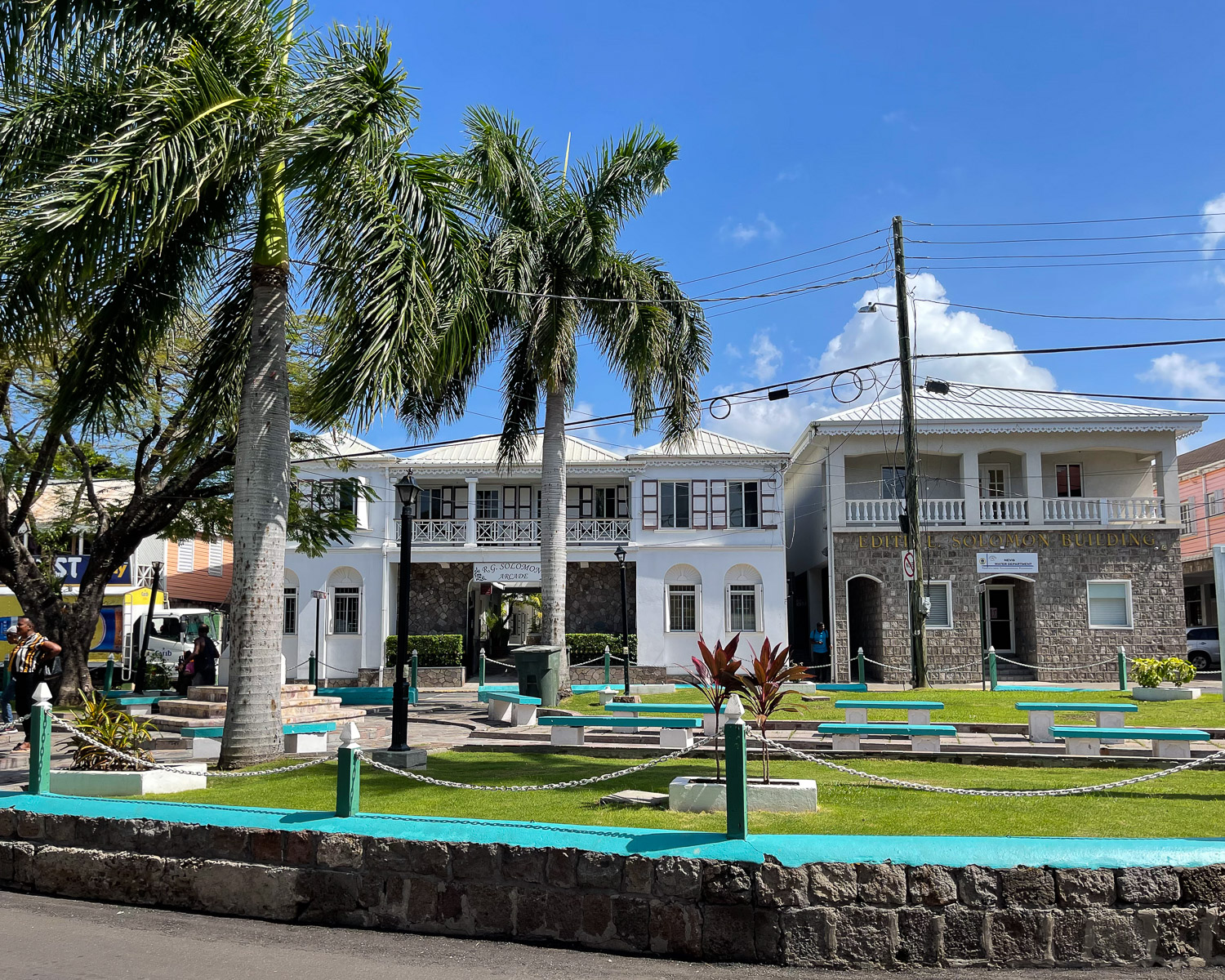 The town was the main port of Nevis from the 1660s and was named in honour of King Charles II in 1671. During the height of the sugar plantations on Nevis, this was the place where enslaved Africans were bought and sold in the slave market.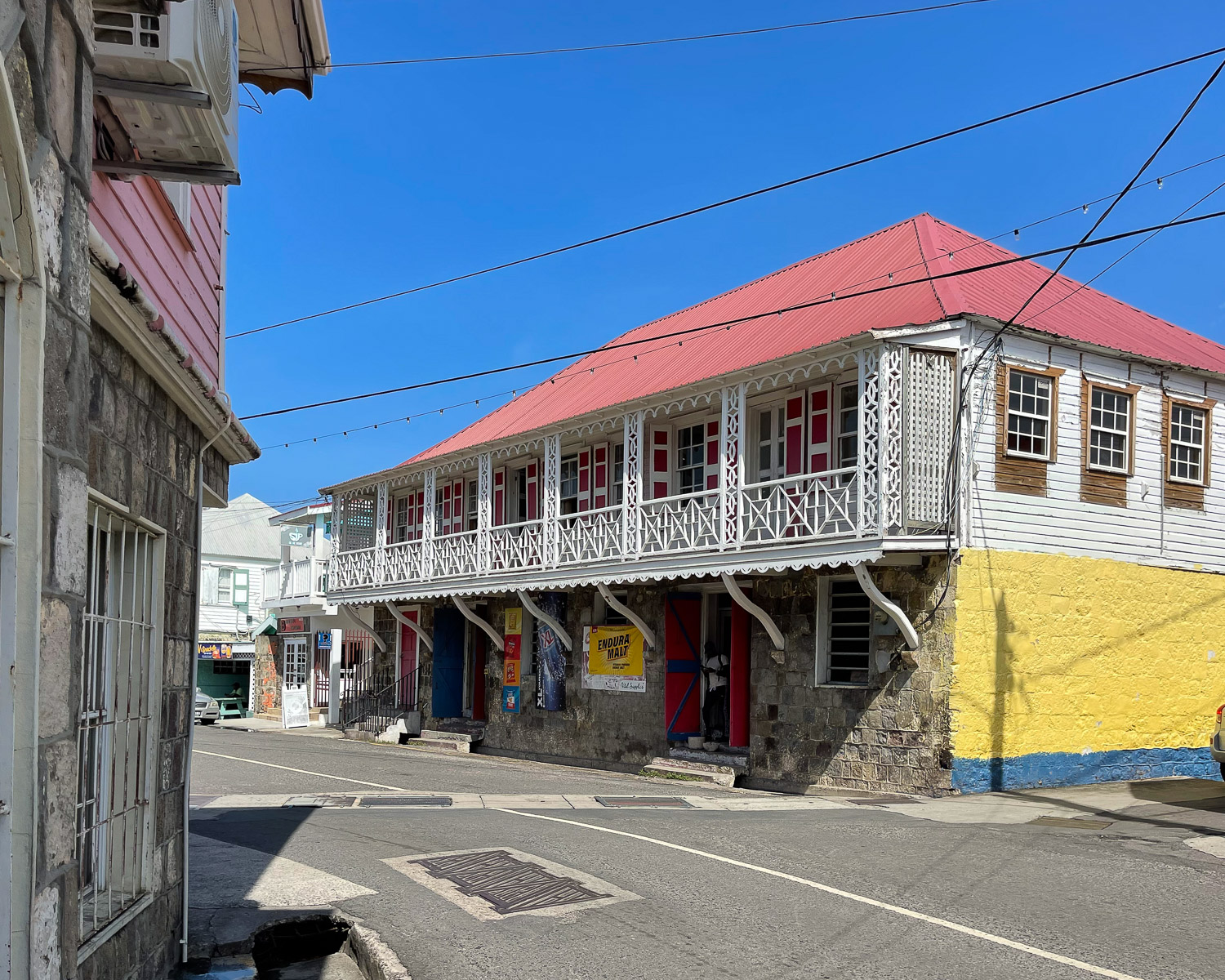 The two small squares of Delisle Walwyn Plaza and Memorial Square offer shady benches for locals to chat while waiting for a bus. You'll also find the tourism authority office on Main Street next to the Post Office, to pick up leaflets or information about Nevis.
More things to do in Charlestown
Other things to do in Charlestown Nevis include
Visit the Public Market behind the port to buy fresh fruit or local juices.
Walk along the seafront to the Museum of Nevis History, admiring the canons facing out to sea.
Follow the Nevis Heritage Trail, with leaflets available at the Museum of Nevis History and Tourism Authority, or photograph the map in the museum. The trail makes an interesting self guided walk to see the main buildings of interest marked with blue information signs. There's also a town map of Historic Charlestown near the port exit.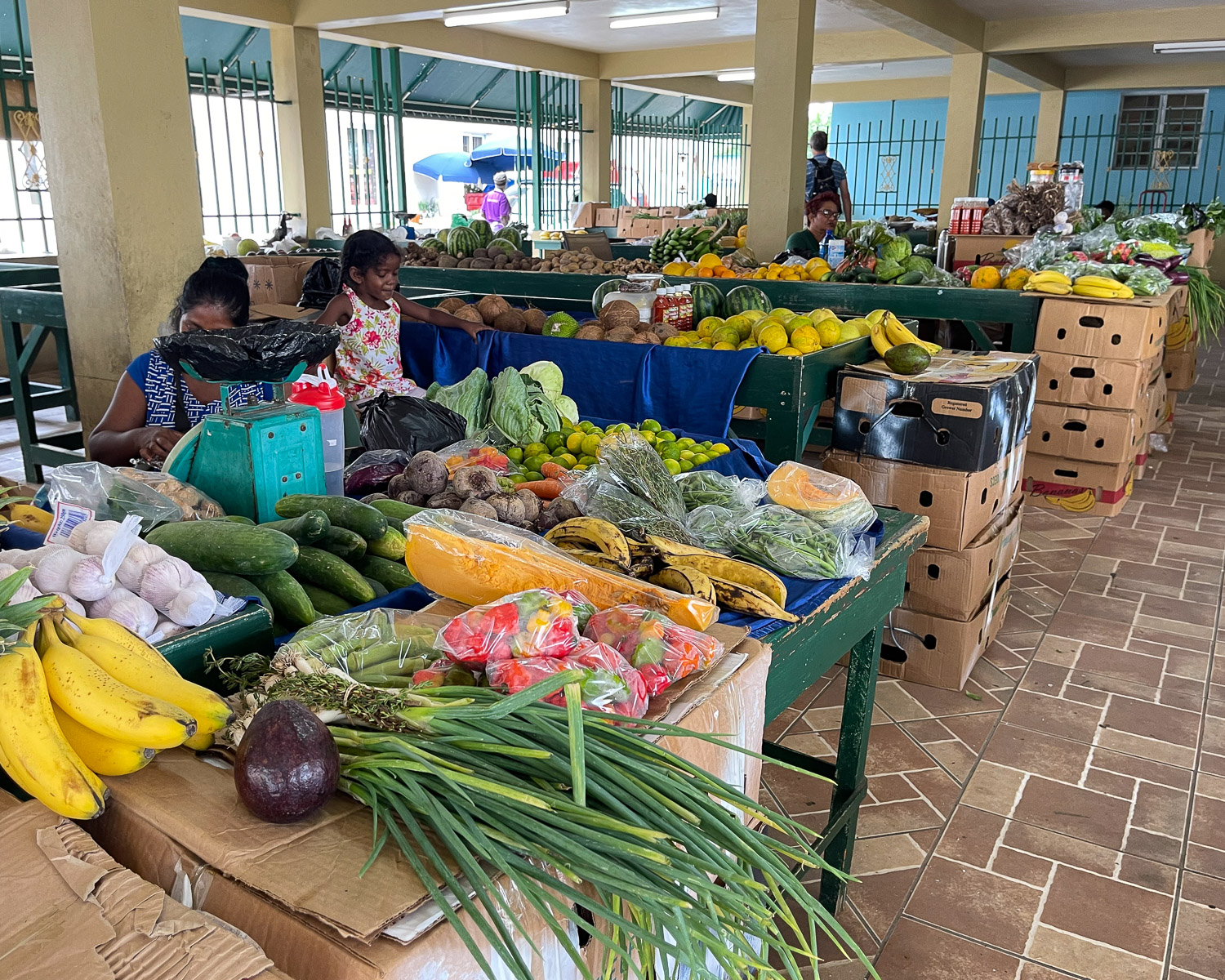 For a quick snack, visit the Jamaican Bakery in the parking area by the port, or other small cafes around town. L&L Rum shop on Prince William Street stocks a wide range of Caribbean rums. The Charlestown Art Gallery has a selection of artworks and locally made souvenirs. For a relaxing bite to eat, walk down to Cafe des Artes in the garden of Nevis History Museum.
If you don't mind a bit of a walk, you can also reach the Nevis Artisan Village in one direction or the Nevis Hot Springs in the other. Close to the hot springs are the ruins of Fort Charles, overlooking Gallows Bay.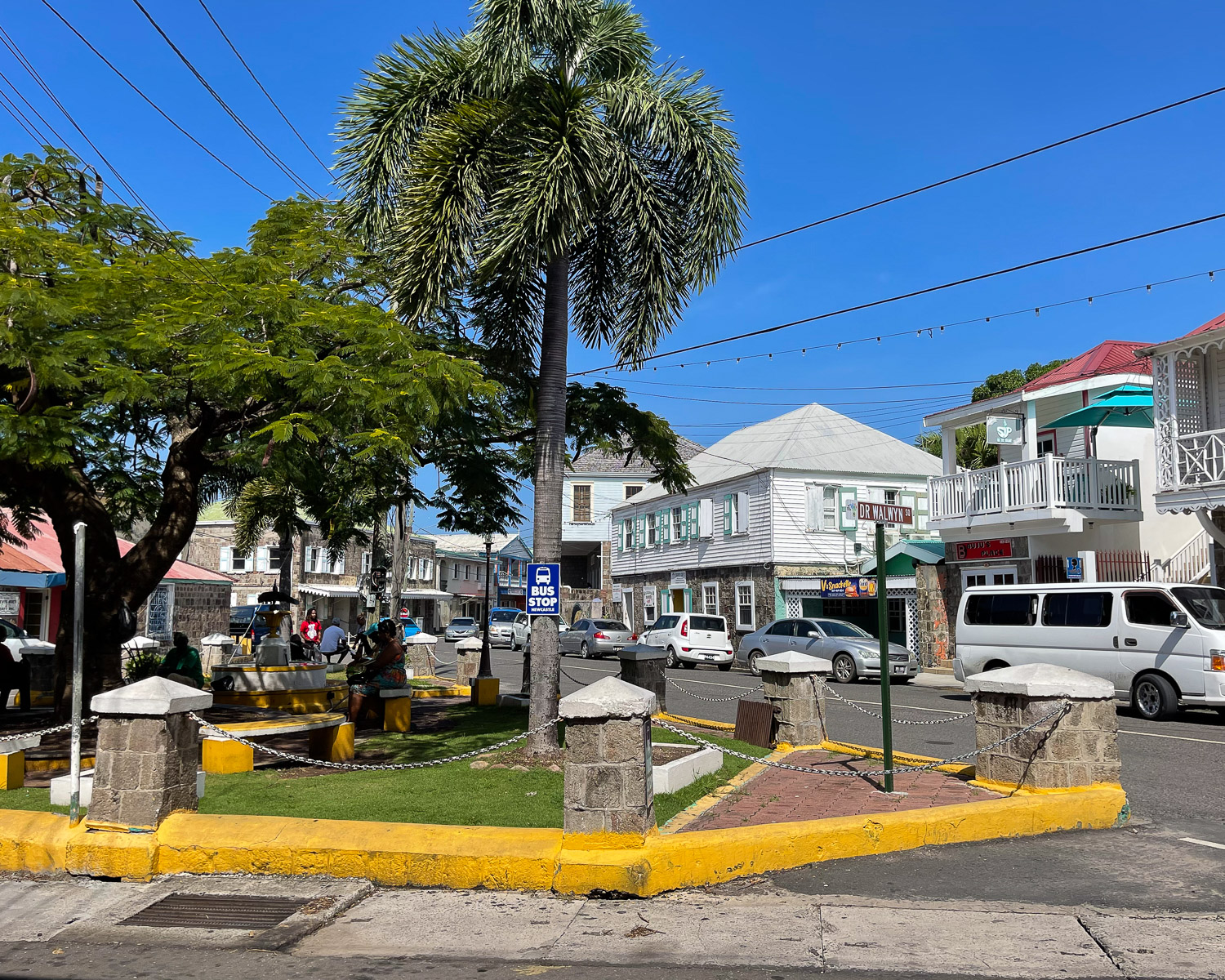 2. Museum of Nevis History and the Alexander Hamilton House
The Museum of Nevis History is one of the top places to visit in Nevis, offering insights into life on Nevis over the centuries. It's run by the Nevis Historical and Conservation Society, who have done a great job creating the Nevis Heritage Trail. You'll spot their blue information signs at places of historical importance around Nevis.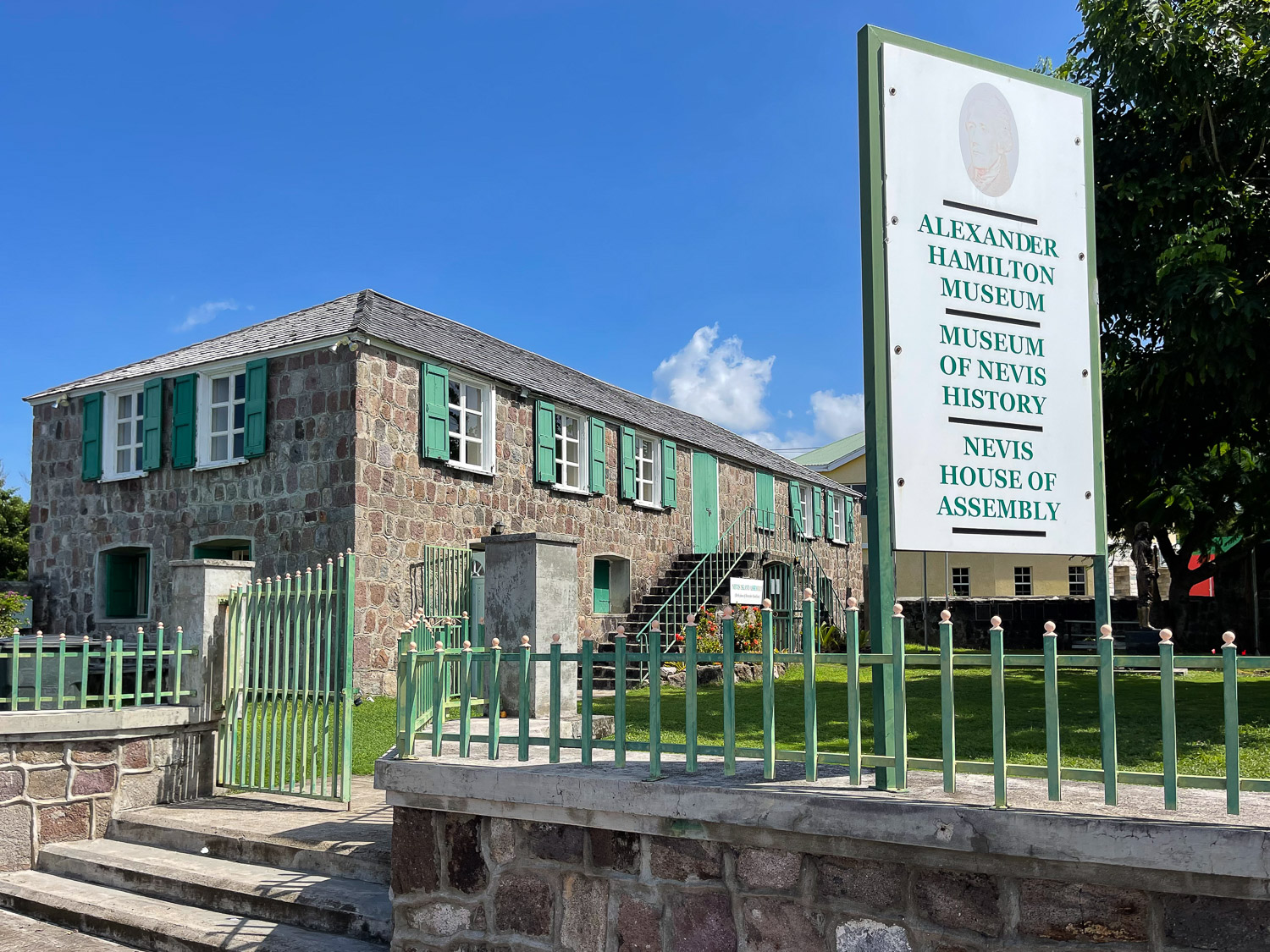 This is a small museum, with just a few historical artefacts, but the information is interesting and well presented. We learned how the first settlers grew ginger, indigo and tobacco as commercial crops, with sugar cane being introduced from the 1640s.
A history of sugar in Nevis
By 1700, sugar became the most important crop, with up to 90 estates and plantations driving incredible wealth for Nevis. This of course was achieved on the back of enormous numbers of enslaved men, women and children who were brought from Africa to work the plantations and sugar factories.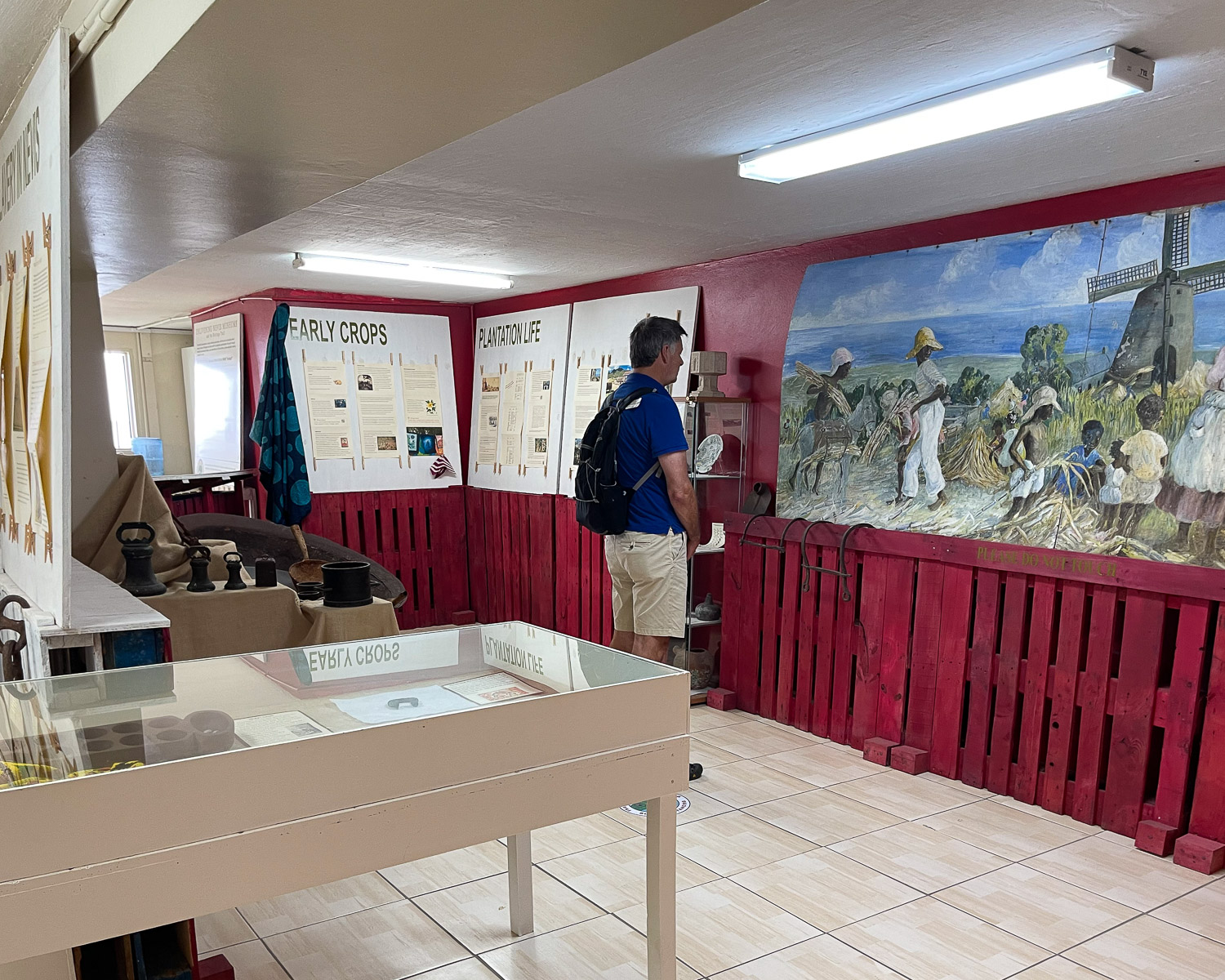 By the 1840s the soil of Nevis was exhausted, sugar prices had dropped and slavery outlawed, so the sugar plantations fell into decline. Up until the 1960s, some farmers moved to growing "Sea Island" cotton, which is still used by Caribelle Batik in St Kitts.
The museum also has interesting information on the transatlantic slave trade, the culture of African society, as well as the original Amerindian inhabitants of Nevis.
If you are interested in the history of Nevis, this half day island tour from St Kitts, includes a stop at the Museum of Nevis History.
Alexander Hamilton House Nevis
Within the same site as the museum is the Alexander Hamilton House, where Alexander Hamilton is thought to have been born in 1757 and where the family lived. Disadvantaged by the fact that his parents were not married and orphaned at an early age, Hamilton was sponsored by benefactors to go to New York to complete his education.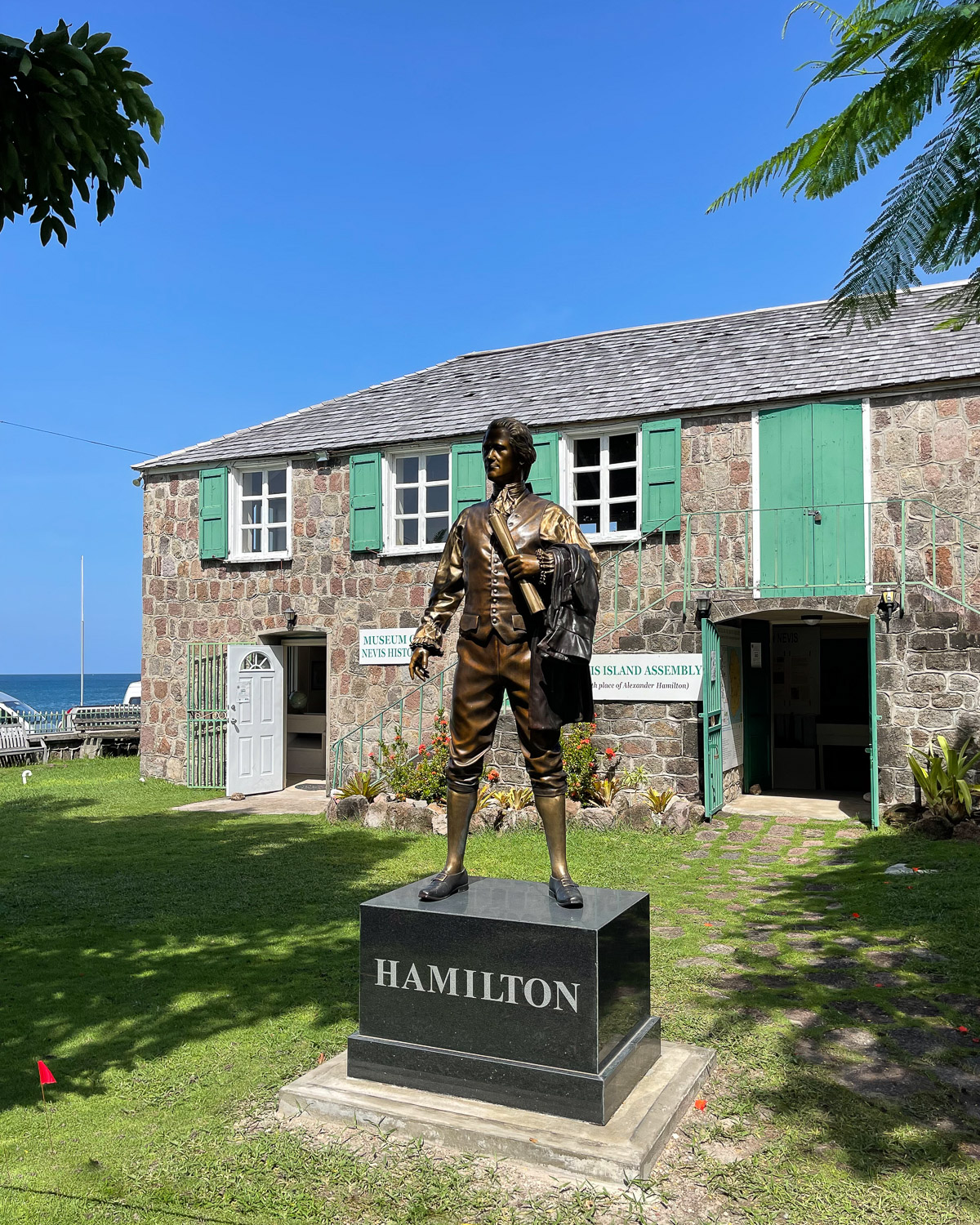 An ambitious young man, he followed a military career during the American Revolutionary wars, became an aide to George Washington and later a lawyer. He went on to become one of the Founding Fathers of American independence, serving as the first Secretary of the Treasury.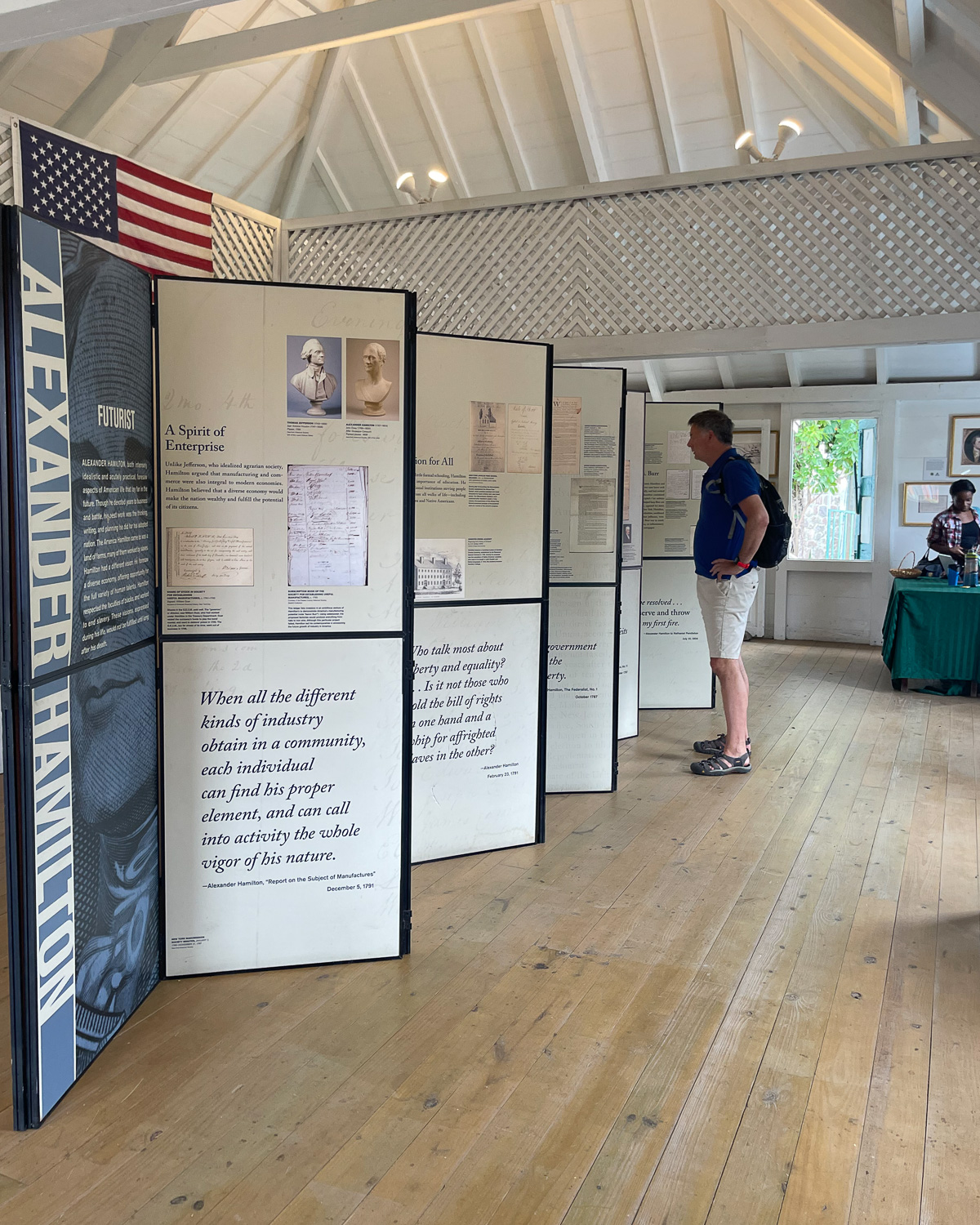 It was fascinating to visit the Alexander Hamilton birthplace to read about Hamilton's life and work, including his opposition to slavery. His life was tragically cut short in a duel with a political rival in his late 40s.
3. Nevis Botanical Gardens
The Nevis Botanical Gardens are one of the top Nevis attractions, just a short drive or taxi ride from Charlestown. Set on the foothills of Nevis Peak, the botanical gardens were originally part of the Montpelier Estate, though now privately owned.
These gorgeous gardens include a water lily pond, fruit tree orchard, cascades, fountains and formal garden terraces. In the rainforest conservatory, listen out for the parrots who will startle you with a cheery greeting. The gardens are also ornamented with numerous Asian stone carved sculptures which give an unusual flavour to the garden.
Explore the top 10 things to do in St Kitts
Within the garden, the Great House is now used as a restaurant on the upper floor and a gift shop on the ground floor. Neither were open at the time of our visit, but I imagine that they normally open in high season or when group visits are booked in.
If you are interested in the history of Nevis, you can take this half day island tour from St Kitts, that includes a stop at the Botanical Garden.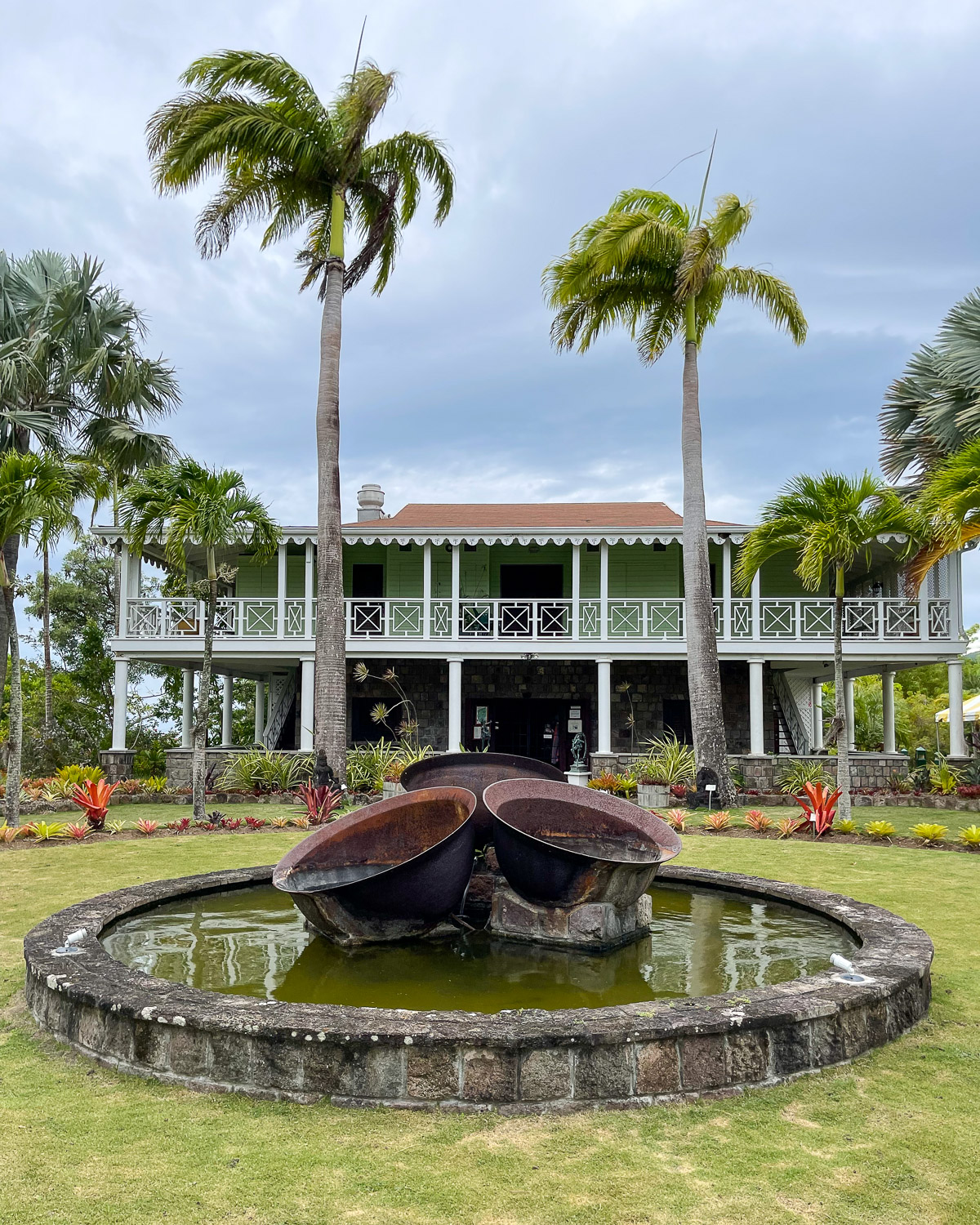 We very much enjoyed our visit to the Nevis Botanical Gardens which are a cool and restful place to spend and hour or two.
After your visit to the Botanical Garden
After your visit, stroll up the lane to pass Montpelier House where Horatio Nelson and Fanny Nisbet were married under a silk cotton tree in 1787.
A little further is Montpelier Plantation and Beach where you can take a look around the hotel grounds with buildings from an old sugar plantation and factory. If the botanical garden's restaurant is closed, we recommend lunch at Indigo poolside restaurant, in the Montpelier Plantation and Beach hotel.
4. Hiking in Nevis – Nevis Peak hike and more
For a small island, Nevis offers a surprising number of hiking trails. Some are relatively easy to find and to hike on your own. Others like the most demanding Nevis Peak Hike, will require a guide. This muddy, 4-5 hour hike takes you over 3000 ft above sea level.
The top of the eroded volcanic cone at the centre of Nevis is often shrouded in cloud. It was this that gave Nevis its name after Christopher Columbus wrote about "Las Nieves" or "the snows" he saw on Nevis Peak. You can expect great views on the way up, but these may be obscured by cloud once you reach the top.
The route is steep on the higher slopes, requiring you to scramble in places, pulling yourself up on ropes. It's best attempted when the ground is dry, as otherwise the trail is extremely slippery and muddy. Hiking boots and gloves to protect your hands are recommended. Unless you are with a local, a guide is required due to the strenuous nature of the unmarked trail.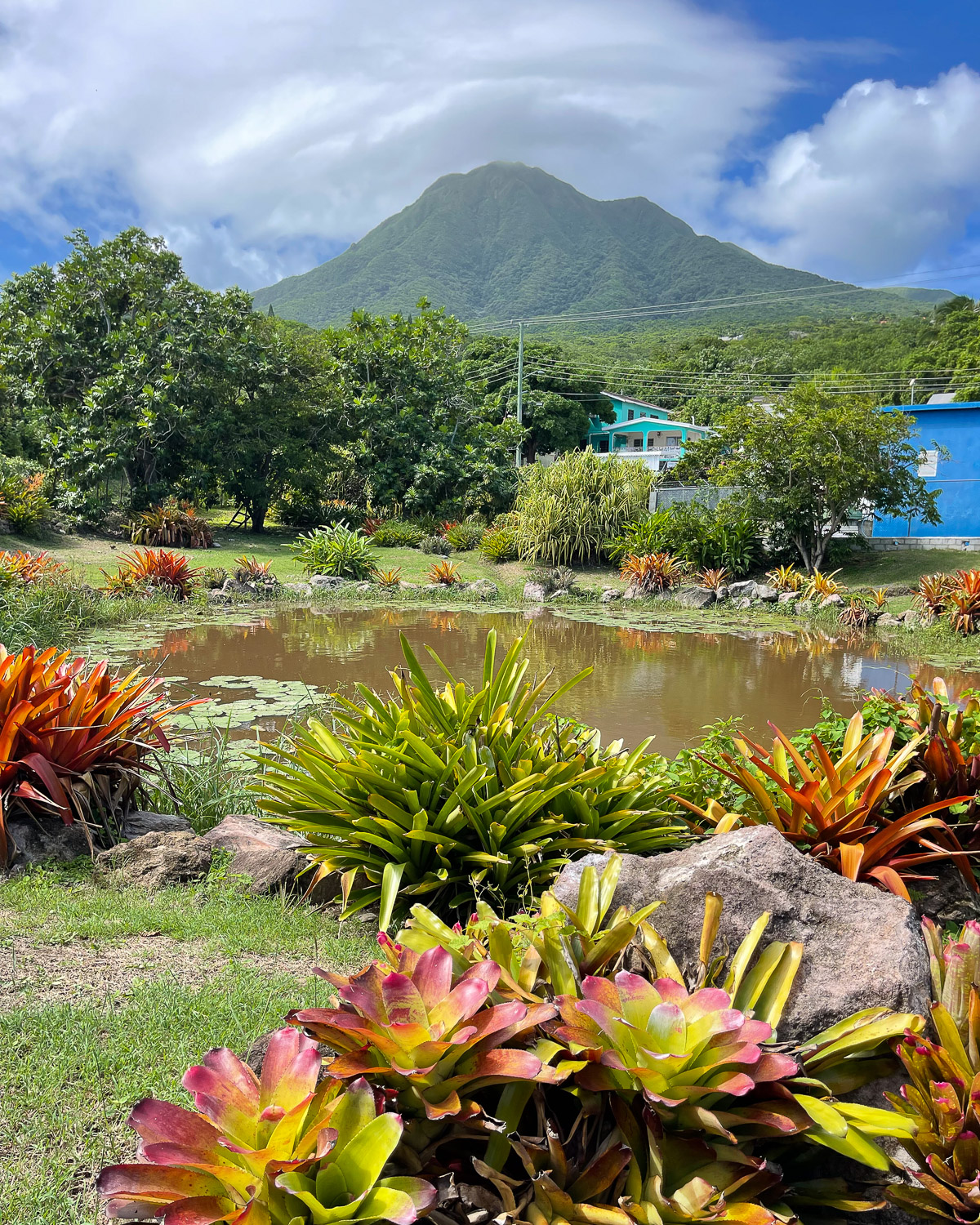 Saddle Hill Fortress Walk in Nevis
One easy walk that we tried from our hotel at Montpelier Plantation and Beach was up Saddle Hill where there's a fortress built in the 1740s. The fortress was constructed by the English to give early warning of any attacks from the sea, and the stone buttress wall still remains. We easily located the start of the trail marked with one of the blue information signs of the Nevis Heritage Trail.
From here it was an easy walk up the stone path that leads to the telecommunications mast at the top. We had great views from here, but unfortunately could not find the path to Nelson's Lookout, a viewpoint to one side of the saddle, which seemed to be overgrown. Around halfway up is a memorial known as Philippa's Grave, about a young woman who emigrated to Nevis in the 1630s, as written about in The Rivers of Time by June Goodfield.
If you call in at Montpelier Plantation and Beach reception, they may be able to give you the map that we used, with some of the notable features of the walk.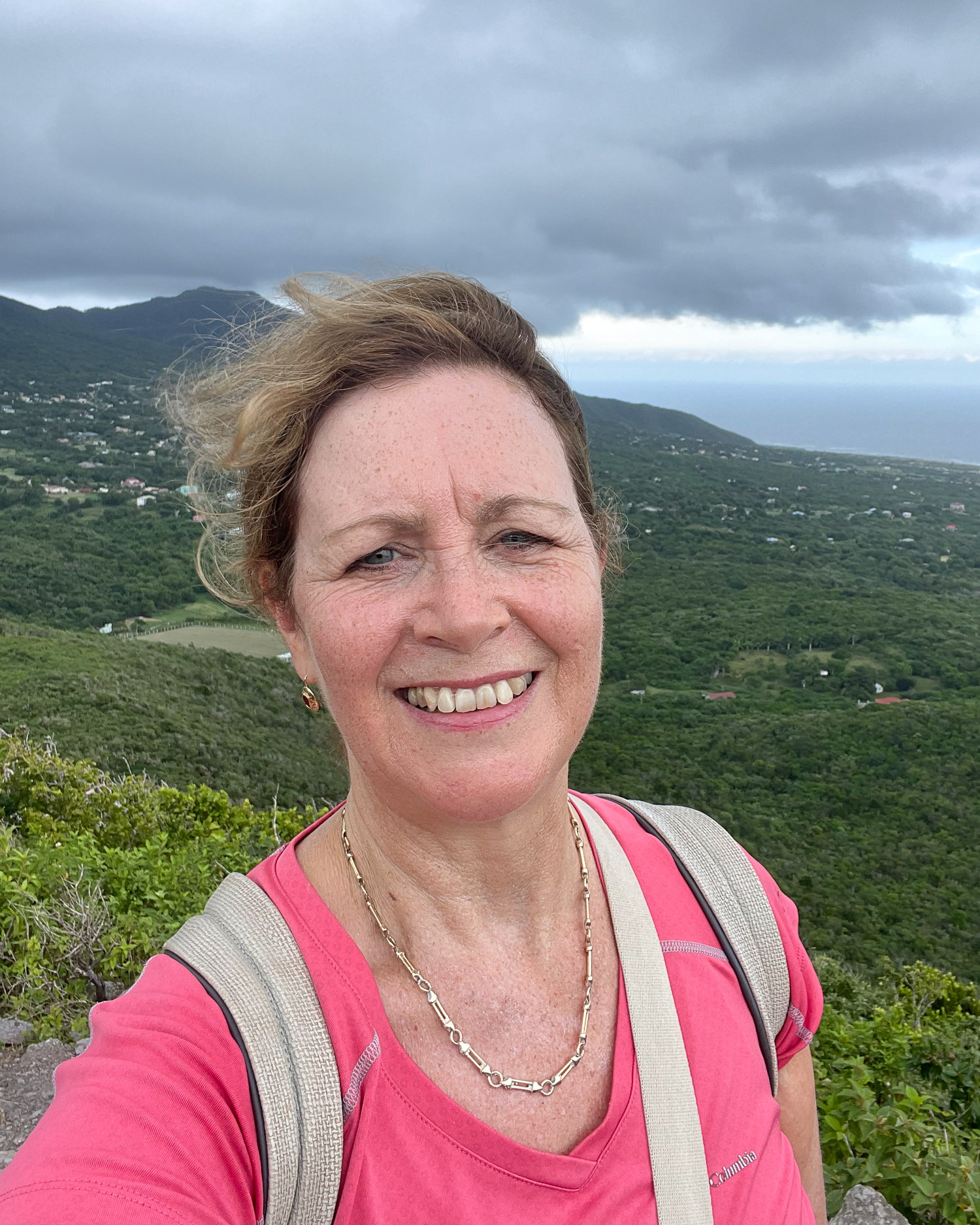 Mountravers Estate walk in Nevis
Another walk that we tried without a guide was from Pinney's Beach up to the Mountravers Plantation. We wanted to see the ruins of the Great House and estate, since it was owned by the merchant and slave owner John Pinney who came from Bristol where we live. Unfortunately the ruins of the estate buildings appear to have now been fenced off and we were unable to find a way to reach them.
Nevertheless, it was a pleasant and easy walk through the forest, across a couple of old stone dams that were used by the sugar factory. If you stand on Pinney's beach and look up towards Nevis Peak, the ruins of the estate are clearly visible on the hillside.
We read there was a path opposite the turning to Pinney's Beach that runs up the hill towards the estate. Instead we drove up the access road opposite the Four Seasons Hotel that leads to its villas. Parking on the roadside, we used Google Maps to find the well maintained trail that leads through the woods.
After crossing the stone dam, we joined the main lane running up from Pinney's Beach, but could not find any access to the Mountravers Estate, which seemed to be blocked by a locked gate marked Private.
The Source walk in Nevis
Another popular walk that you can make on your own without a guide starts at the Golden Rock Hotel. The hotel is a great place to have lunch, and you can pick up a hand drawn map of the trail from the hotel reception. Known as the walk to The Source, much of the path follows the old water pipe. It was used to bring drinking water from a waterfall to supply settlements further down the hill.
Although we didn't make this walk, I read several accounts of it online. The path leads to some steep cement steps, over a small dam wall and finally takes you to a 120 foot ladder. The rungs of the ladder can be a bit precarious and it is very high. For those brave enough to climb the ladder, it takes you at the top to a small waterfall with a pool. After this the way is blocked off and you will need to return by the same route. The whole walk takes 3-4 hours.
Read my review of The Hermitage Nevis – historic plantation hotel in the Caribbean
More walks in Nevis
We heard of other hiking trails on Nevis that sounded interesting, such as the "Waterfall walk" on the east side of Nevis Peak, taking you to a series of pools and waterfalls. You could also try the Jessup's Rainforest hike along a rainforest clad valley, or the walk along the south east coast of the island taking in several Amerindian sites.
If you need a guide for the Nevis Peak hike or any of the other hikes, check out Island Buzz Tours Nevis, who offer scheduled walks to Nevis Peak or Sunrise Tours who offer the services of an experienced guide for any of the routes mentioned.
Tours on Nevis
Even if you are not staying on Nevis, you can still take these tours from nearby St Kitts
Half day Island tour of Nevis from Basseterre
Tour of Nevis with lunch on Pinney's Beach
Boat trip by Catamaran to Pinney's Beach
5. Pinney's Beach Nevis
One of the most popular Nevis things to do, is to relax on a lovely beaches on the west coast of the island. The beaches in Nevis on the Caribbean side are more protected, with shallow, calm waters for swimming. Pinney's Beach is the best known, with a long stretch of golden sand and plenty of facilities for a relaxing day. The beach is named after the Pinney family who owned the Mountravers Estate, set on the hillside above the beach.
Pinney's Beach is a short drive or taxi ride north from Charlestown, the island capital of Nevis. The turning off the main road leads to a cluster of beachside restaurants, the best known of which is Sunshine's.
Brightly painted in the Rastafarian red, yellow and green, Sunshine's is known for its super strong "Killer Bee" cocktail. It also serves excellent value grills and great salads. There's a central bar to hang out and a covered restaurant at the back that's full of photos of celebrities that have visited.
Looking for some beach time on Nevis? This island excursion from St Kitts includes a tour of Nevis and time on Pinney's beach to relax and order lunch.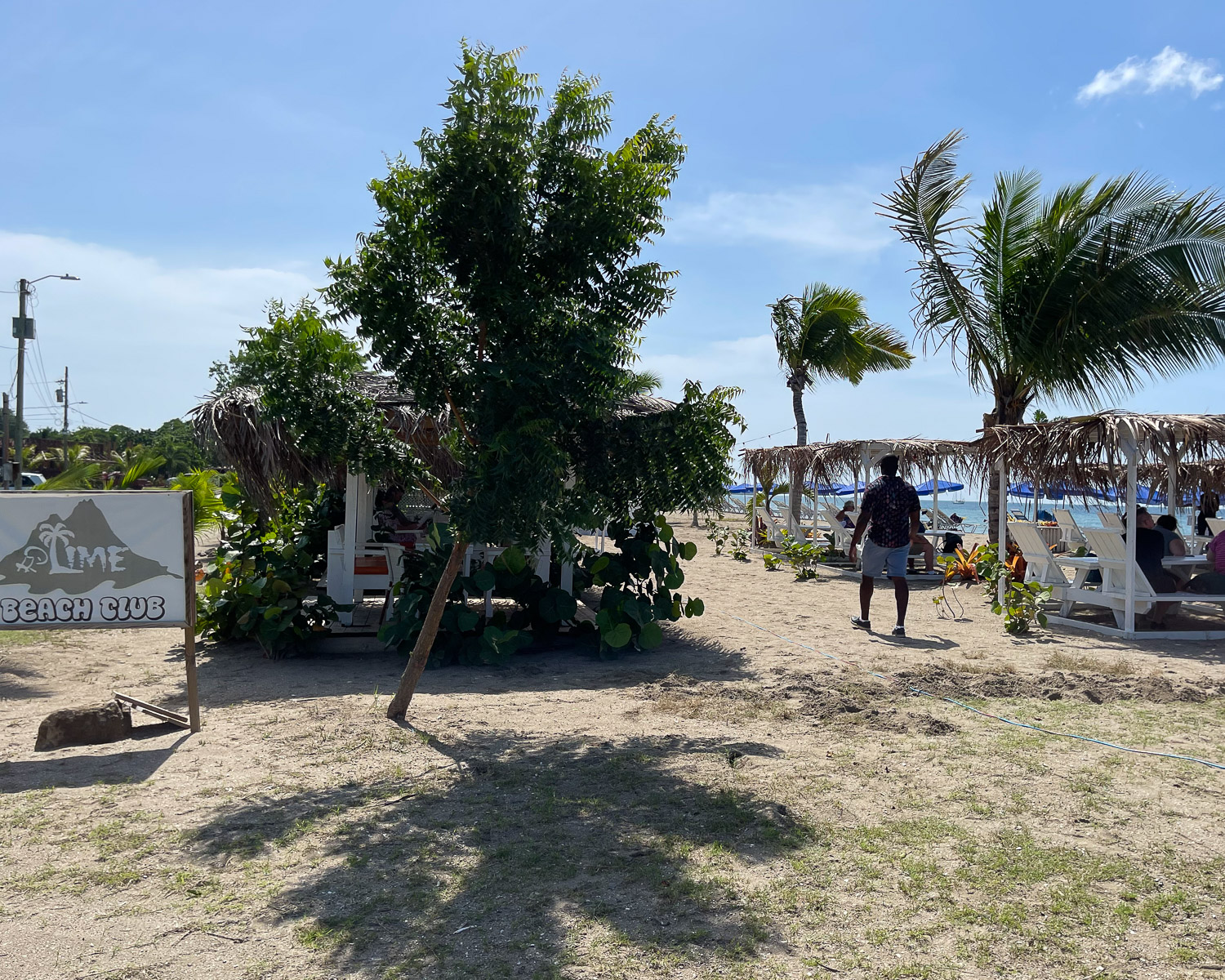 Where else to eat on Pinney's beach
If you are looking for a place to sunbathe, swim and relax for the afternoon, we recommend the Cabanas at Lime. This beach bar and restaurant offers pairs of sun beds under a shady canopy of palm fronds. Waiter service is available to bring you drinks, snacks and lunch. In the evening, the Cabanas at Lime offers a full restaurant menu, with excellent food.
There are a number of other beach restaurants nearby, so take your pick as each offers slightly different specialties and vibe. Many have beach BBQs and bonfires in the evening or at weekends. The facilities at Pinney's Beach include ocean kayaks and other water sports for hire, sun beds and umbrellas. We bought a few items at the stylish boutique Lime in the Coconut, full of pretty clothing and accessories for your holiday.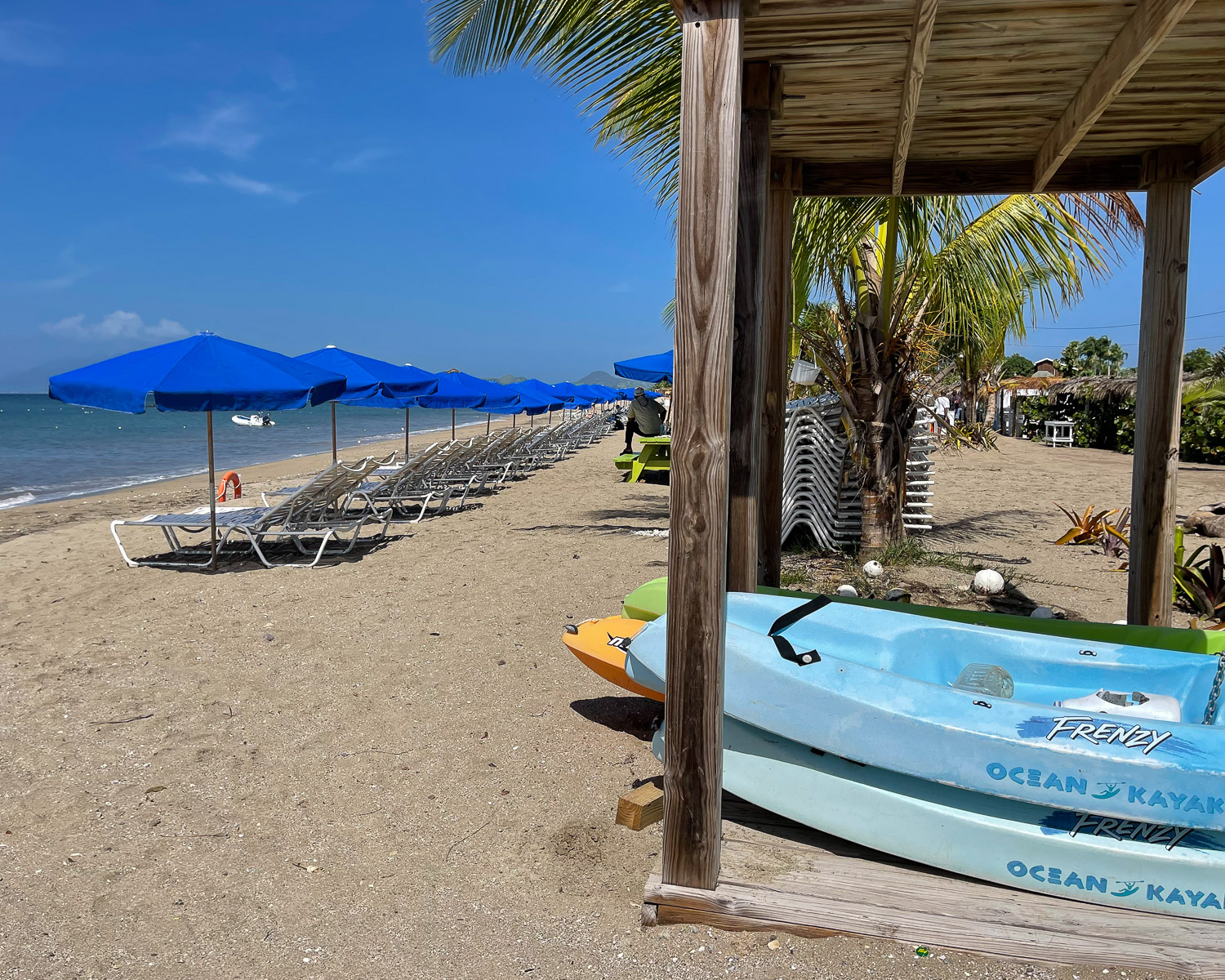 Walk north along Pinney's Beach and you'll reach the Four Seasons Resort, with its own sun beds for guests. No beach in the Caribbean is private, so even if you are not staying at the resort, feel free to swim on the beach there. The breakwaters in front of the Four Seasons are reputed to be a good spot for snorkelling in Nevis. Continue your walk along Pinney's beach, as far as the Mango beachfront restaurant, also owned by The Four Seasons.
If you are interested in an excursion from St Kitts, try this boat trip by catamaran to Pinney's Beach
6. More beautiful beaches in Nevis
Heading north from Pinney's Beach on the calm, Caribbean side of Nevis, there are other Nevis beaches that are less busy. The beach continues for some distance, backed by private villas, so access is often through the beach bars and restaurants along this shore. The best spots for snorkeling in Nevis are reputed to be in front of the Four Seasons Hotel and at Herbert's beach.
Paradise Beach Nevis
An upscale hotel and villas complex where you can drive in if you want to lunch at their beach bar. Otherwise you can access this stretch of beach by turning down the road by St Thomas Primary School, parking at the end of the road then walking along the sand.
Montpelier Beach
This private stretch of beach is owned by Montpelier Plantation and Beach Hotel where we stayed. The facilities are just for guests and each end is blocked by breakwaters, so you can only walk along this stretch when the sea is calm. However, they hold a lovely beach BBQ with live music every week which we can highly recommend. Read my hotel review of Montpelier Plantation and Beach.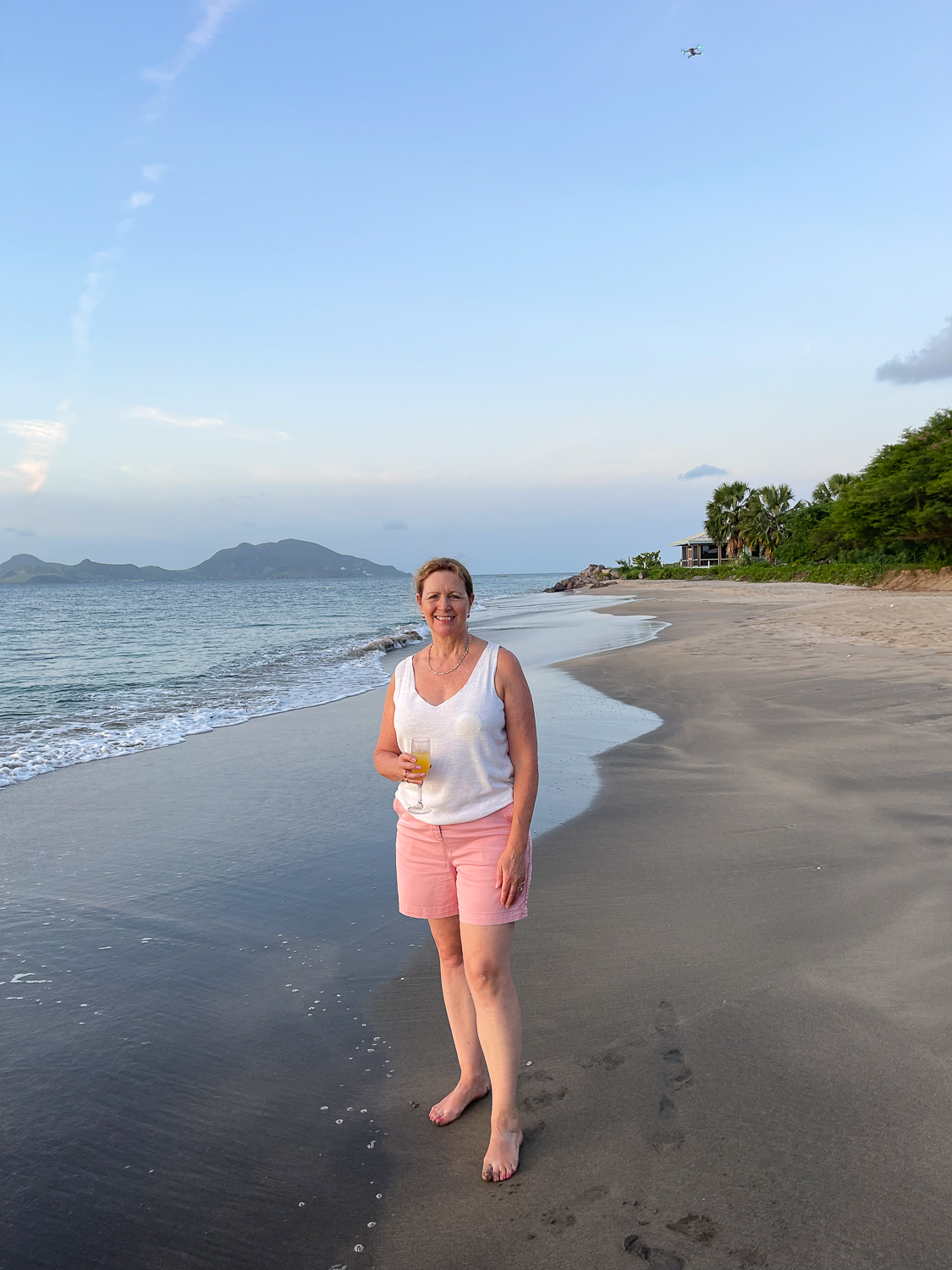 Yachtsman Grill
This popular beachside restaurant is close to Montpelier Beach, with access to the beach in front of it. They are known for their burgers and pizzas but also serve breakfast and have complimentary sun beds for guests who dine with them.
If you are looking for some beach time on Nevis, this island excursion from St Kitts includes a tour of Nevis and time on Pinney's beach to relax and order lunch.
Barefoot Beach Bar
To access this stretch of beach, park in the Nelson Spring Beach Resort and walk through the accommodation to the beach bar and beach in front. It's also worth popping into The Olive Tree Gift Shop, which has a wide range of locally made souvenirs, crafts and artwork.
Chrishi Beach Nevis
This stylish, European style beach club serves drinks, snacks and meals all day and into the evening. They offer sun beds on the beach in front of the bar with a boutique and yoga classes.
Oualie Beach Resort
If you are looking for a beach on Nevis that offers calm waters for swimming, with access to a beach bar and activities, Oualie Beach is a great alternative to Pinney's Beach. It's located on the north west coast of Nevis, in a sheltered bay, close to the sea bridge where ferries cross from St Kitts.
The Oualie Beach resort offers beachfront cottages with kitchenettes set just behind the beach. Even if not staying, you can buy drinks at their bar and rent sun loungers there.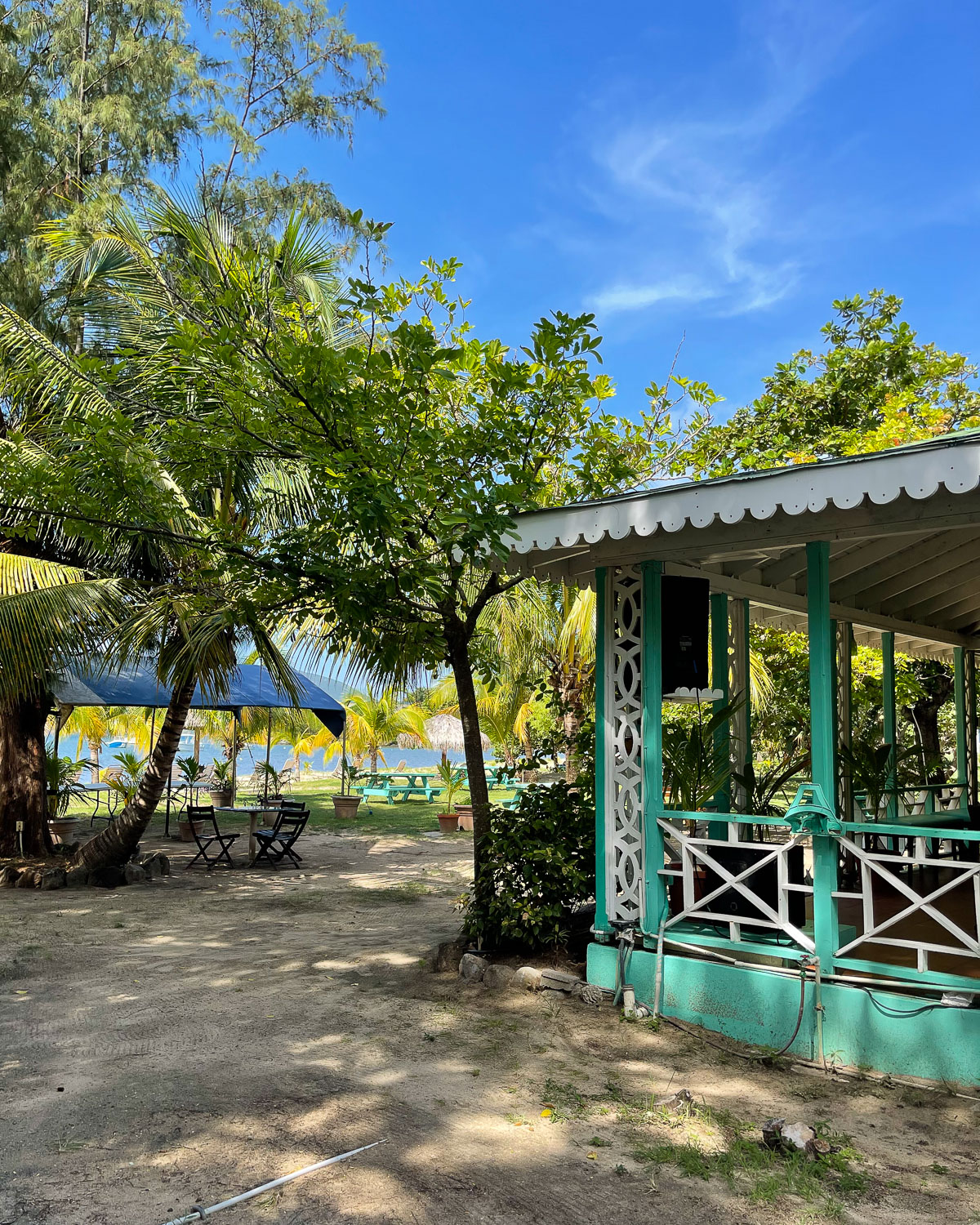 Oualie Beach is also a good choice if you want a full range of adventure activities from the wooden booths at one end of the beach. Based here are Bike Nevis who rent bikes and arrange bike tours, and Scuba Safaris who are the main operator to offer diving in Nevis. You may also be able to find windsurfing and other water sport activities on Oualie Beach.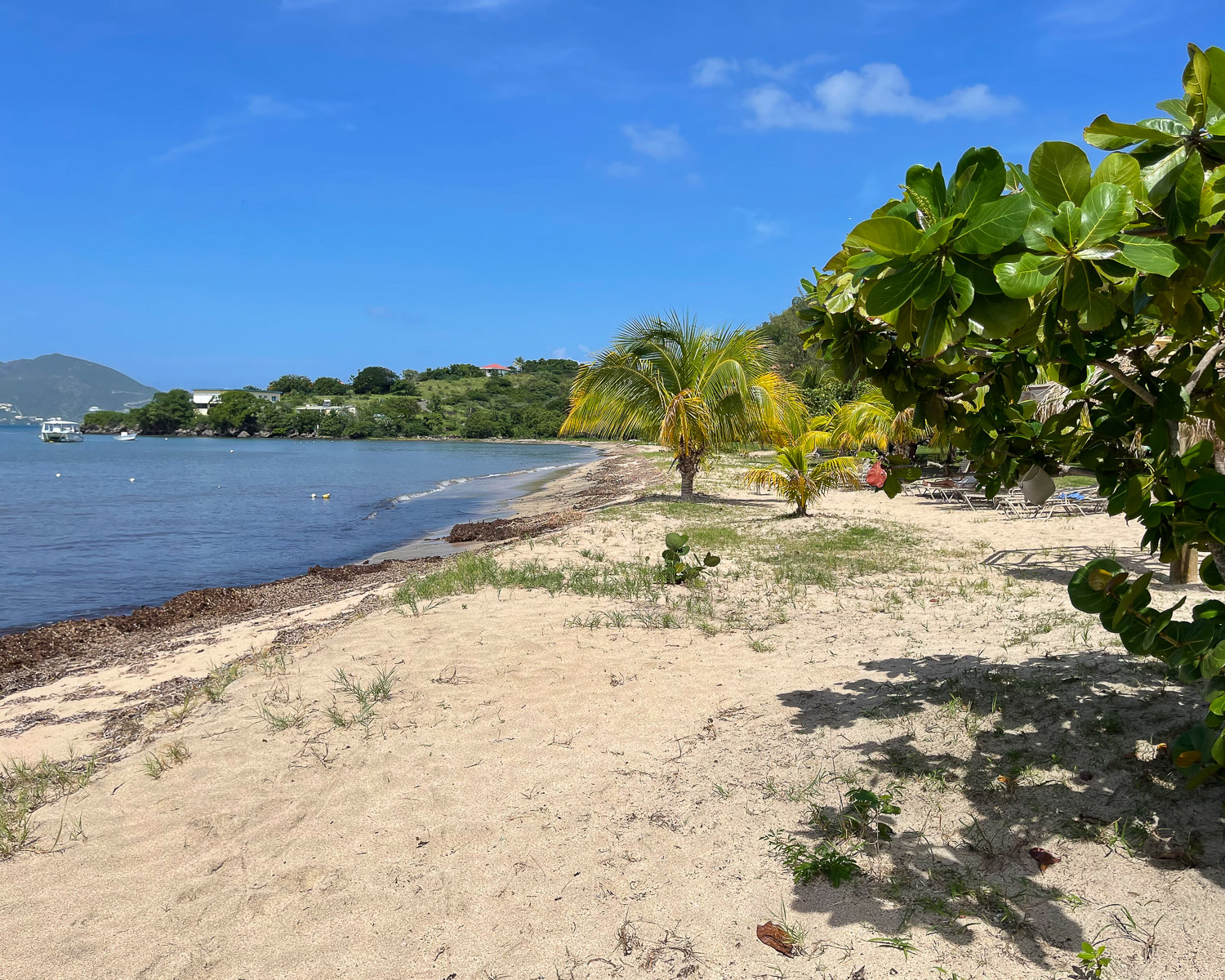 Lover's Beach in Nevis
Lover's Beach was one of our favourite beaches in Nevis, for its deserted "Robinson Crusoe" feel. Park in the area by the main road, then walk along the wooded lane for 5 minutes to reach the beach. There are no facilities on the beach, so if you are lucky you'll have it all to yourself.
This is a beach where turtles nest, and you can read about them in the information signs near the parking area. Because the beach is on the northern Atlantic side of the island, the waves are stronger and the beach drops away steeply, so be cautious if you decide to swim.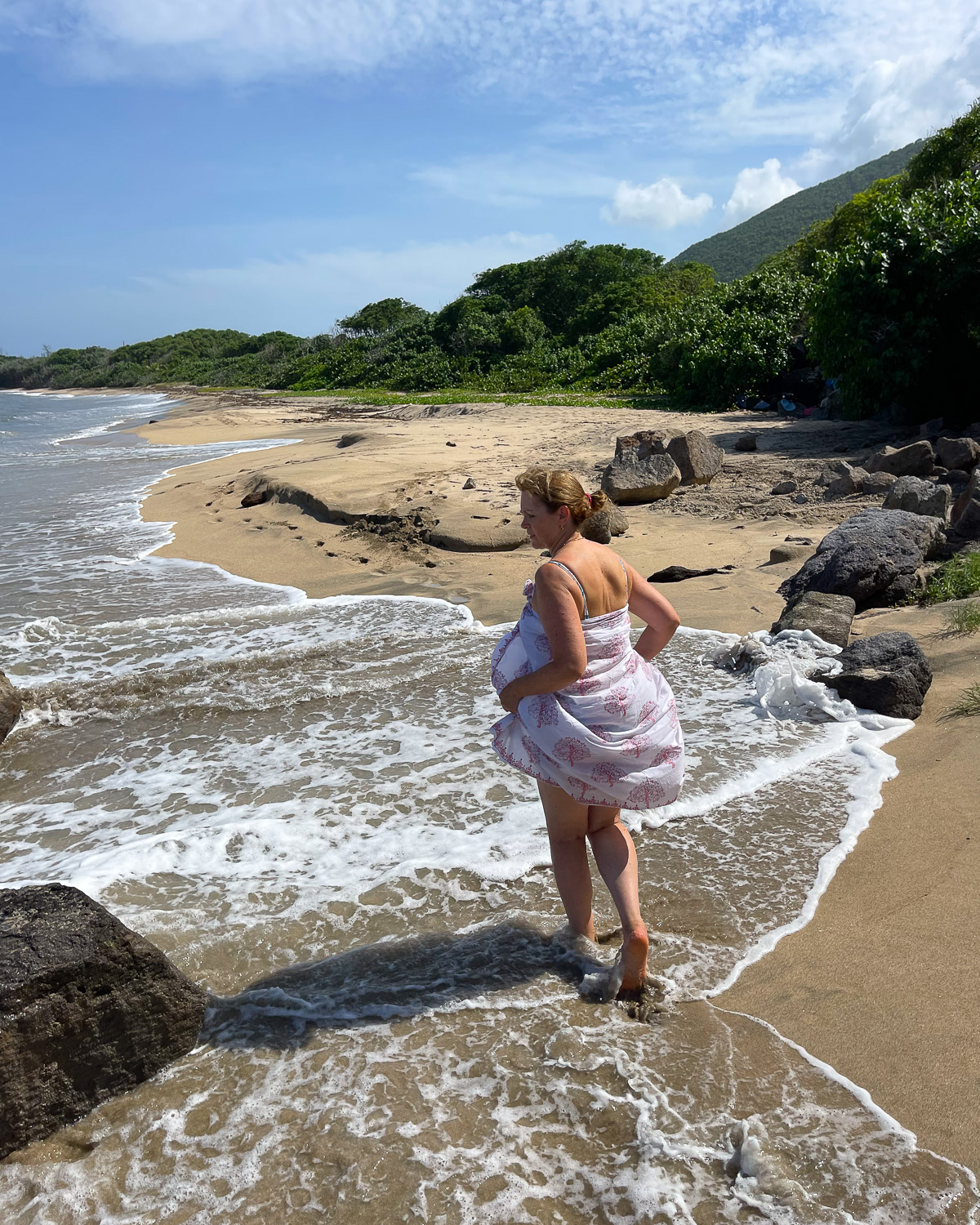 Herbert's Beach Nevis
Also on the northern Atlantic coast of Nevis is Herbert's Beach, in front of the Nisbet Plantation Hotel which has now sadly closed. Although the waves are higher here, the hotel built breakwaters that create more sheltered places to swim. We also read that there is some snorkelling around concrete blocks and breakwaters in front of the beach.
Sadly the Nisbet beach bar run by the hotel is also closed, so there are no services here and you will likely have the beach to yourself.
Discover 12 things to do in St Kitts for the stylish traveller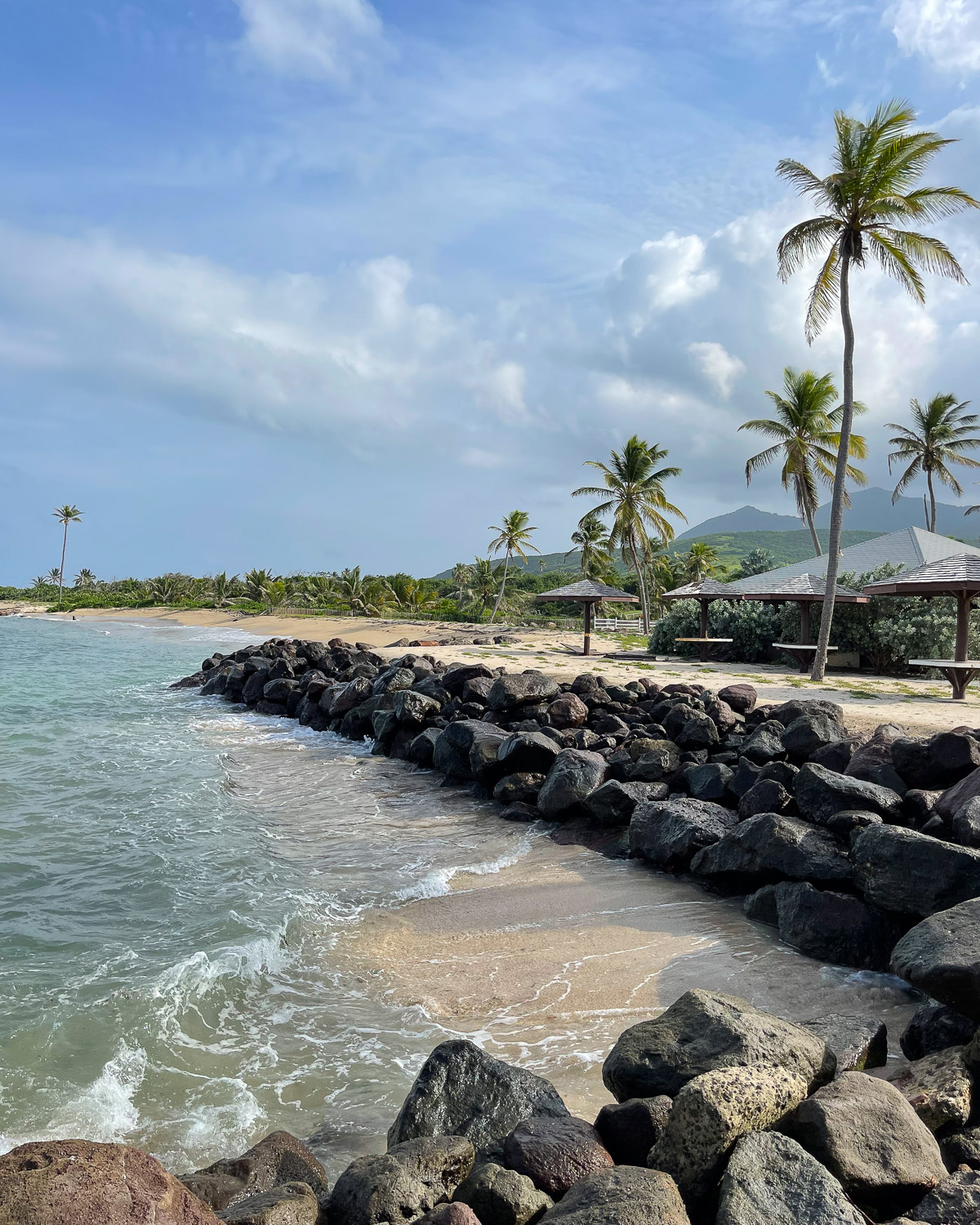 Indian Castle Beach Nevis
There are few beaches on the windswept western and southern shores of Nevis which bear the full force of Atlantic waves. One exception we found was in the south at Indian Castle known as Windward Beach, which we found while looking for the horse racing track. There were just a few fishing boats on the shore and the remains of an old beach bar, but no other sign of activity.
Incidentally, this is where Princess Diana was photographed bodyboarding with her sons, during a press photocall when she stayed on Nevis in 1993. The waves are high here so it might appeal to surfers and strong swimmers, but you would need to take care.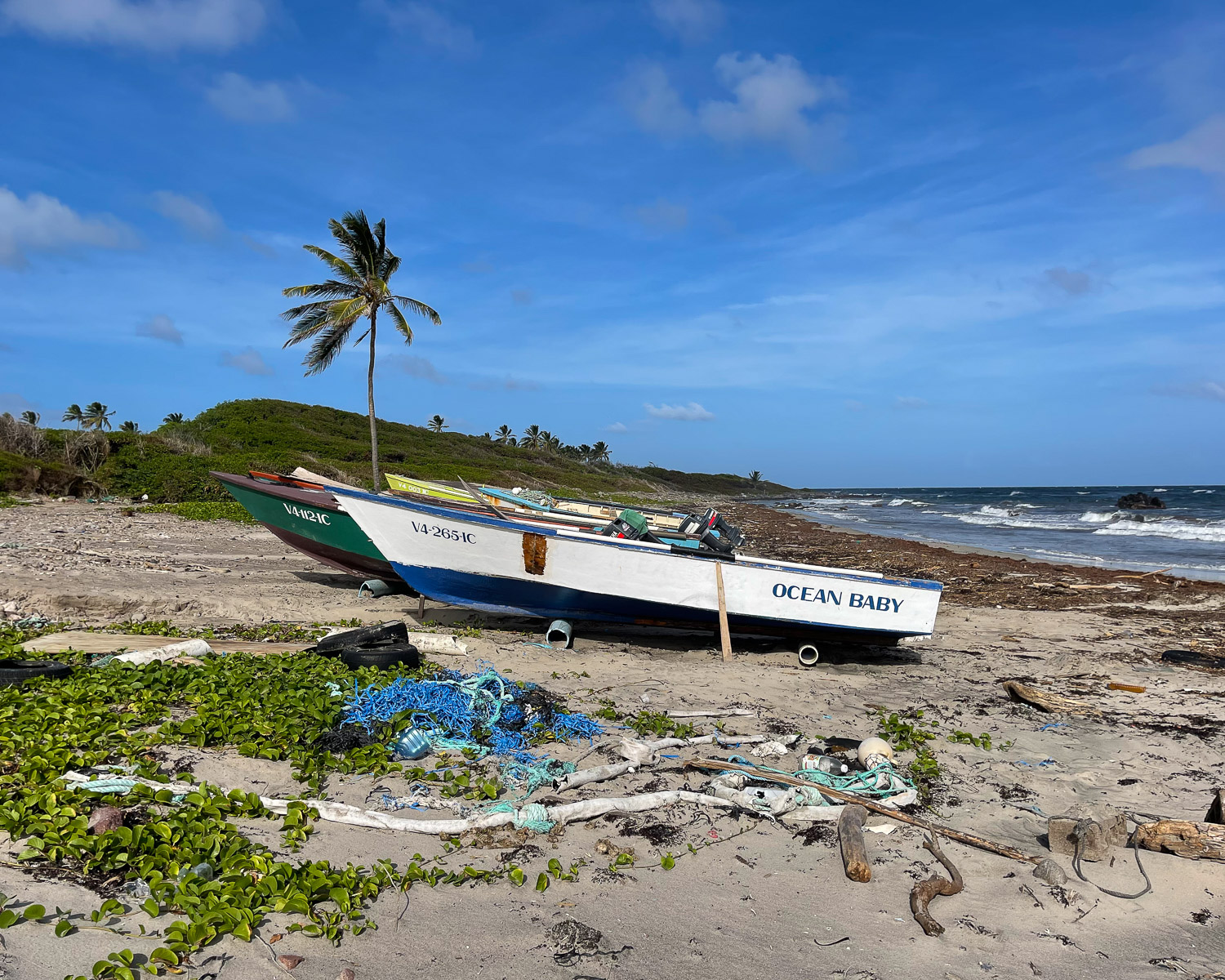 If you are interested in a beach excursion from St Kitts, try this boat trip by catamaran to Pinney's Beach
7. Restaurants in Nevis
For such a small island, we were surprised by the number of excellent Nevis restaurants. The Four Seasons Resort and other luxury hotels attract more affluent travellers, which supports a number of stylish and upscale restaurants in Nevis.
Here are some of the beach bars and restaurants we personally enjoyed or had recommended to us. Some are more upmarket, others offer reasonably priced local fare.
Restaurants in Nevis – Pinney's Beach
Sunshine's Beach Bar and Grill
Sunshine's is the most famous restaurant on Pinney's Beach. You can't miss it for the bright red, green and yellow Rastafarian colours. Many people stop by for the super strong Killer Bee cocktail, but to me the drink felt like a bit of a tourist gimmick.
Even so Sunshine's has a great location, buzzing atmosphere and the staff are friendly and efficient. The grills are good and surprisingly so are the salads (Rastafarian culture is strong on fresh veg and vegan food).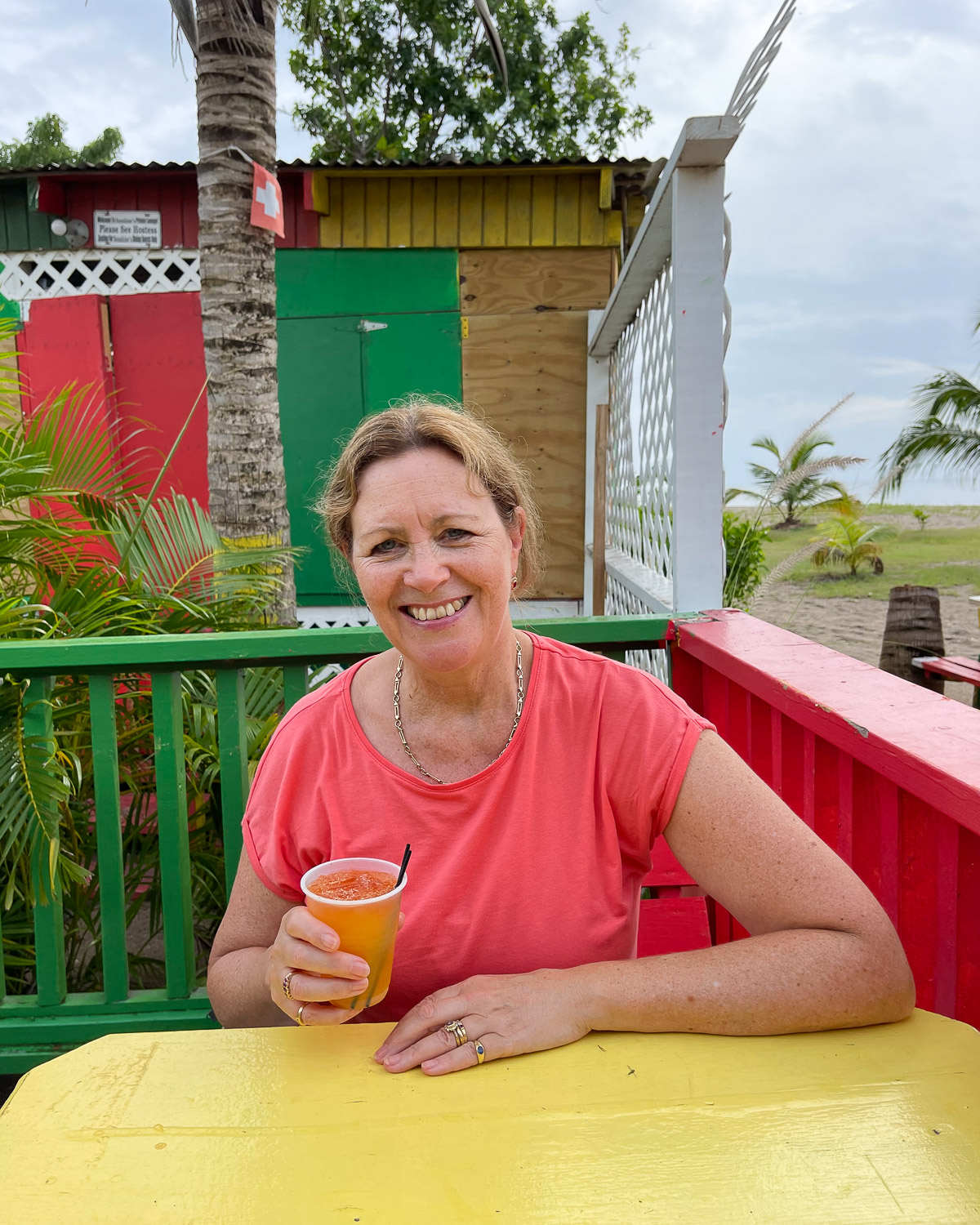 Cabanas at Lime Beach Bar
This informal beach bar and restaurant offers a great vibe and friendly service. During the day you can relax on their sun beds with built in table and have the food and drink brought to you. In the evening, sit in your own cabana for dinner or have a drink at the bar.
For special events and live music check their social media. The food is reasonably priced, based around grills, kebabs, burgers and fresh fish, served with local style sides and a good cocktail list. We ordered the burgers which were excellent and some of the beef for the kebabs is from local grass fed cattle.
Restaurants in Nevis – west of the island
Chrishi Beach Nevis
We had an sunset cocktail at Crishi Beach Club, which is the closest we found on Nevis to a European style beach club. They serve drinks, snacks and meals all day and into the evening, with sun beds on the beach and a boutique full of pretty beachwear.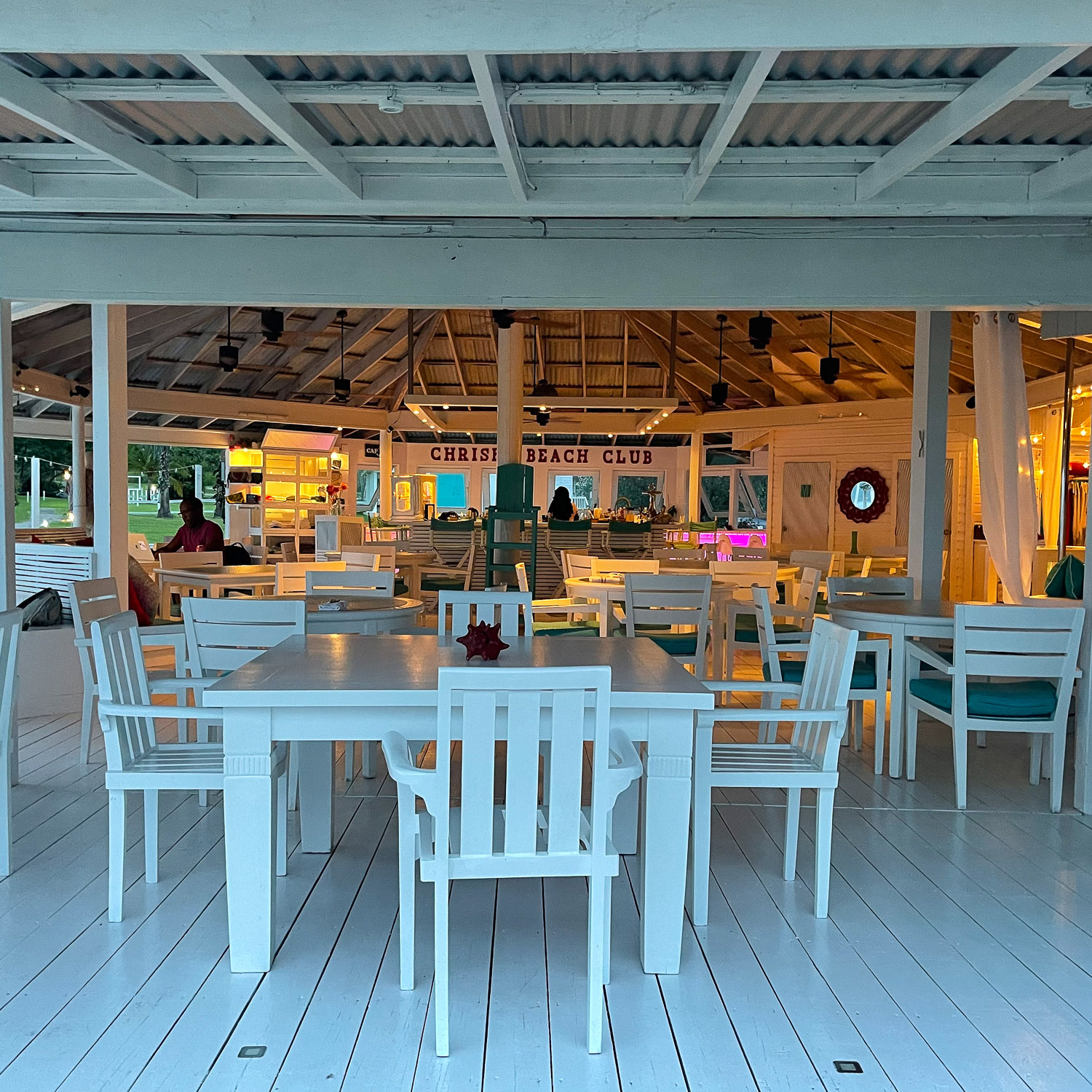 Drift
This sea view restaurant on the north shore of the island is tucked behind the island's airport. Don't let the airport put you off as very few flights arrive there so it's actually very quiet. Drift is owned by artist Vikki Fuller, who displays her paintings in the V-Gallery on one side of the restaurant.
The vibe is boho beach shack and we enjoyed our lunchtime sharing platter with a couple of fresh fruit smoothies. Sister restaurant Luna offers relaxed but upscale dining and specialises in tapas, located among the Cliffdwellers Villa complex.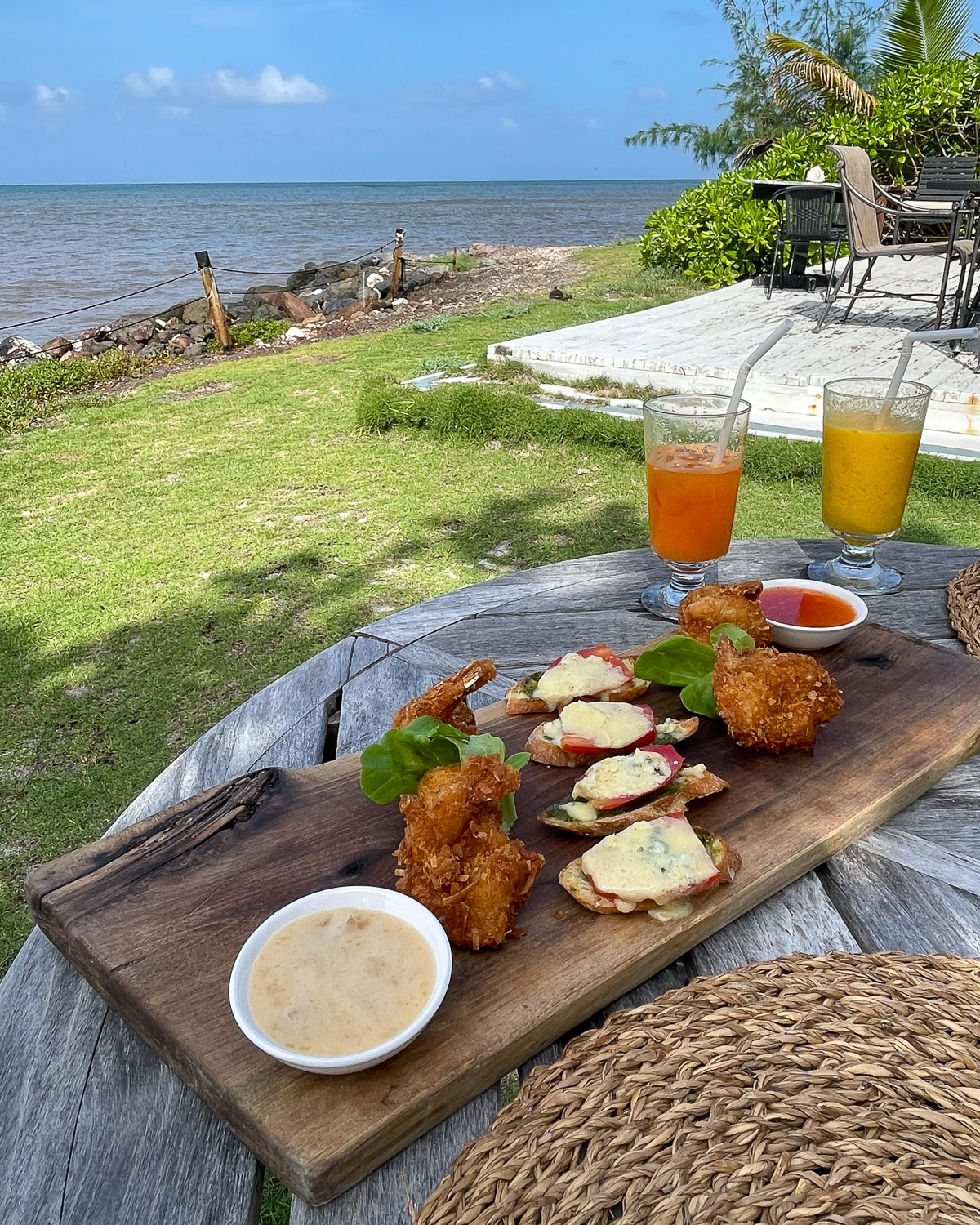 Yachtsman Grill Nevis
We didn't eat here but heard good things. It's an all day beach restaurant that specialises in burgers and pizzas, with free sun beds for those who are eating in the restaurant.
Restaurants in Nevis – south of the island
Bananas
This stand alone restaurant is tucked away in pretty gardens on the old Hamilton estate. We stopped by for a sunset cocktail, on their rooftop terrace looking towards the ocean. The restaurant is also very pretty, decorated with Caribbean art and a menu that will suit international tastes while drawing on creative Caribbean cuisine. The English owner also runs a boutique at the restaurant, full of lovely clothes, accessories and jewellery.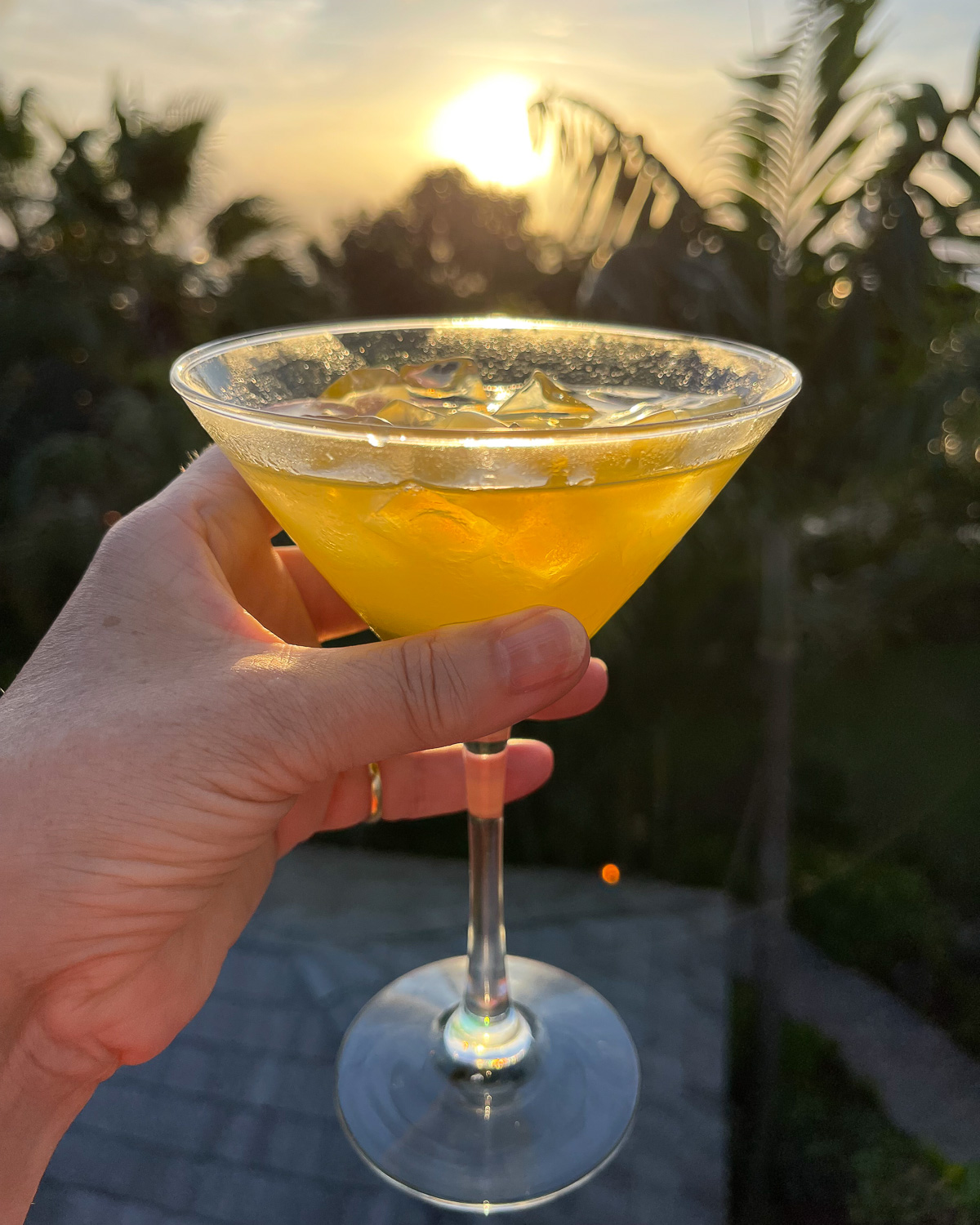 Golden Rock Inn
While we didn't stay at Golden Rock Inn, we did stop by for lunch. It's a stylish boutique hotel owned by the New York artists Helen and Brice Marden, where they welcome non residents for lunch or dinner. The setting is stunning, with gorgeous gardens and water features. Sit on the main terrace or ask for a table tucked away in more secluded parts of the garden.
We tried the lobster sandwich which was excellent or there were soups, salads and a small selection of hot dishes. It's a good place for lunch before walking the trail to the Source which starts from close to the hotel. If you ask at reception they can give you a hand drawn map.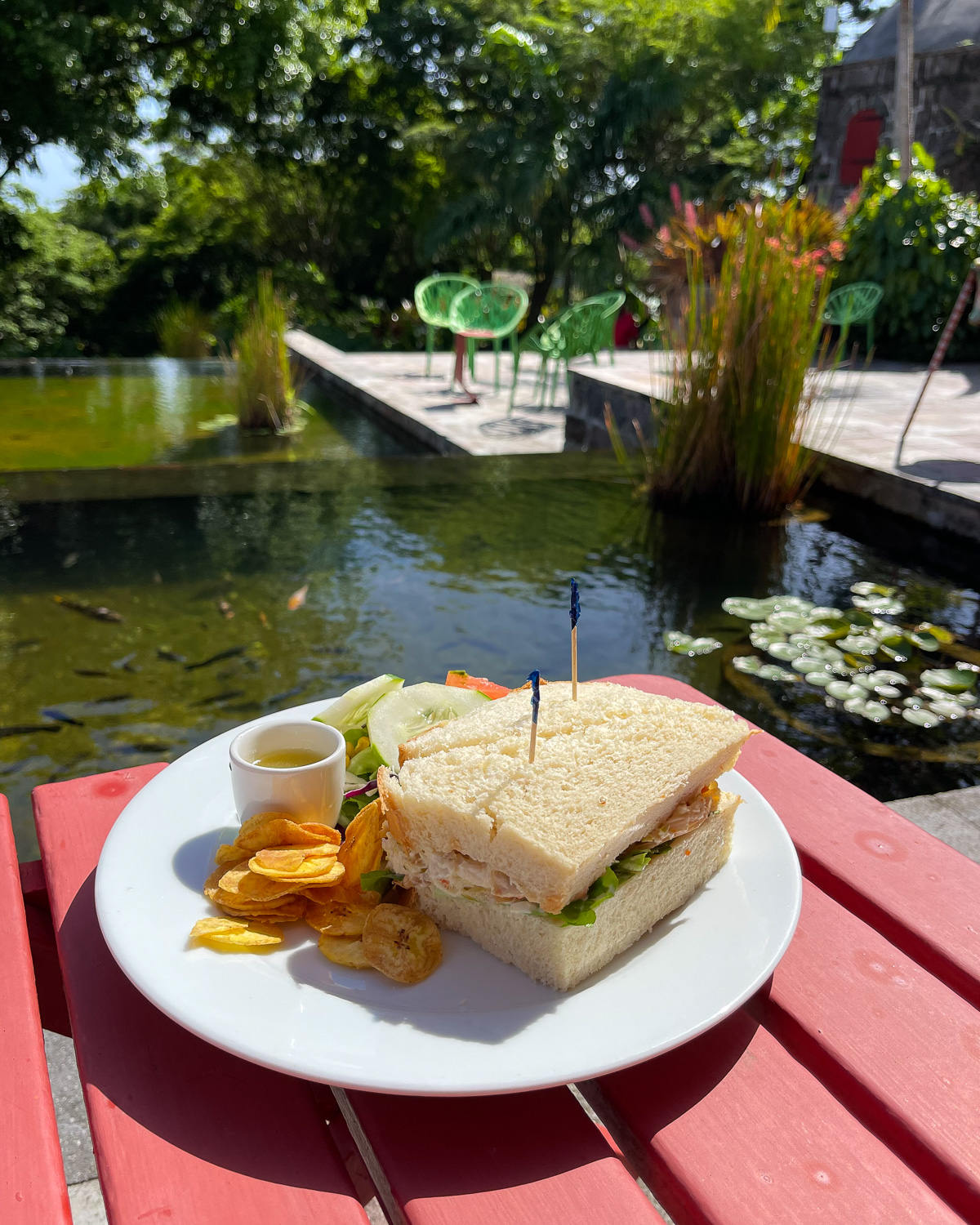 Passion Bar and Grill
We stopped by at Passion Bar and Grill during the day to pick up some fresh juices, but they also serve Caribbean style food. It's a bit tucked away and better known by locals than tourists, but has a good reputation. Call ahead if you want to have dinner as outside high season they may only do food on request. The location is close to the Botanical Garden and Montpelier Plantation and Beach where we stayed.
Read my review of Montpelier Plantation & Beach – Caribbean boutique hotel in Nevis
Montpelier Plantation and Beach
This elegant hotel where we stayed opens both its restaurant to non-residents. At lunchtime you can eat overlooking the pool in Indigo restaurant, from a menu that infuses Mediterranean style with Caribbean produce and flavours. Indigo would be a good choice for lunch if you are visiting the nearby Botanical Garden, offering an opportunity to see Monpelier's historic buildings from the old sugar factory.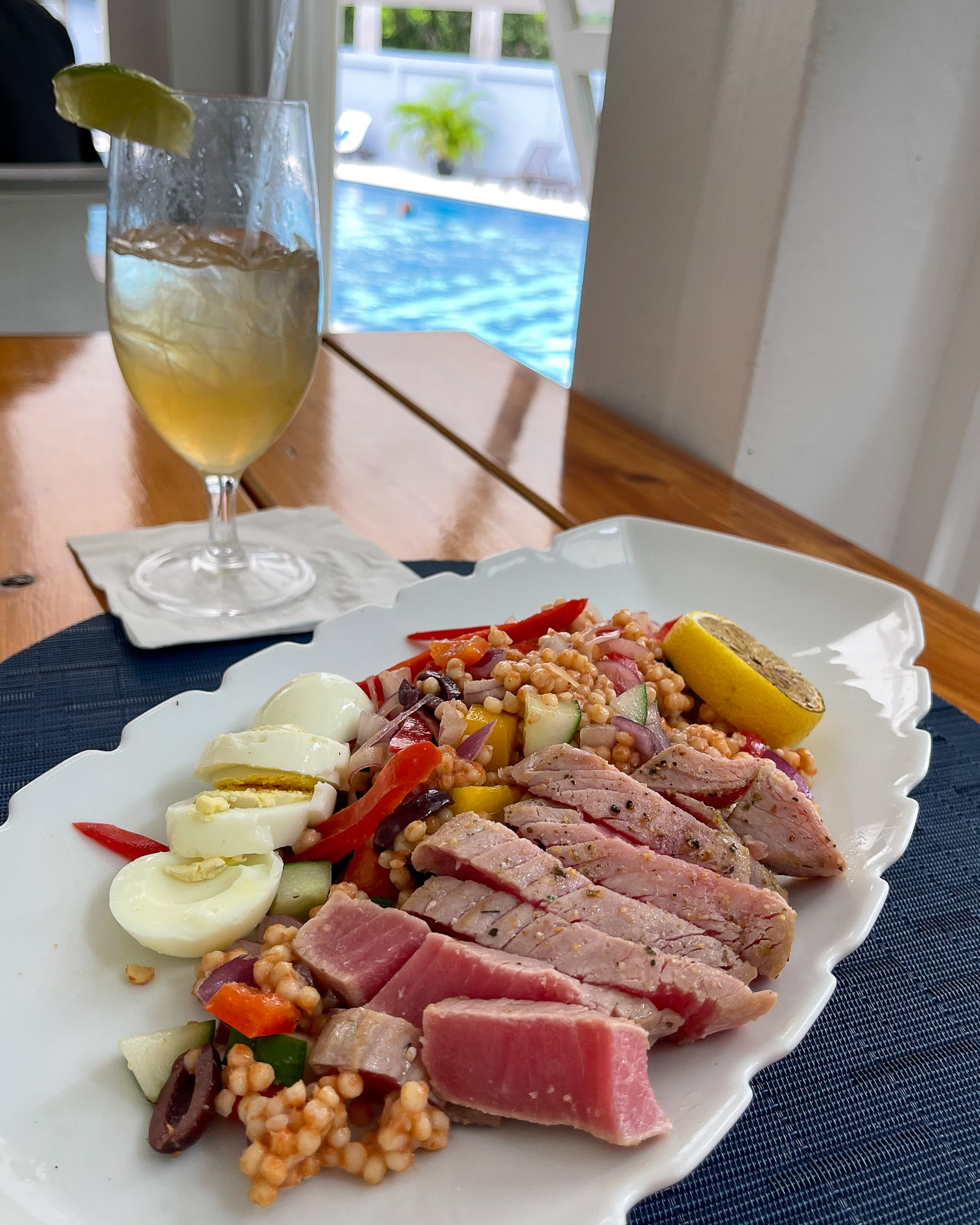 After dark have a cocktail in their Great Room bar before moving onto Restaurant 750 for a fine dining set menu. We can also highly recommend Monpelier's weekly beach BBQ with live music. It's held at Montpelier Beach, which is not at the hotel itself but on a private stretch of beach just north of Pinney's Beach.
A great choice for foodies, Montpelier Plantation and Beach offers some of the best restaurants in Nevis, with a talented young chef. Read my article about our stay at Montpelier Plantation and Beach.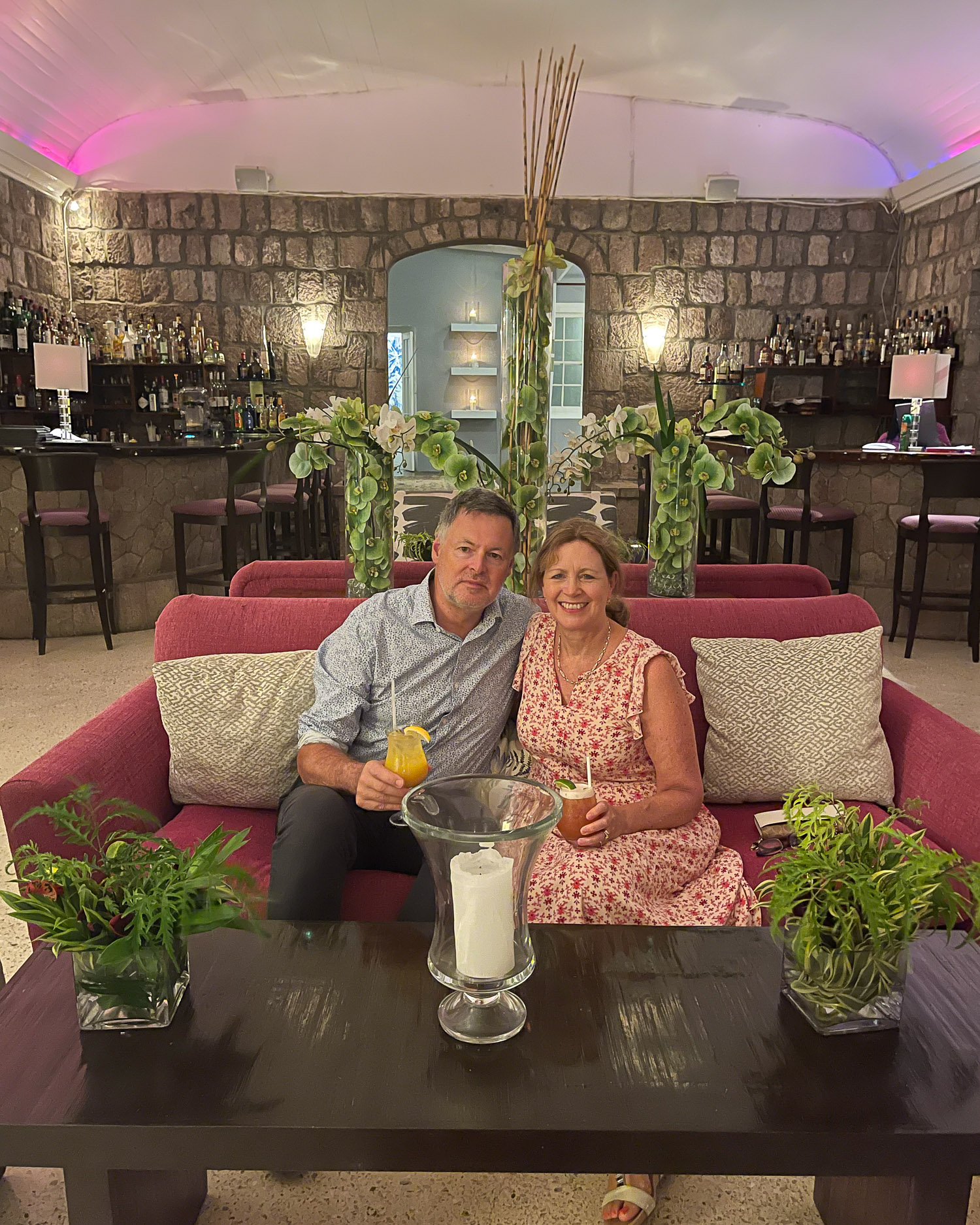 The Hermitage
We can highly recommend the West Indian Buffet every Wednesday night at The Hermitage where we stayed. A pig is slowly roasted on a spit through the afternoon, then served as part of a buffet with table groaning under the weight of fried plantains, fresh fish, cooked vegetables, salads and sauces. Friday is the Italian themed night when the wood burning oven is used to make pizzas with creative toppings. Read my article about our stay at The Hermitage.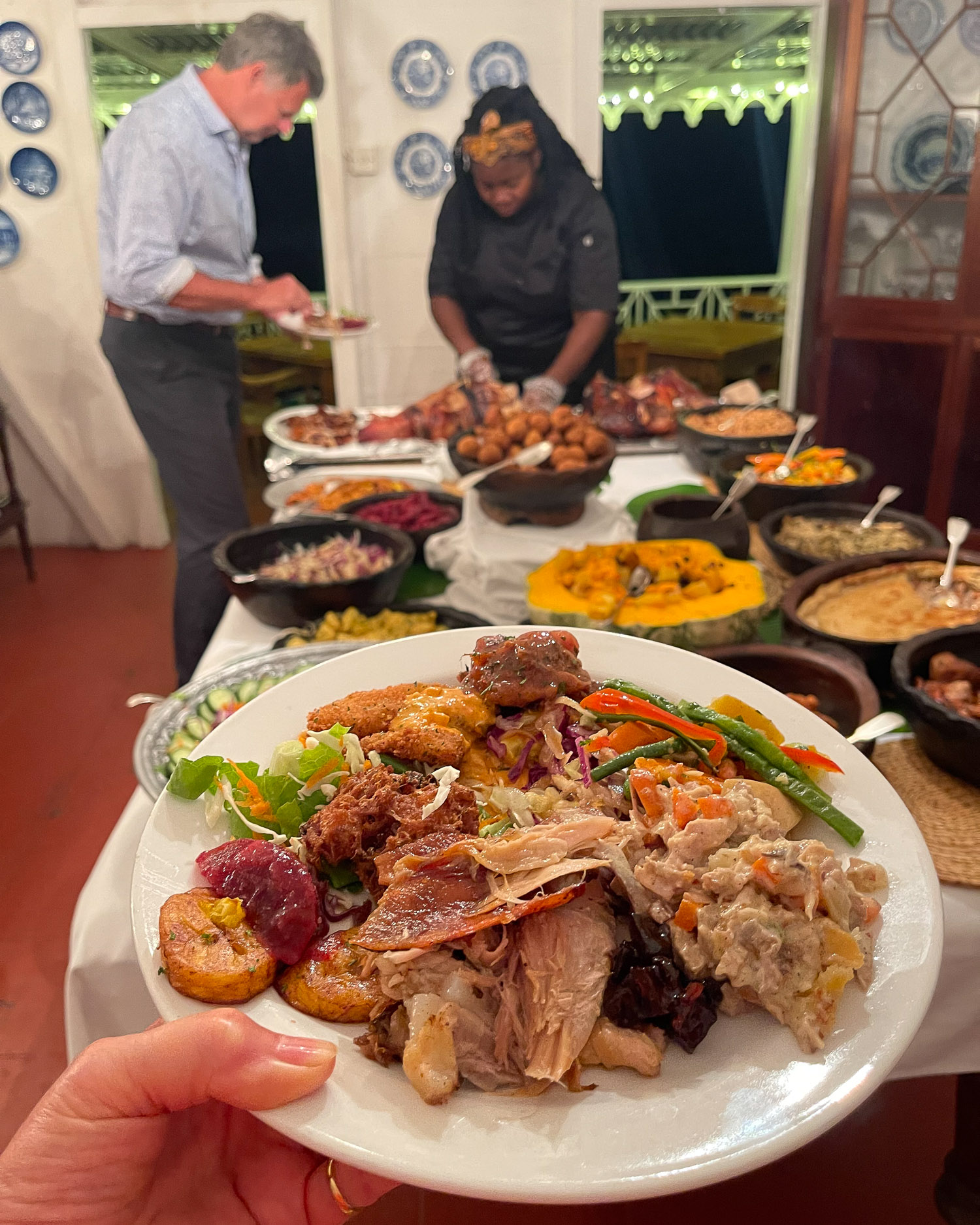 Tours on Nevis
Even if you are not staying on Nevis, you can take these tours from nearby St Kitts
Half day Island tour of Nevis from Basseterre
Tour of Nevis with lunch on Pinney's Beach
Boat trip by Catamaran to Pinney's Beach
8. Explore the ruins of old sugar plantations
The fertile volcanic soil of Nevis made it a prime location for the growing of sugar cane in the 18th and 19th century, fuelling the trade in enslaved Africans to work the labour intensive plantations. Due to the high quality and quantity of the sugar from Nevis, the island which was then a colony of England, was known as "Queen of the Caribbee".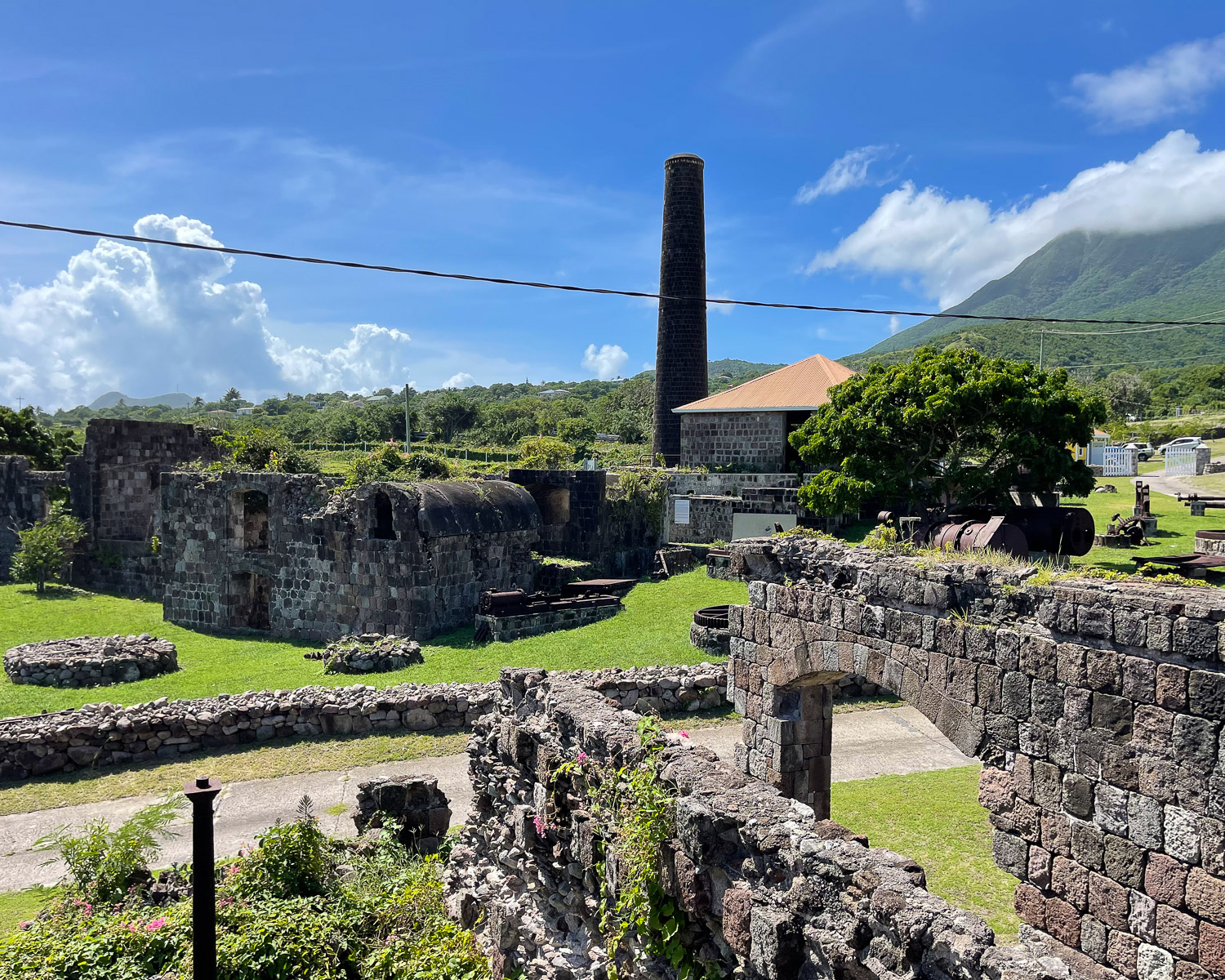 Nevis is one of the best places in the Caribbean to visit the abandoned sugar plantations and learn something of the enslaved people who worked on them, as well as the privileged life of their "Plantocracy" owners. You can visit the ruins of many sugar plantations in Nevis, the best preserved of which is New River Estate, which has been made into an outdoor museum.
How sugar was made in Nevis
Within the sugar mill building, iron wheels and rollers imported from England were used to crush the sugar cane. Cane juice was boiled in open metal bowls known as coppers, being ladled into progressively smaller containers as the syrup became more concentrated.
Finally the sugar was cooled in shallow trays where it crystallised and was stored in barrels ready for shipment to Europe. The New River Estate has information boards about the whole process and use of all the buildings. Entrance is free and here is a helpful caretaker who can show you around and answer questions.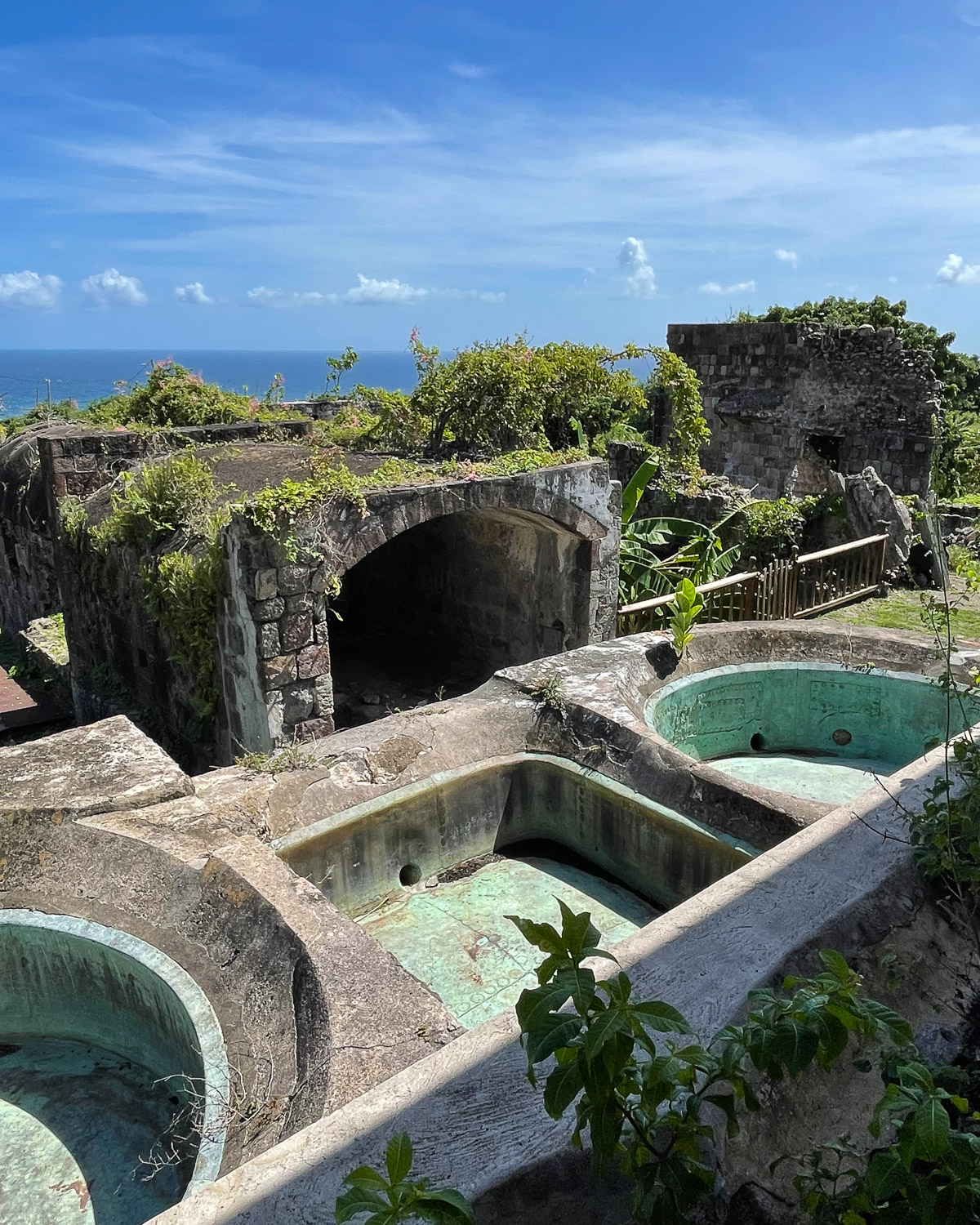 Move Nevis sugar plantations to visit
While New River Estate is the best preserved of the Nevis sugar plantations, there are other sites that you can easily visit around Nevis.
Montpelier Plantation and Beach Hotel is built on the site of an old sugar factory, and you can visit their grounds to see the old stone buildings including the conical sugar mill.
The Hermitage has a great house that's thought to be the oldest in the Caribbean, which you can visit. This hotel is build on the site of an early plantation that originally grew crops like indigo and tobacco, before sugar plantations became widespread.
The Golden Rock Hotel is built on the site of a plantation and you can visit for lunch or just to wander around the beautiful gardens, with original stone buildings and the old conical sugar mill which is now guest accommodation.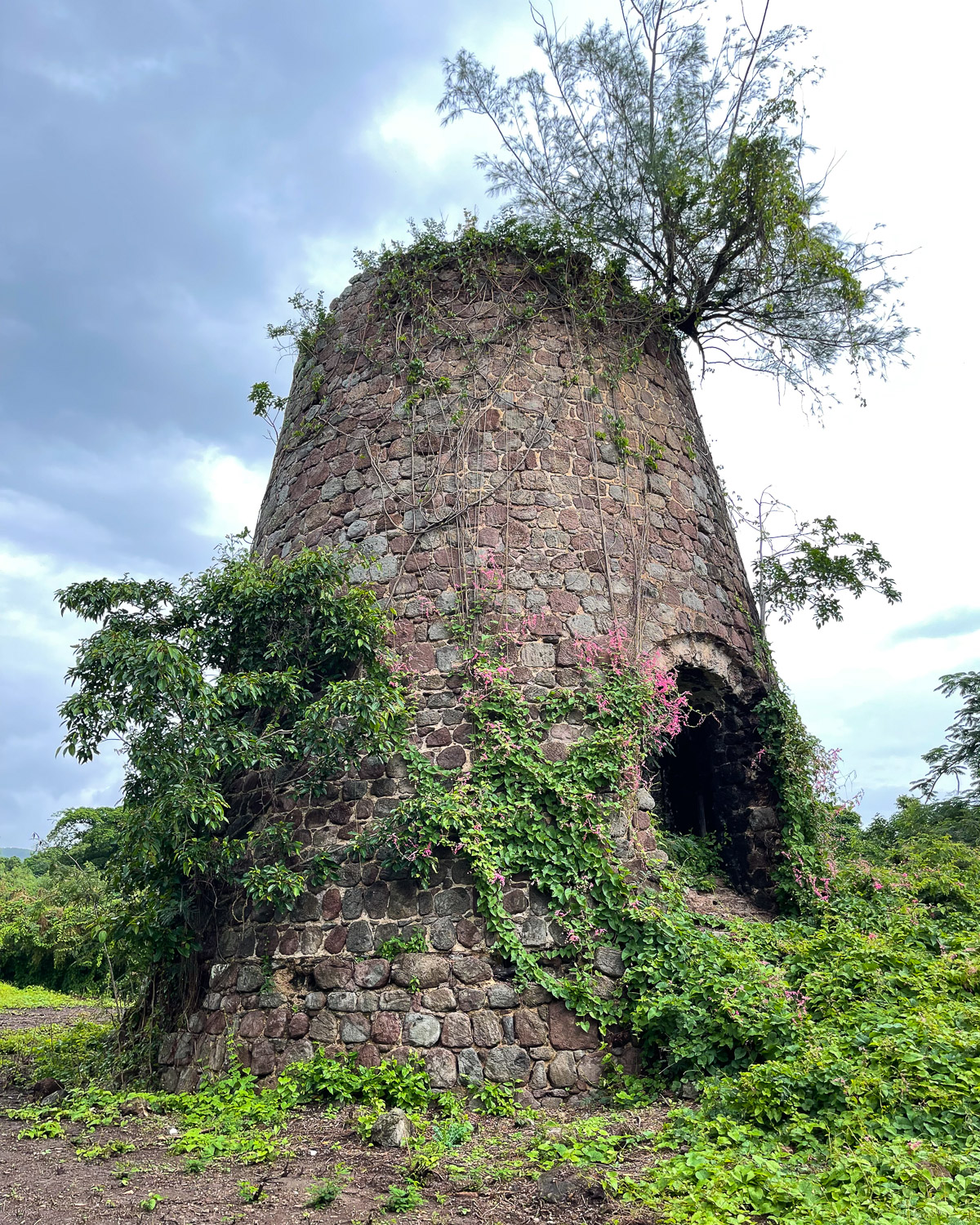 The Nisbet Plantation Hotel in the north of the island is now closed, but you can walk around the Great House and see the ruins of a conical sugar mill by the entrance drive.
If visiting Banana's restaurant, take a turning before you get there to see some of the ruined buildings, sugar mill and iron wheels of the Hamilton Estate, which are now mostly overgrown.
One of the most famous plantations was the Mountravers Estate set on the hillside above Pinney's Beach which is named after the Bristol merchant John Pinney who owned it. We walked up to try and find the old plantation buildings, but the site now appears to have been fenced in by the owners.
Other old sugar plantations such as the Eden Brown Estate and the Old Manor Estate Hotel are marked on the Nevis Heritage Trail.
9. Dip a toe in the Nevis Hot Springs
Close to Charlestown is the Bath Hotel Nevis with hot springs that were the island's main tourist attraction back in the 18th century. Mineral water heated by volcanic activity feeds a small bath, with a temperature that reaches 108 degrees F, almost too hot to bear! You can bathe fully in this pool but we found it too hot to dip more than a toe into!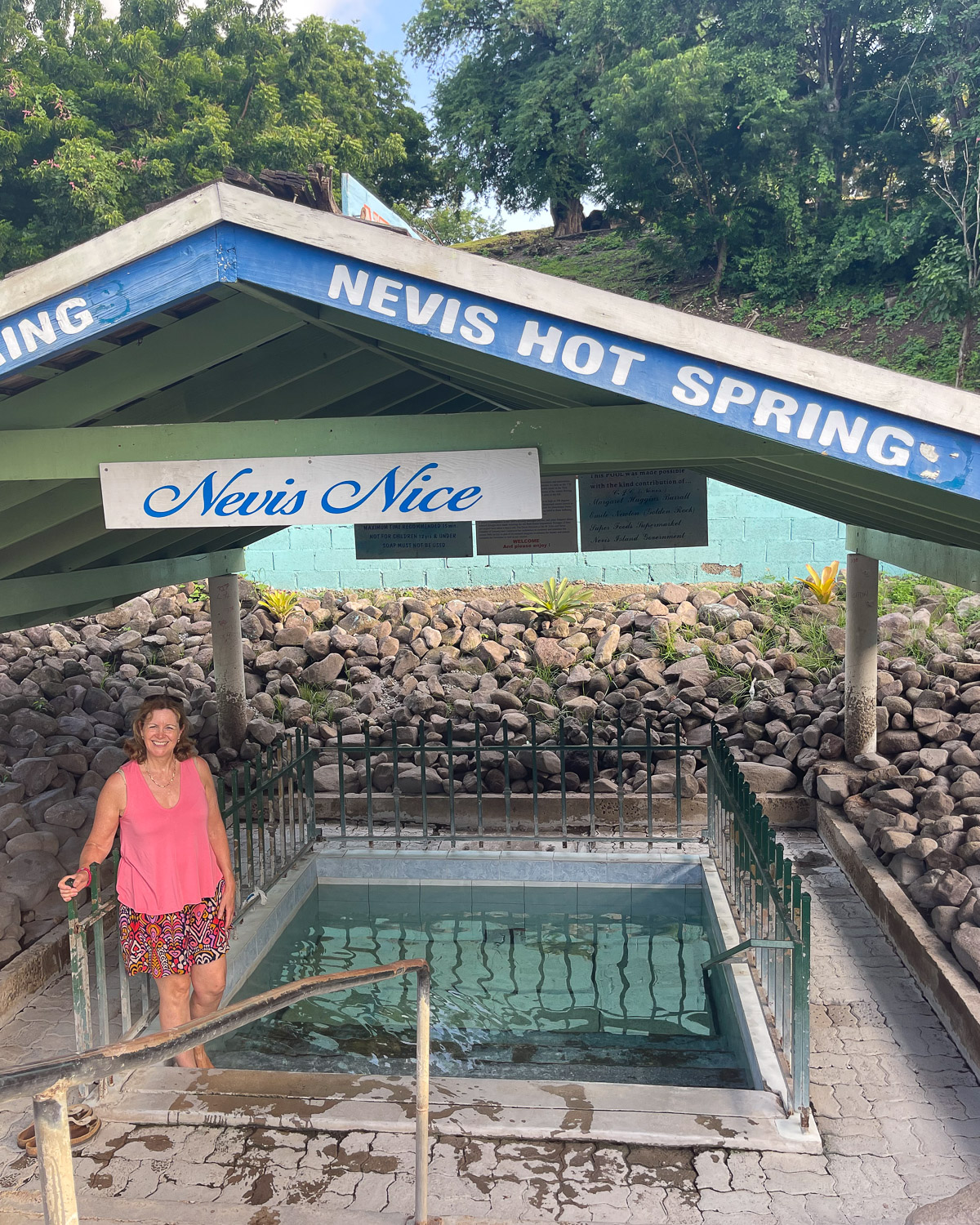 Next to the main pool is a channel where the Nevis hot springs flow into shallow pools, where it's easier to take a dip. The small pools were rather muddy and filled with gravel when we visited, but they are a popular place for locals to bathe and free to visit.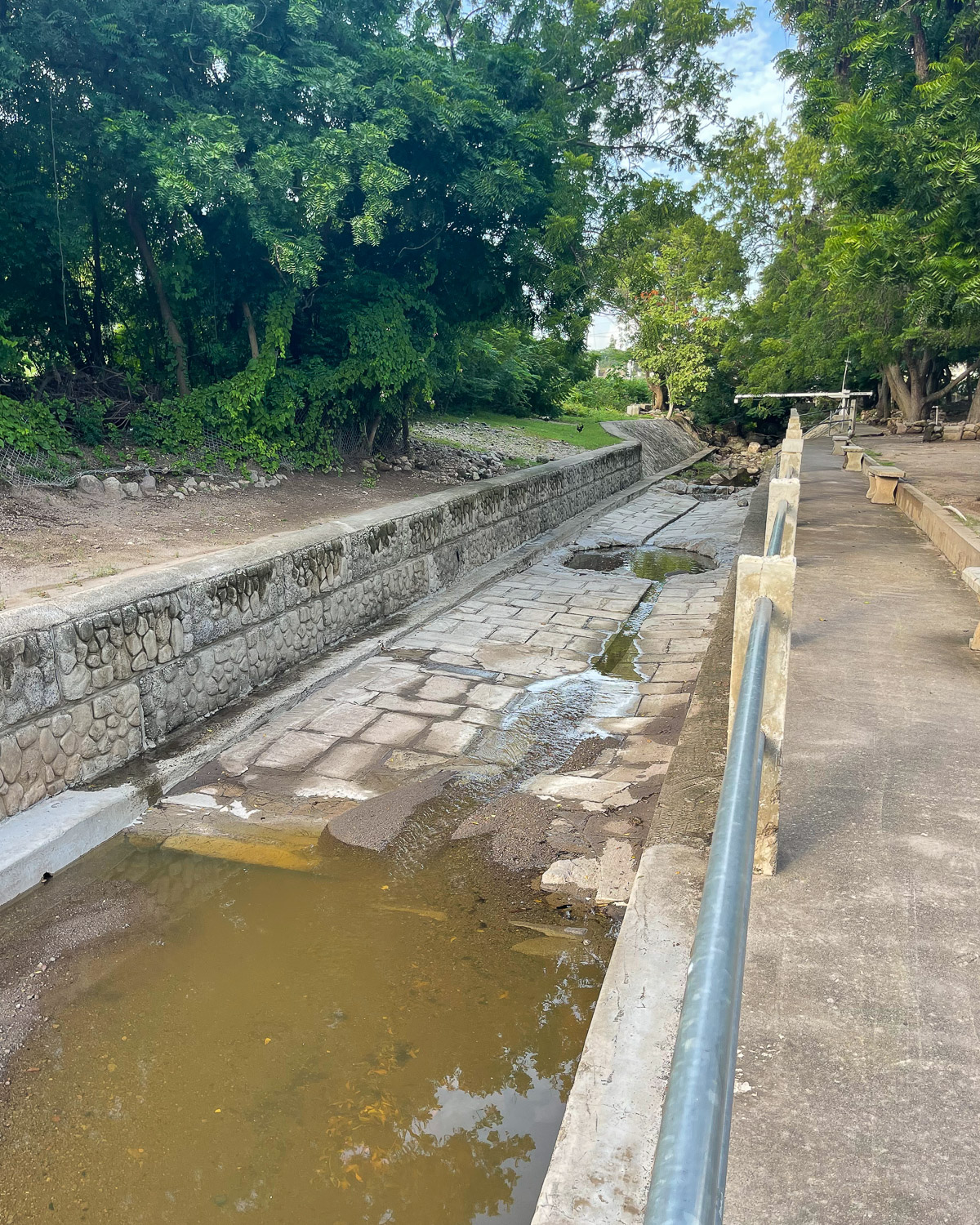 An original bathhouse is off to one side, although it's a bit ruined. Look through the windows to see the individual baths where 18th and 19th century visitors could bathe in private.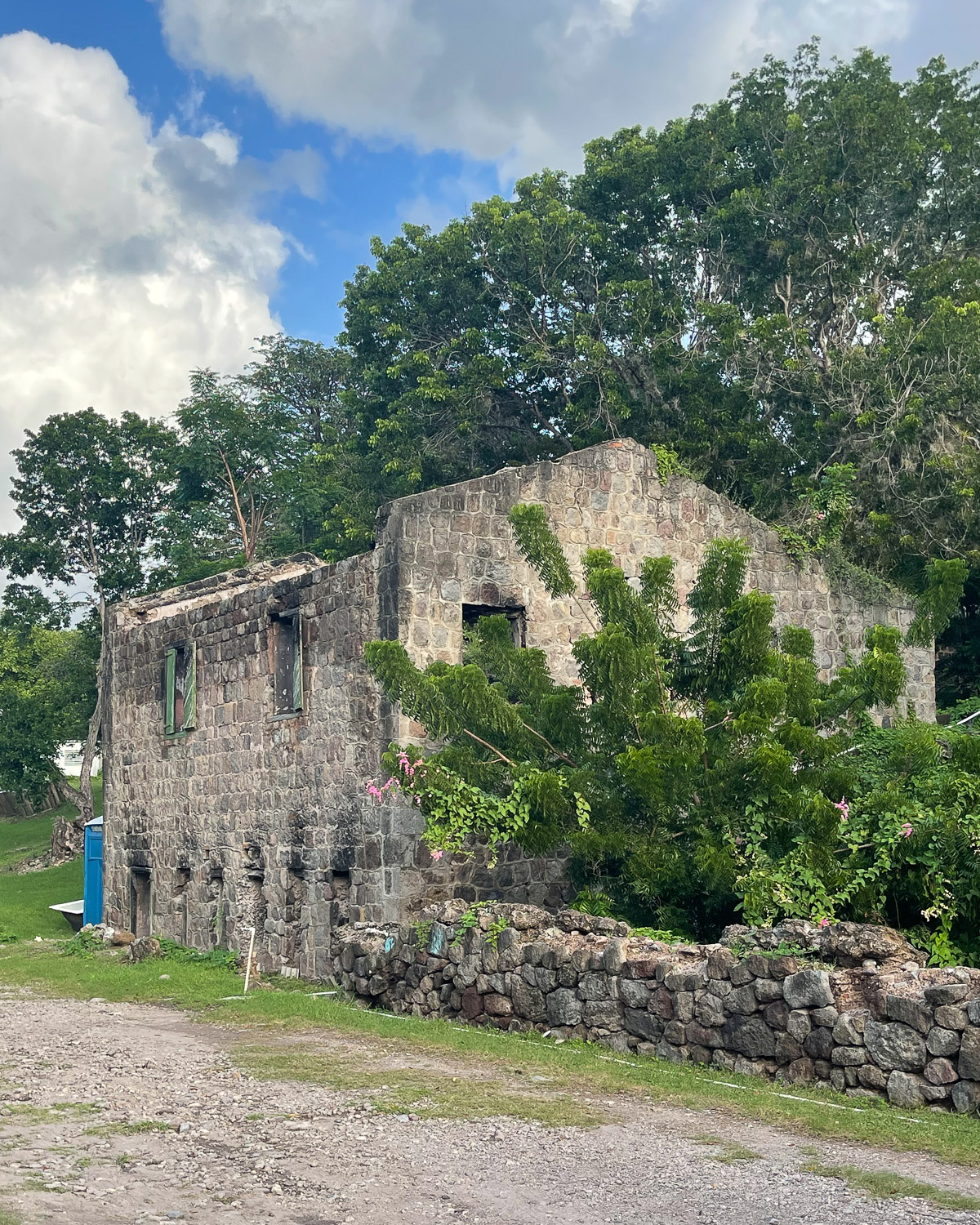 The Bath Hotel Nevis
Set on the high ground above the springs is the Bath Hotel, which was built in 1778 as one of the first hotels in the Caribbean.
The hotel is no longer use and is owned by the government, although you can walk along the terrace from the road above. Nevis Hot Springs are free to visit, although you can rent a towel from a local attendant for a small fee.
If you are interested in the history of Nevis, this half day island tour from St Kitts, includes a stop at the Nevis Hot Springs.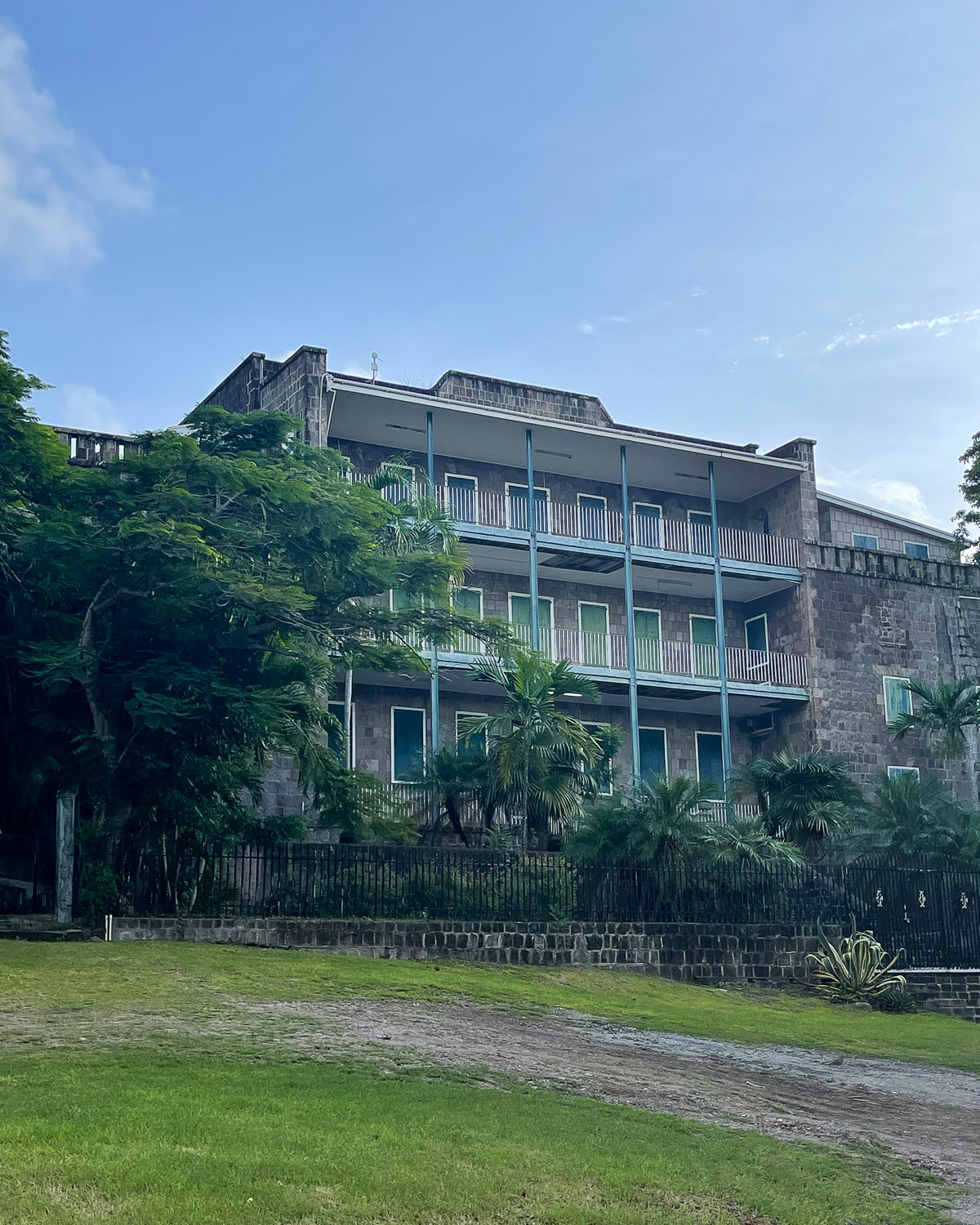 Tours on Nevis
Even if you are not staying on Nevis, you can still take these tours from nearby St Kitts
Half day Island tour of Nevis from Basseterre
Tour of Nevis with lunch on Pinney's Beach
Boat trip by Catamaran to Pinney's Beach
10. Follow the story of Horatio Nelson and Fanny Nisbet in Nevis
Nevis is well known as the island where the young sea captain (later Admiral) Horatio Nelson courted and married a pretty young widow Frances (Fanny) Nisbet. Although the marriage started happily, it ended in sadness when Nelson left his wife for Emma Hamilton, wife of the British Ambassador to Naples. In Nevis it's still possible to visit many of the places that Nelson and Fanny Nisbet would have known and get a sense of life at that time.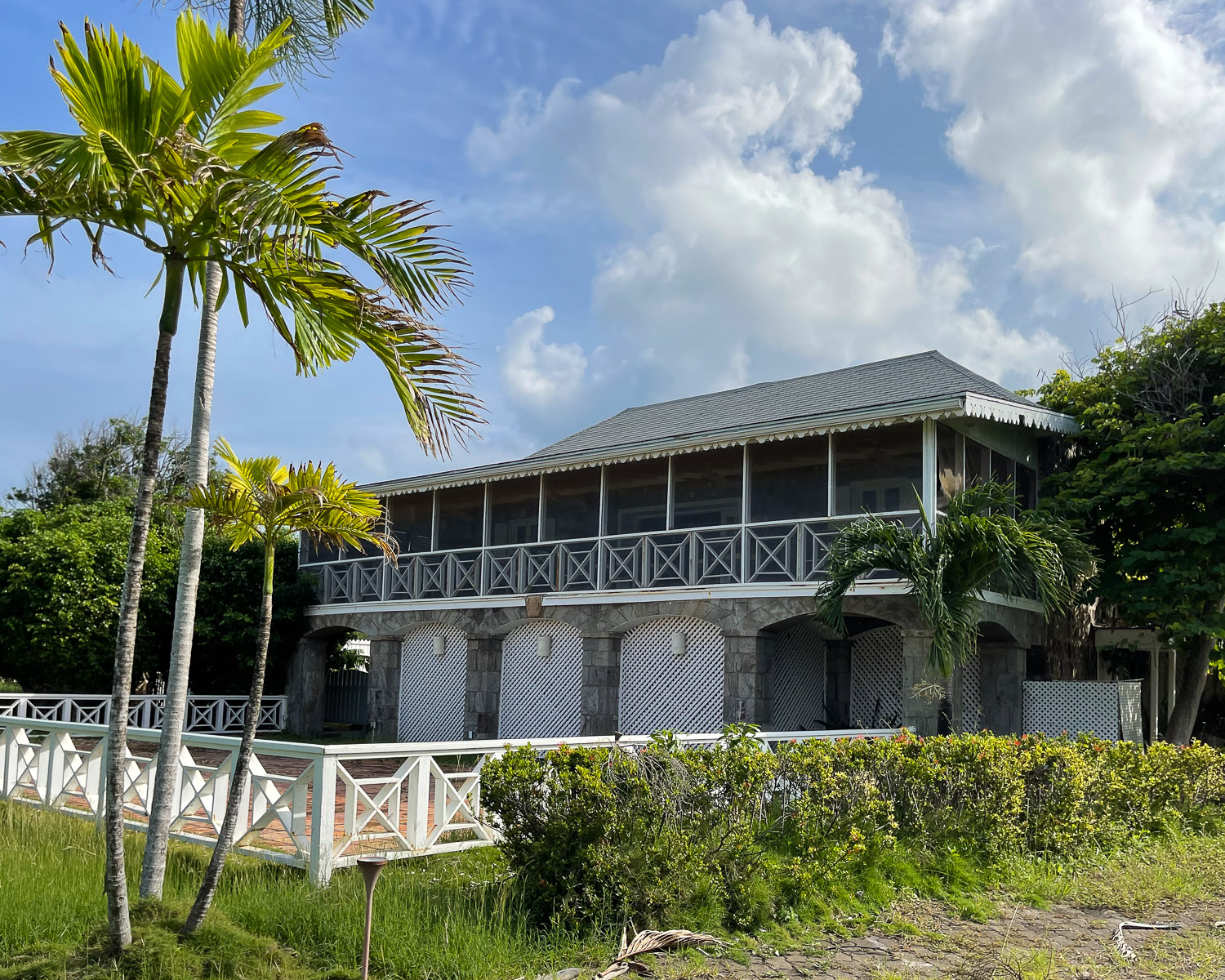 Born in 1761, Fanny was the daughter of a senior judge in Nevis and her mother was part of the wealthy Herbert family after which Herbert's beach is named. Having lost both her parents by the age of 19, Fanny married a Nevis physician Dr Josiah Nisbet (after which Nisbet Plantation hotel is named). With her husband she travelled to England and bore a son Josiah, but after only 2 years of marriage Dr Nisbet became seriously ill and died.
As a widow Fanny returned with her son to Nevis where she kept house for her uncle John Herbert at his residence, Montpelier House. Montpelier Plantation and Beach hotel where we stayed, is built on the ruins of the sugar mill and factory owned by the Herbert family, while the site of Montpelier House is just down the lane from the hotel.
In 1784 Nelson was stationed in the West Indies as Captain of the ship HMS Boreas, meeting Fanny during his visits to Nevis. By the following year Nelson had proposed, although lack of finances meant that the couple did not marry until 1787.
The marriage of Horatio Nelson and Fanny Nisbet
The marriage took place under a silk cotton tree in the grounds of Montpelier House. Although the original house has been demolished, there is a plaque on the gate of the residence. The wedding must have been a highlight of the Nevis social calendar, with Prince William Henry, son of King George III who served with Captain Nelson, giving the bride away.
The marriage was registered at St John's Church of Figtree parish, and the marriage register entry can still be seen when the church is open for services. For those interested in the history of Nevis, this half day island tour from St Kitts, includes a stop at St John's Figtree Church.
The couple returned to England and the first 10 years of their marriage were happy, even though Fanny was unable to bear more children. Nelson returned to sea in 1793 and after losing his arm in 1797 at the battle of Santa Cruz in Tenerife his wife nursed him devotedly. Following his recovery Nelson returned to active duty, but after meeting and having an affair with Emma Hamilton, he became increasingly estranged from Fanny, while she remained faithful to him.
A small Horatio Nelson Museum is located near the old Bath Hotel on the edge of Charlestown, but was closed for renovations when we visited. Fanny is celebrated on Nevis as a symbol of devotion and everlasting love. She never returned to Nevis and died in her 70s in England, where she is buried.
11. History and Heritage on Nevis
For a small island, Nevis is packed with historical interest. The Nevis Historical Society has done a great job of creating the Nevis Heritage Trail, with blue information signs at all the points of interest around Nevis.
Maps are available at the Tourist Office in Charlestown or the Nevis History Museum, where they also have a map on the wall you can photograph. Here are a few of the historical sites that we enjoyed visiting.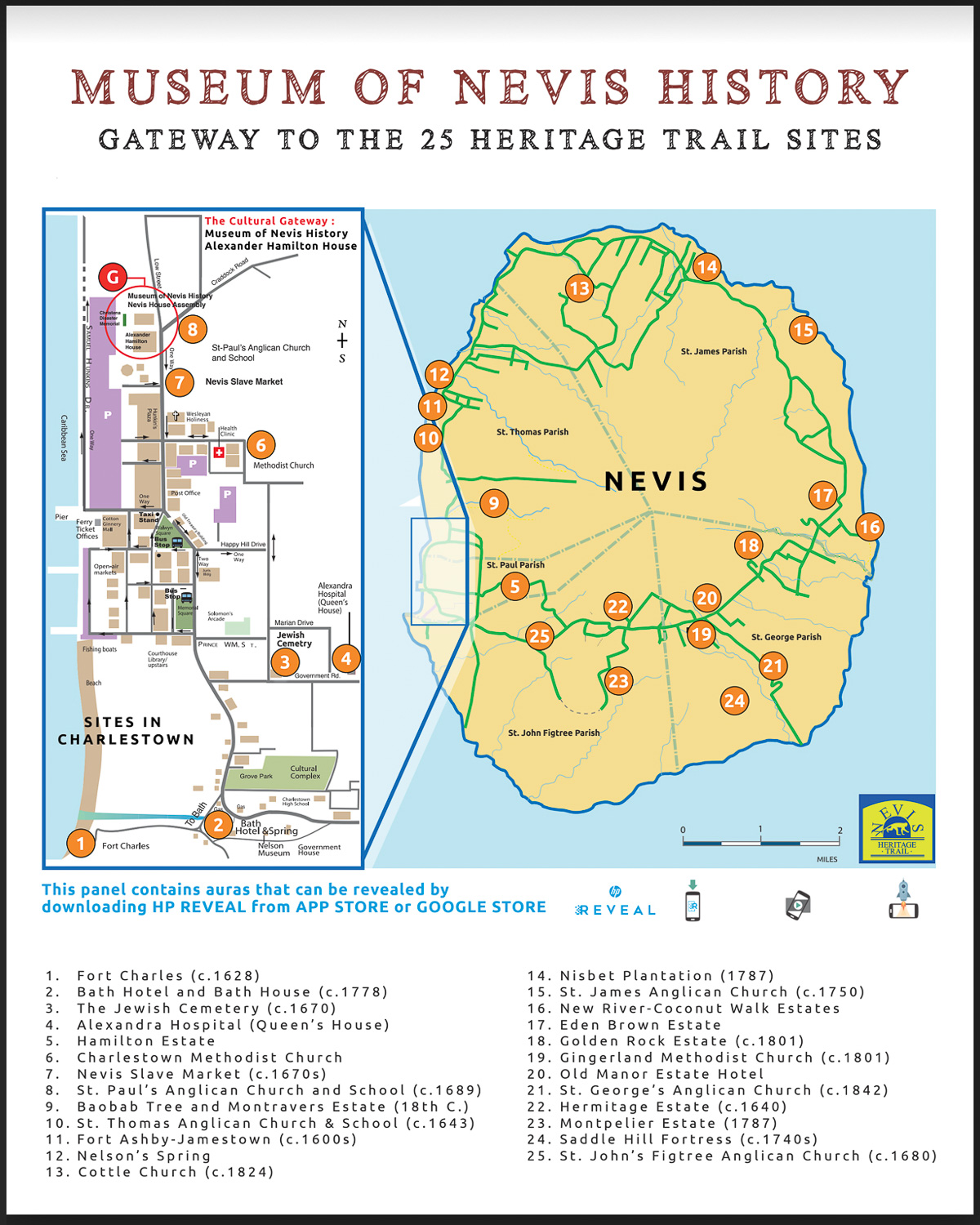 Nevisian Heritage Village
The Nevisian Heritage Village is located on the west side of Nevis at the old Fothergills estate. It's an outdoor museum that shows how people lived, from the time of the original Amerindian inhabitants, through tiny slave houses to the traditional wooden chattel houses that are still in contemporary use.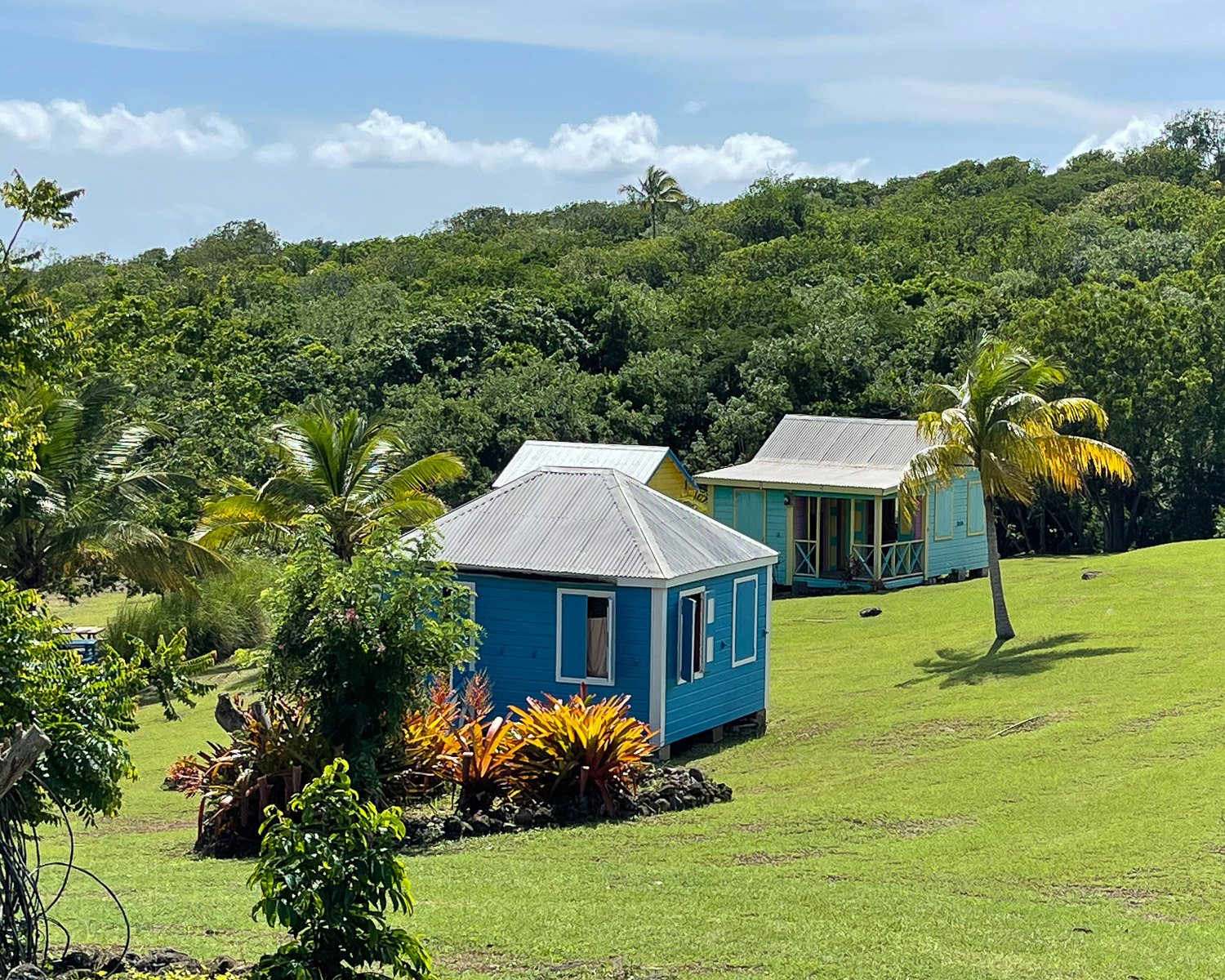 The painted wooden "Chattel Houses" with tin roofs could be built and enlarged by each family, being later transported if necessary to a new location. At the village you can also visit the stone buildings that remain from the old sugar factory and sit by a pleasant lily pool with views towards Nevis Peak.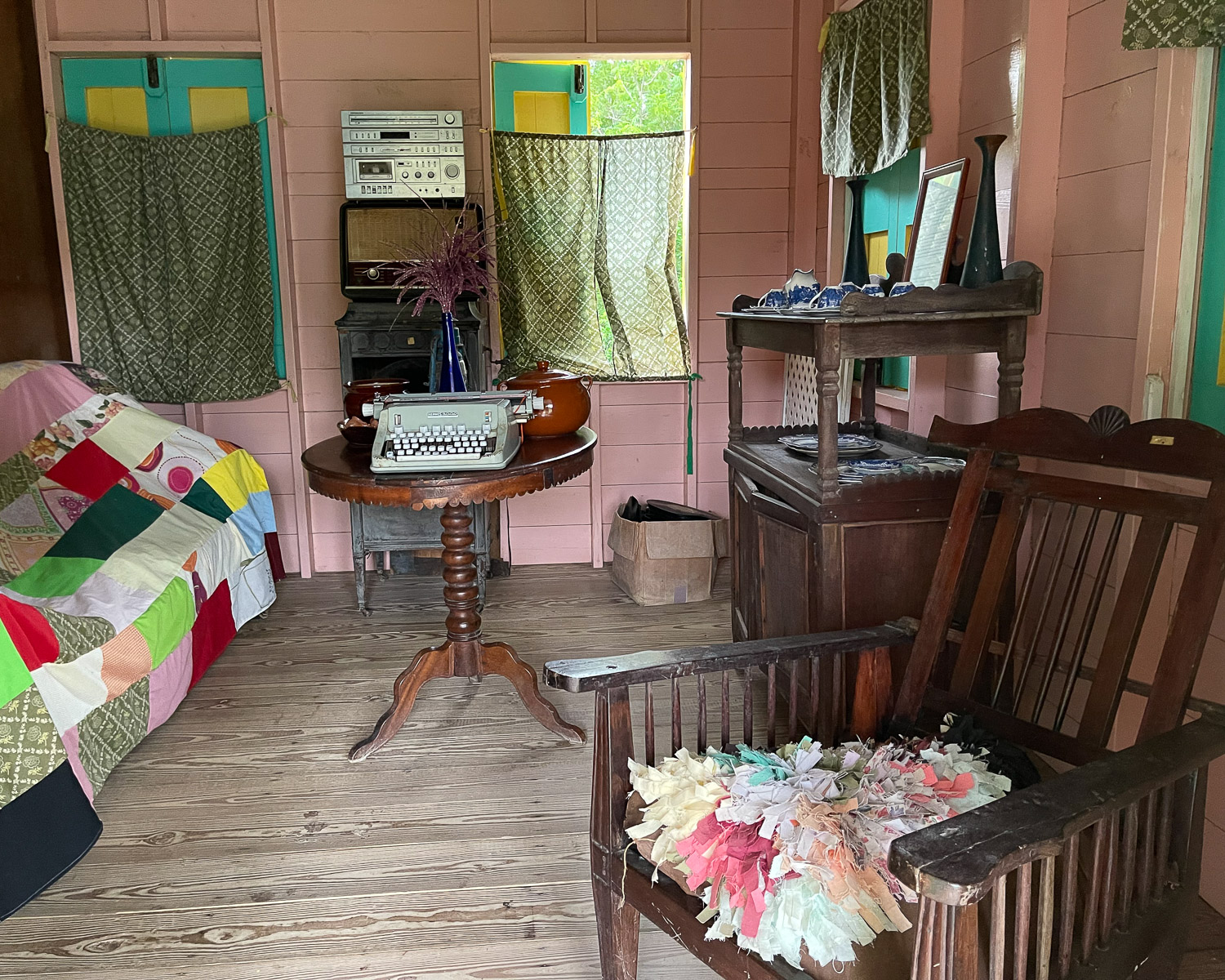 The Cottle Church Nevis
Visit the remains of the Cottle Church, which was built in 1822 by landowner Thomas Cottle on his Round Hill estate. While a slave owner himself, Thomas Cottle was one of the more progressive landowners who believed in education and better conditions for slaves.
He built the church on his land, as a place where everyone was welcome to worship together, including enslaved workers. The church fell into disrepair in the 20th century, but due to its historical significance, a trust was formed that completed its restoration. Today the Cottle Church is used for community and religious events, with information boards about the church's history.
If you are interested in the history of Nevis, this half day island tour from St Kitts, includes a stop at the Cottle Church.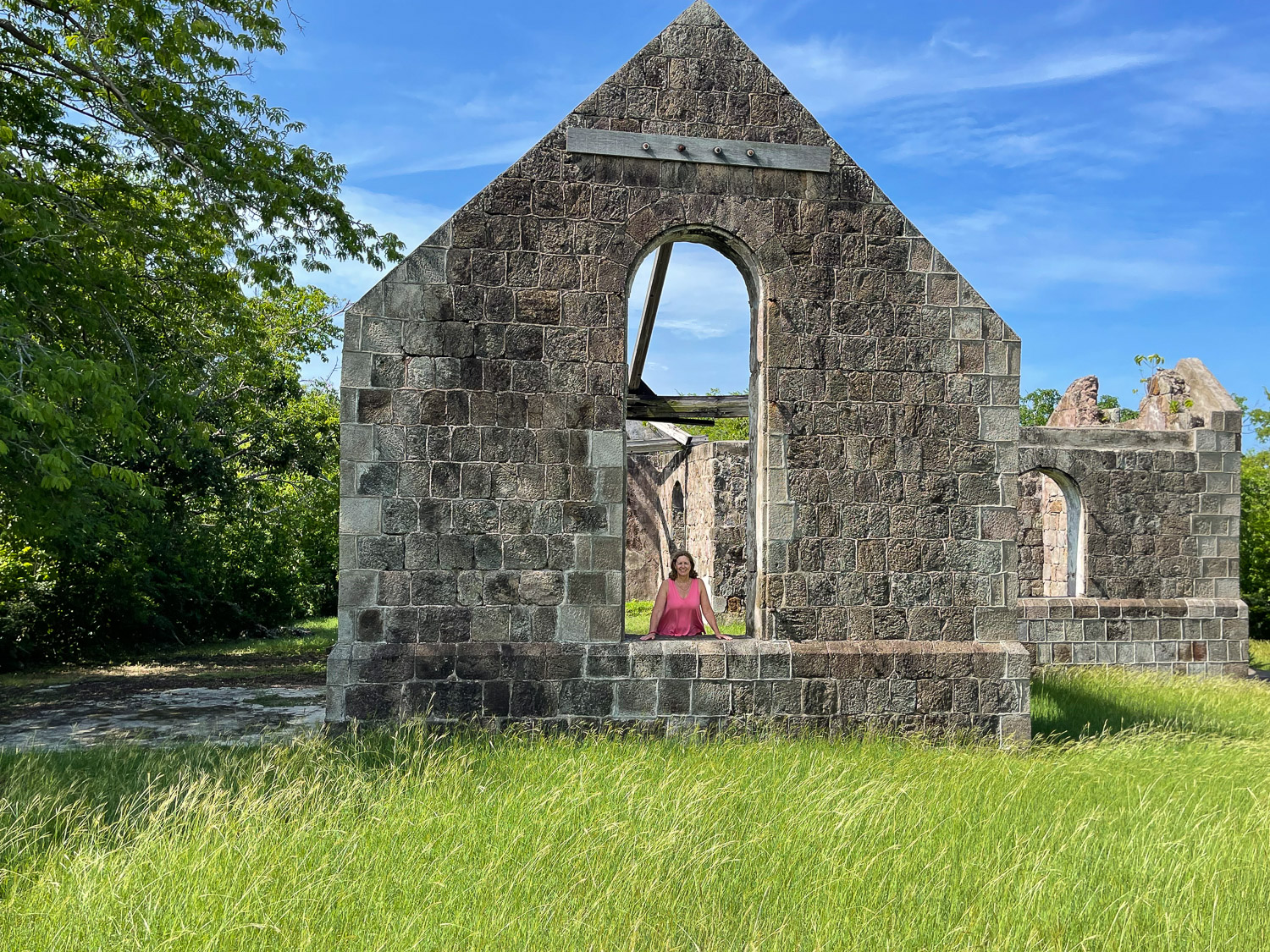 Fort Charles Nevis
Close to Charlestown overlooking Gallows Bay are the ruins of Fort Charles, with stone walls and canons facing out to sea. Built in the 1630s to protect the main port of Nevis, the fort changed hands between the English and the French, but was abandoned in the 1850s after the sugar trade collapsed. You can find it on a map and park inside the metal gates if open, then walk around the buildings to find the fort overlooking the sea.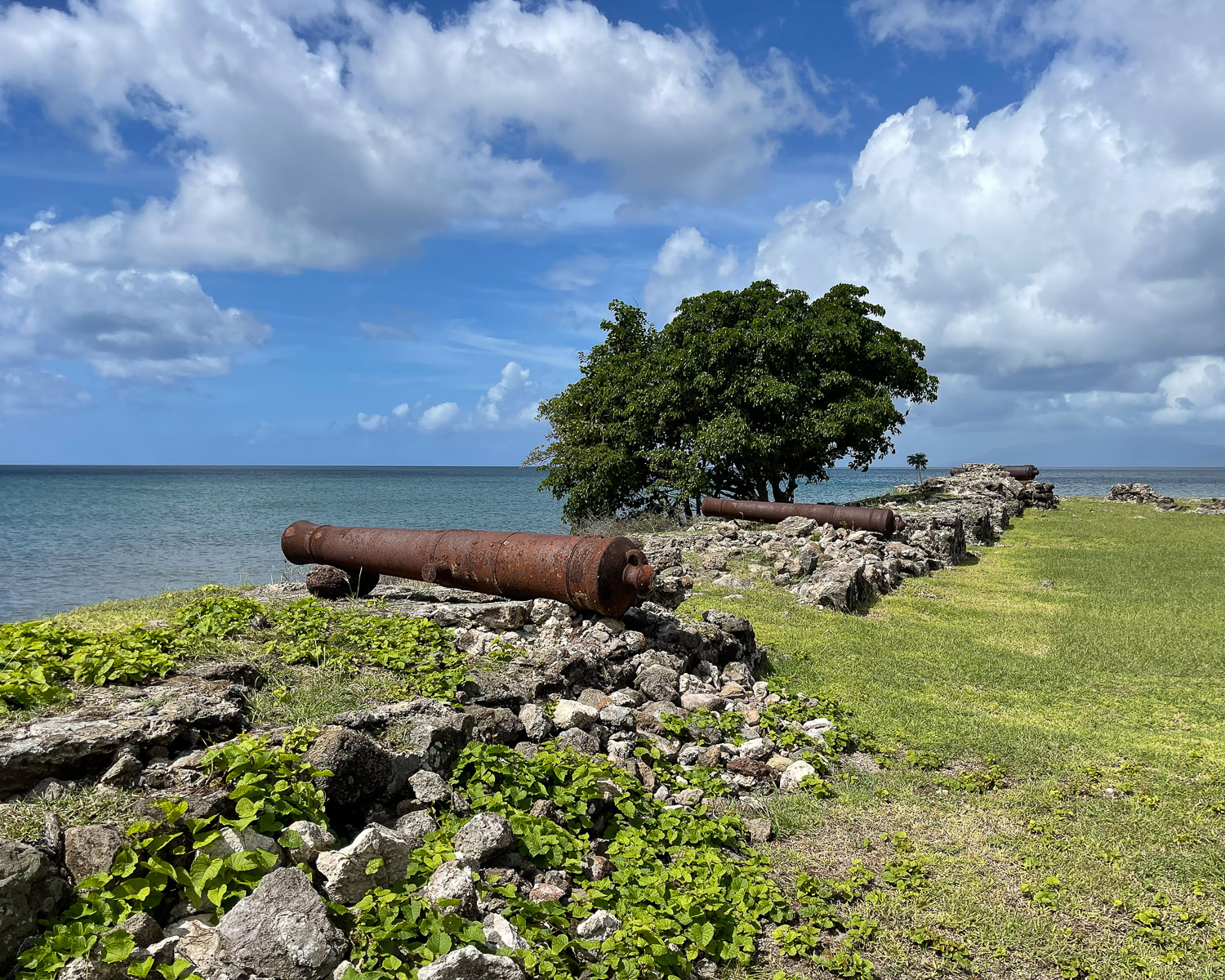 St Thomas Anglican Church
St Thomas Anglican Church occupies a prime position on the high ground overlooking the sea, just north of Pinney's Beach. This is the oldest Anglican church on Nevis and one of the main churches used by the Plantocracy class of Nevis, especially the owners of Mountravers Estate.
You will be welcome to see inside the church by attending a service or visiting just after a service when the church is open, although it was closed when we visited. However the graveyard has the tombs of many of the island's notable landowners, including the notorious Edward Huggins, owner of Mountravers Estate, who was tried for cruelty to one of his slaves.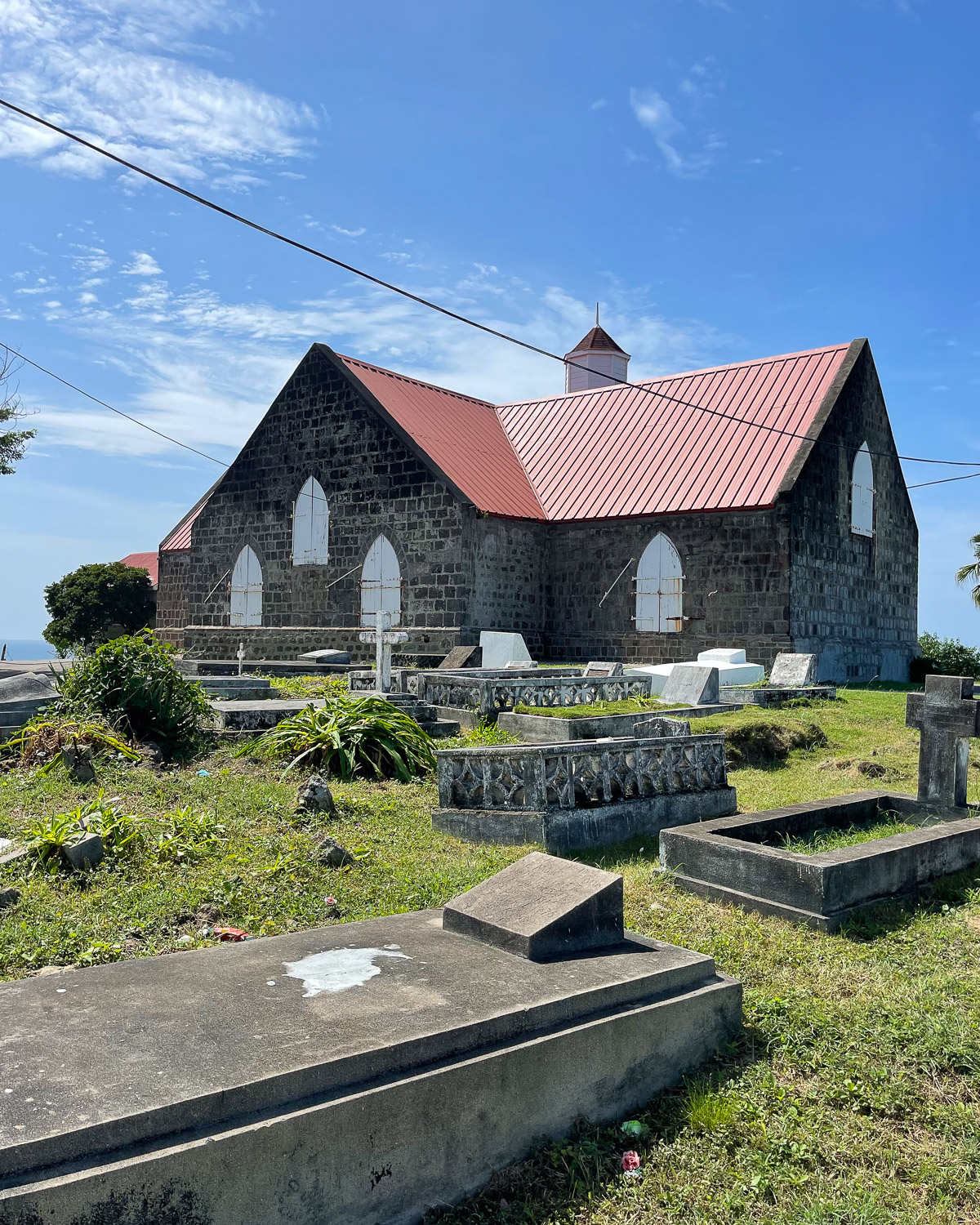 Tours on Nevis
Even if you are not staying on Nevis, you can still take these tours from nearby St Kitts
Half day Island tour of Nevis from Basseterre
Tour of Nevis with lunch on Pinney's Beach
Boat trip by Catamaran to Pinney's Beach
12. Local arts and crafts in Nevis
I like to support local artists and buy authentic, locally made crafts as gifts whenever I can. For a great selection of Nevis made arts and crafts, head to The Olive Tree which is located north of Pinney's Beach in the Nelson Springs Resort. The gallery stocks artwork from Nevis and Caribbean based artists like Vaughn Anslyn, Easton Davy and Jonathan Gladding, as well as locally made pottery, soaps, accessories and other souvenirs.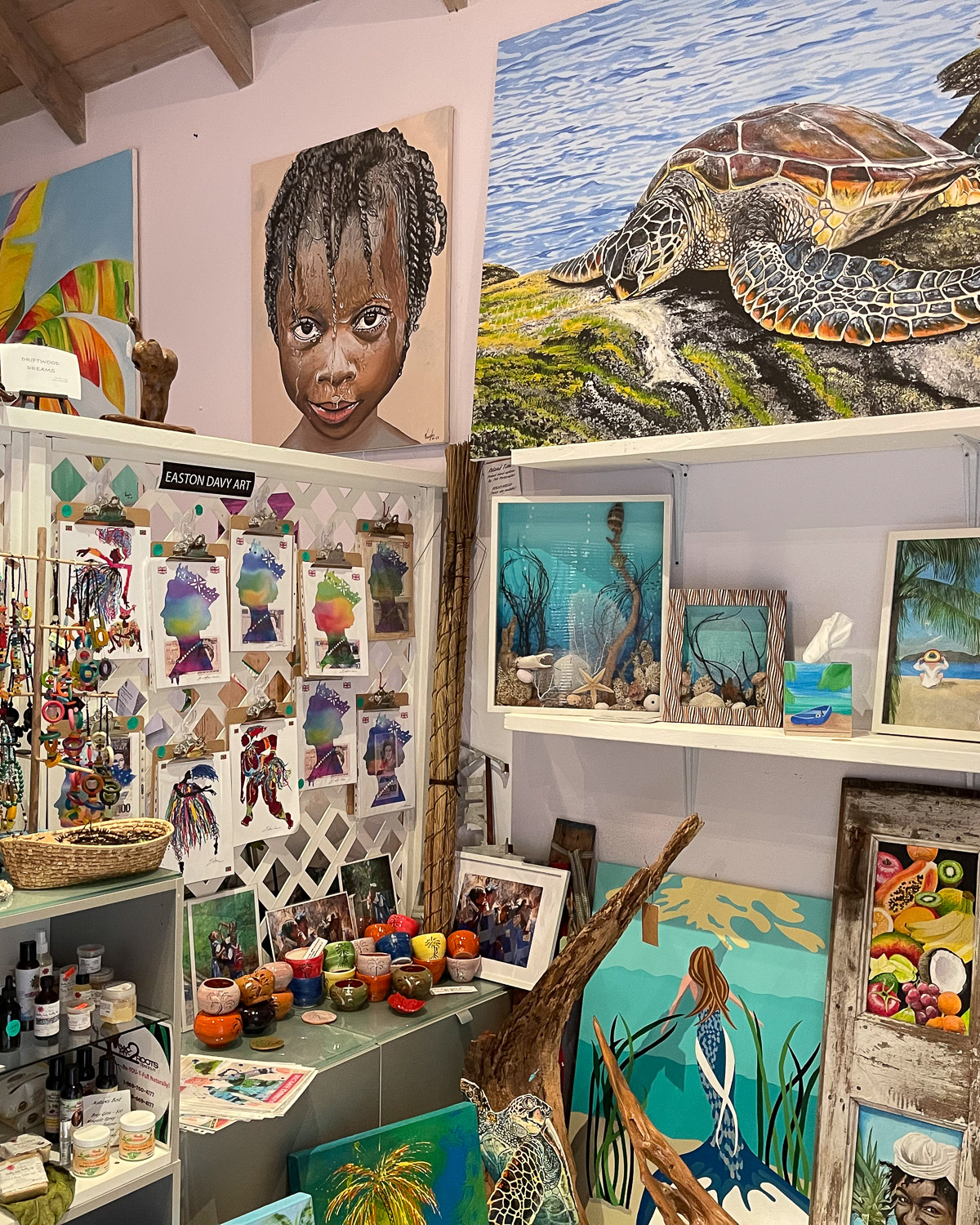 We noticed the murals of Nevis artist Vaughn Anslyn in a few other places around the port, one along the road near the Museum of Nevis History. Other St Kitts and Nevis artists worth seeking out include Kate Spencer whose colourful prints and artworks are on sale at Indigo Blue gallery and Vikki Fuller who owns the V Gallery at Drift Restaurant. As opening times are can be a bit variable, it's worth checking on their social media or ringing ahead if you are planning a special visit to any gallery.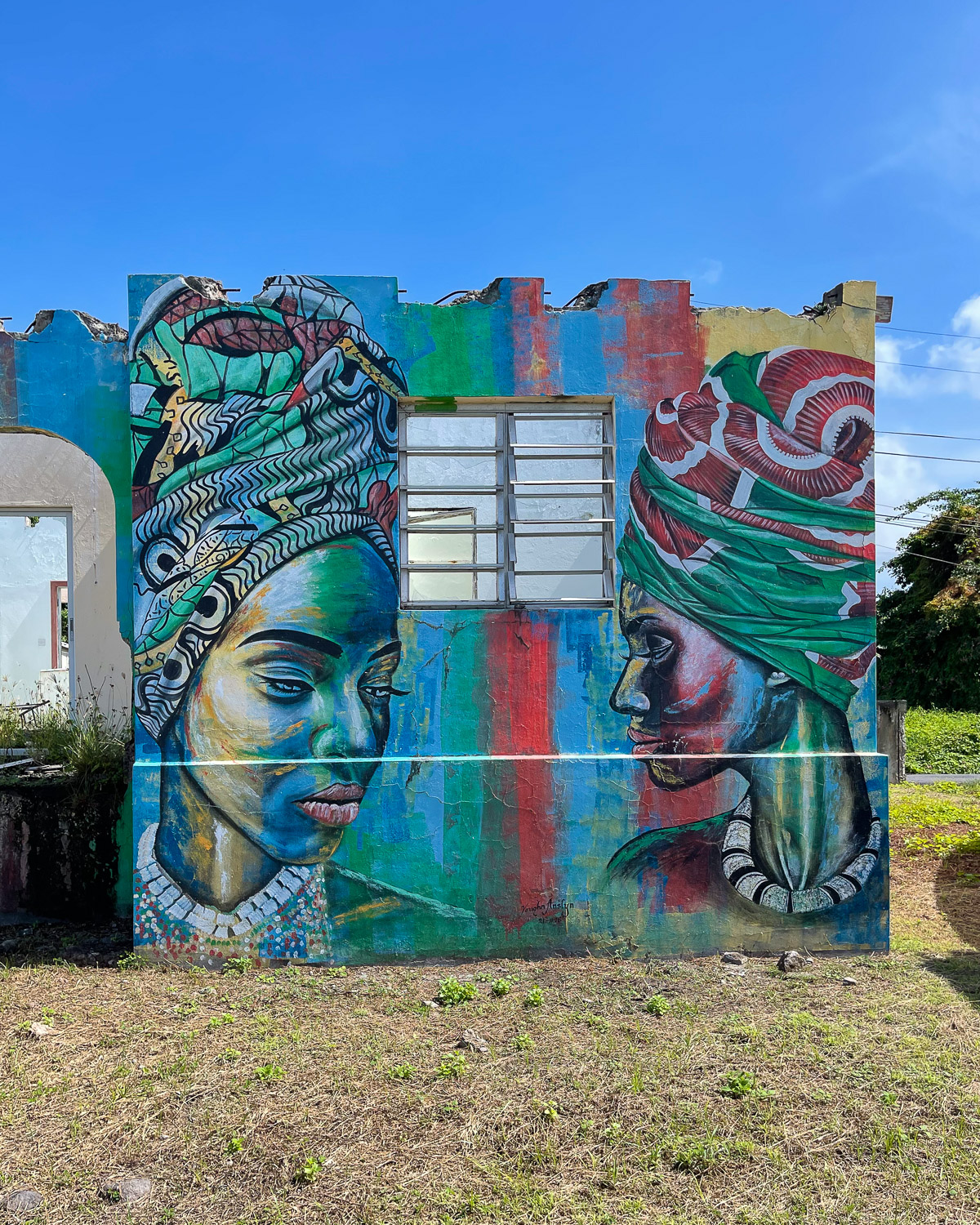 Be sure to pop into the Nevis Artisan Village which is on the outskirts of Charlestown, on the way to Pinney's Beach. It's a collection of brightly painted wooden Chattel Houses, each a shop for local artists and crafts people. Take the time to look around and chat to the stallholders who we found to be friendly and proud of their work.
If you want to see other artisans working, there are basket weavers and woodworkers in the larger craft house adjoining the village. A couple of the coloured houses sell refreshments and snacks, and we enjoyed a fresh fruit smoothie at the God's Creations shop.
13. Shopping in Nevis
Nevis is a small island and most of the commercial services are located in or around Charlestown. This is the place to stop if you need banking, mobile phone services or shops that serve the local community. But if you are shopping in Nevis for pretty things for your holiday wardrobe (looking at you ladies!) I can recommend the following.
Lime in the coconut – On Pinney's Beach next to the Lime bar, this wooden boutique stocks pretty holiday wear, hair accessories, bags, jewellery and linen shirts for men.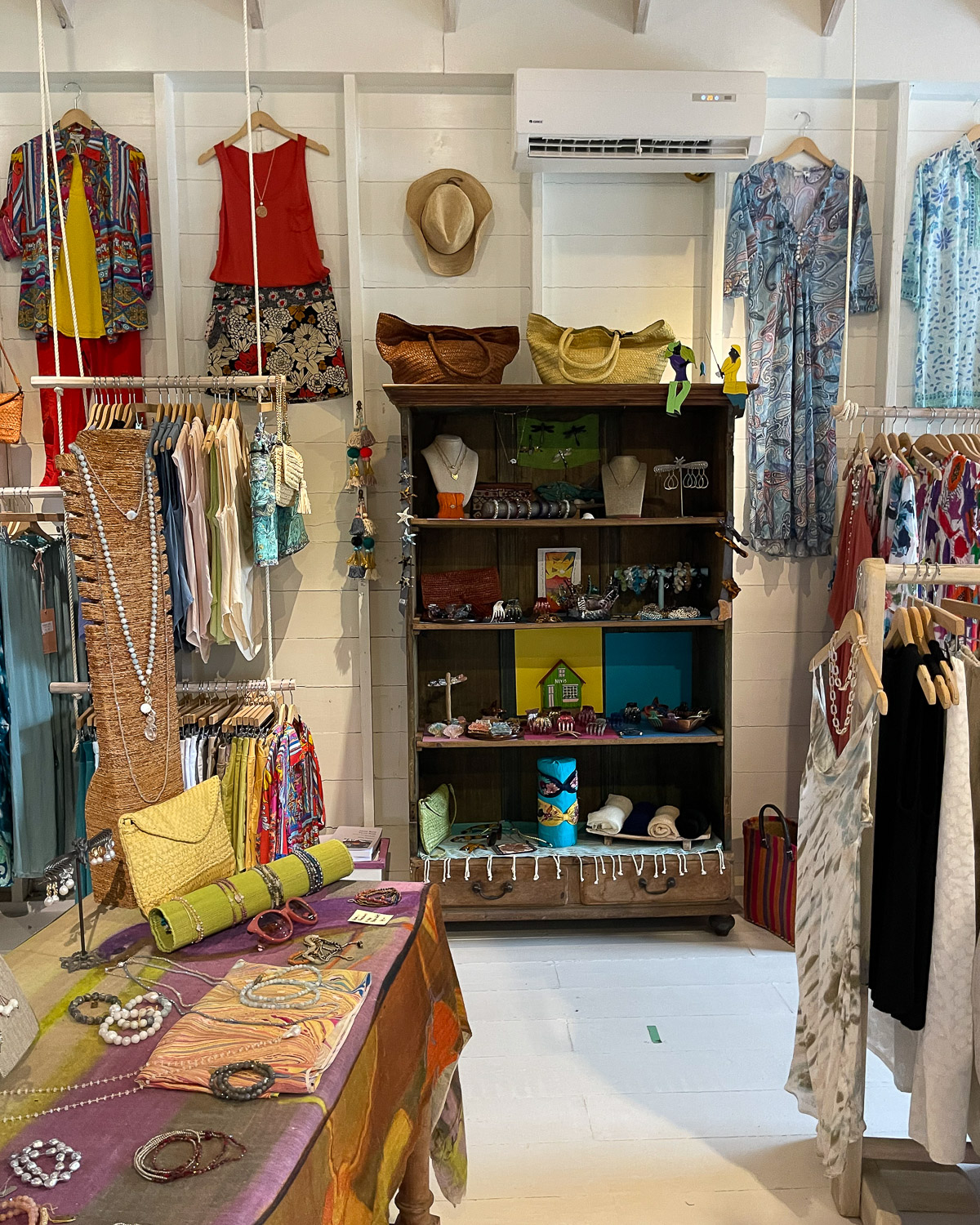 Indigo Blue – on the edge of Charlestown at Riviere House on Government Road. The shop is in a lovely old wooden building. It stocks stylish homeware and gifts as well as acting as a gallery for local artist Kate Spencer. Indigo Blue is run by Anne Lupinacci from The Hermitage, who also has a clothing boutique, The Art House located at the hotel.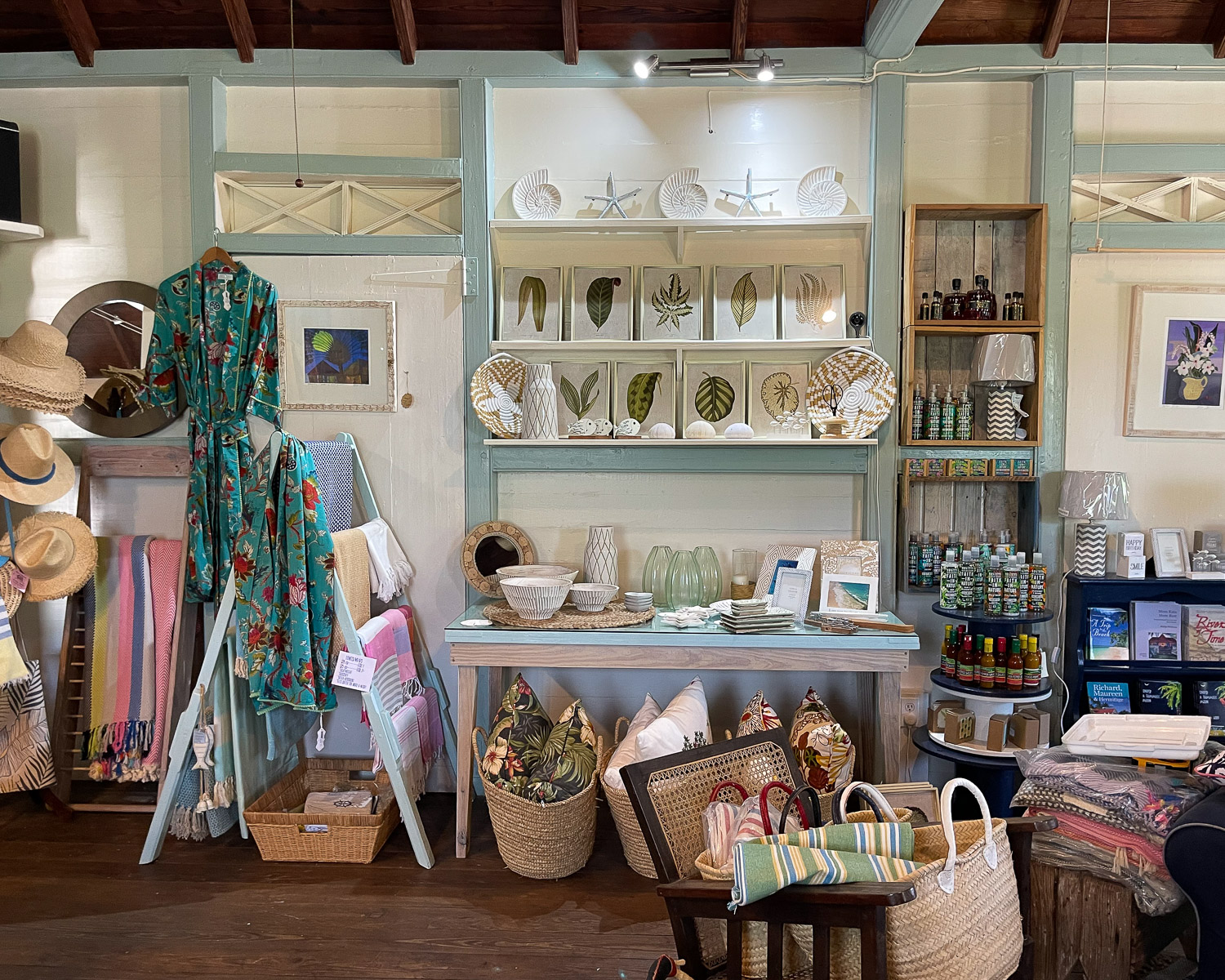 Banana's boutique and restaurant – Run by Gillian who owns Banana's Restaurant, the boutique stocks stylish and unique holiday wear that's sourced from all over the world. Striking jewellery is made with semi precious stones working with artisan workshops in India. The boutique is open the same hours as the restaurant.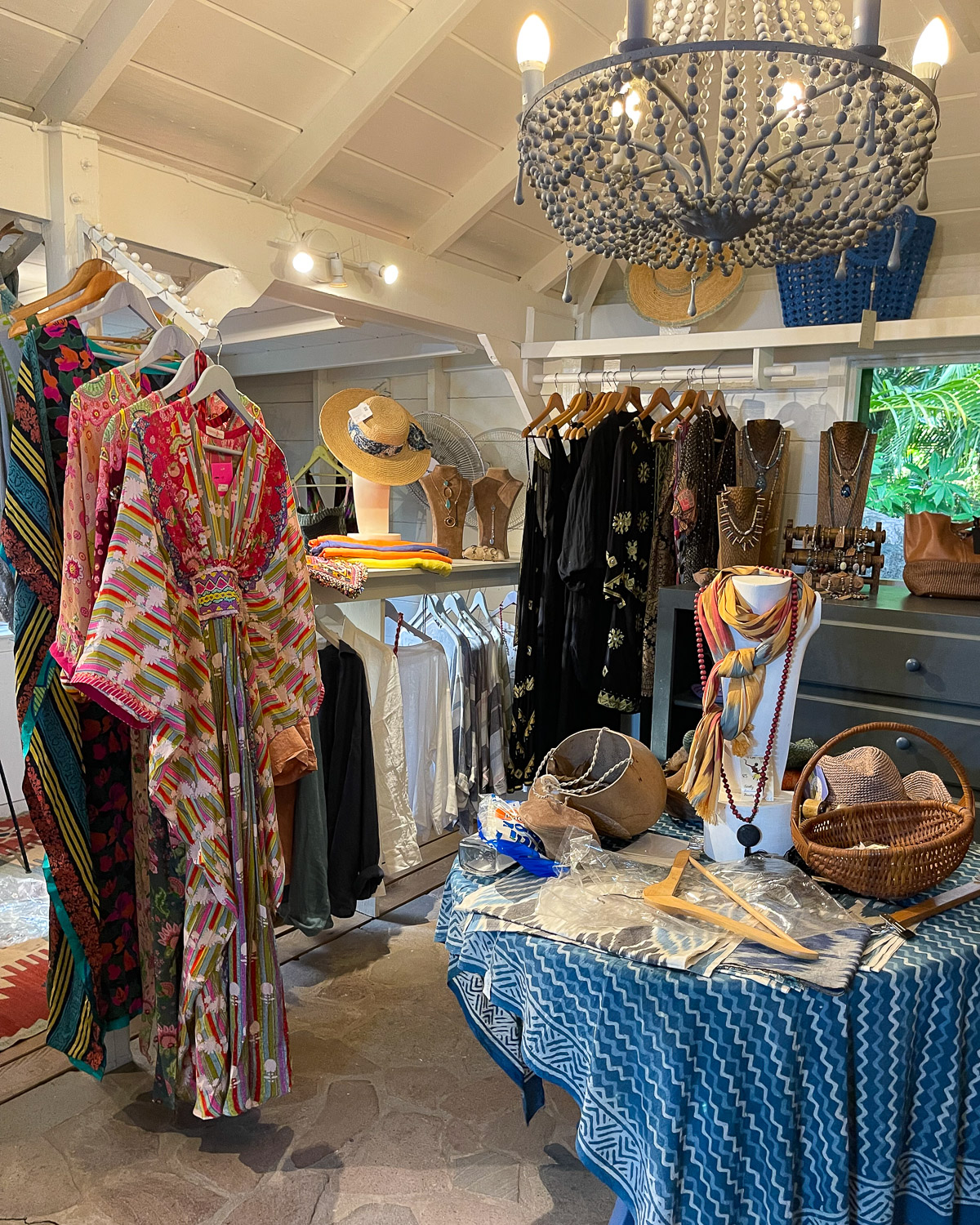 The Art House – located in a pretty wooden house at The Hermitage Hotel, the boutique stocks holiday clothing, bags, accessories and some locally made cards, gifts and books about Nevis.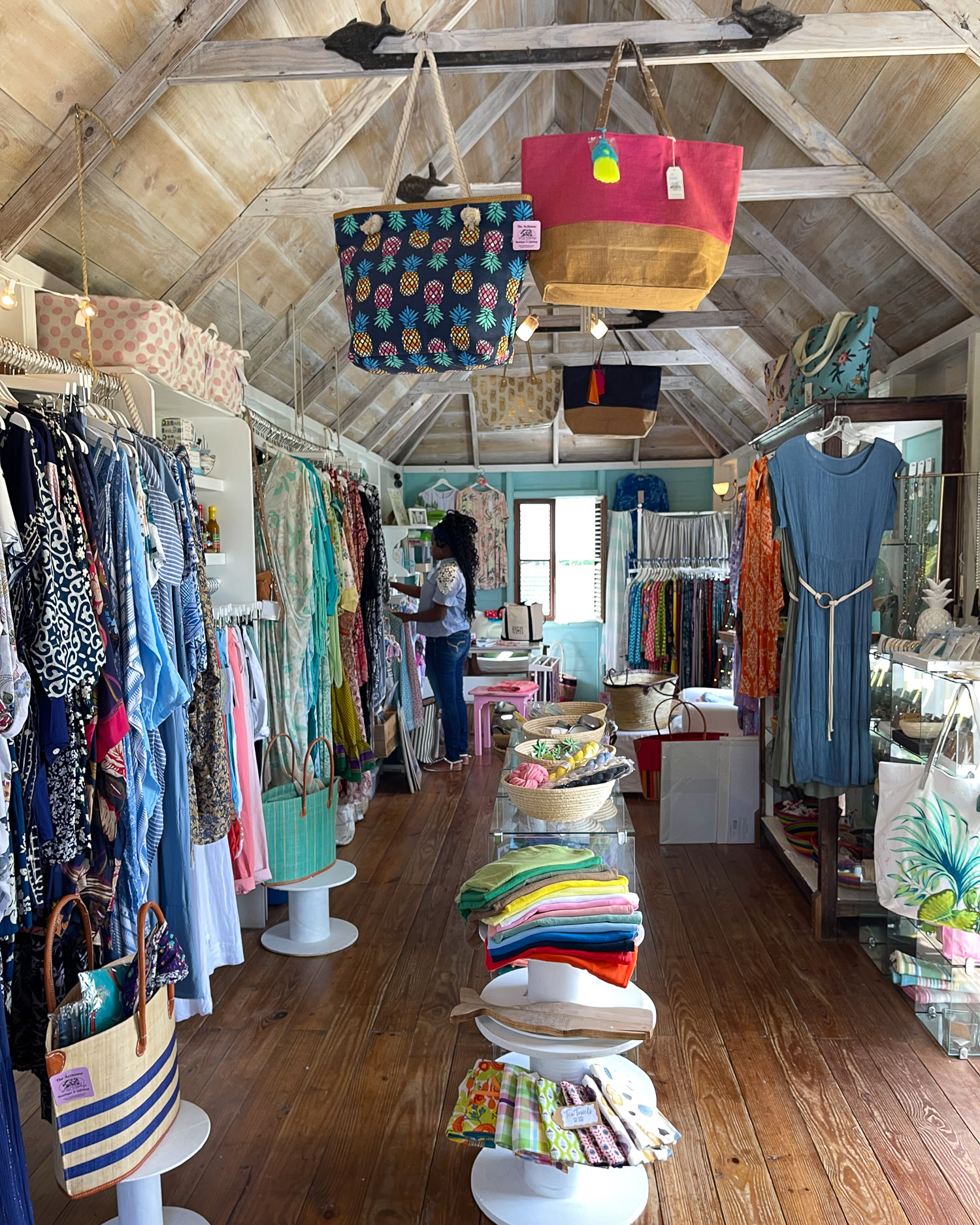 14. Active and Adventure on Nevis
Among the Caribbean Islands I've visited, I'd say that Nevis is even more laid back than most. However that's not to say that you can't have a bit of fun if you want to get active. Here are a few more adventurous activities to try:
Funky Monkey Tours on Nevis
Funky Monkey Tours offer an off road experience in Nevis using Polaris 4 x 4 off road vehicles. Join one of their tours and you'll drive your own vehicle in convoy. The guides take you around the island on the smaller roads to see the best island sites.
A mixture of beaches, ruins and rainforest tracks are visited, with stops for refreshment and pictures, mixing in the stories that only a local can tell you. Funky Monkey also offer private tours and rent their vehicles out if you want to explore independently.
Bike hire on Nevis
Bike Nevis are based at Oualie Beach and are the main business offering cycling on Nevis. Most hotels and tour companies arrange bike hire on Nevis through Bike Nevis, who can arrange for bike drop off at your accommodation. They rent a wide range of bikes by the day, including mountain bikes, road bikes and racing bikes. Whatever your level there will be a bike for you!
Also enquire about their bike tours, like the Island Discovery Tour and the History and Heritage Tour. The shop was closed when we passed by Oualie Beach, so we recommend contacting them in advance, to ensure you get the bike you need.
We heard that Sunday is a great day to hire bikes and ride around the island, since the roads are quieter. You'll pass by churches where Sunday services are taking place, which is quite a social event! While the main road that encircles the island has a fair amount of traffic, there are plenty of quieter side roads to explore, especially in the south and west of the island.
Diving in Nevis
While we are not divers, we know that many visitors love to dive in the Caribbean. The main company offering diving in Nevis is Scuba Safaris, a Padi 5 star dive centre based at Oualie Beach. Scuba Safaris offer dive courses and dive trips from Nevis.
Dive sites are mainly on reefs and wreck sites on the more protected Caribbean side and in "the Narrows" channels between St Kitts and Nevis. If you are looking for snorkeling in Nevis, they also offer a daily Snorkel Safari with a 1 hour session at an offshore snorkel site near the coast of St Kitts.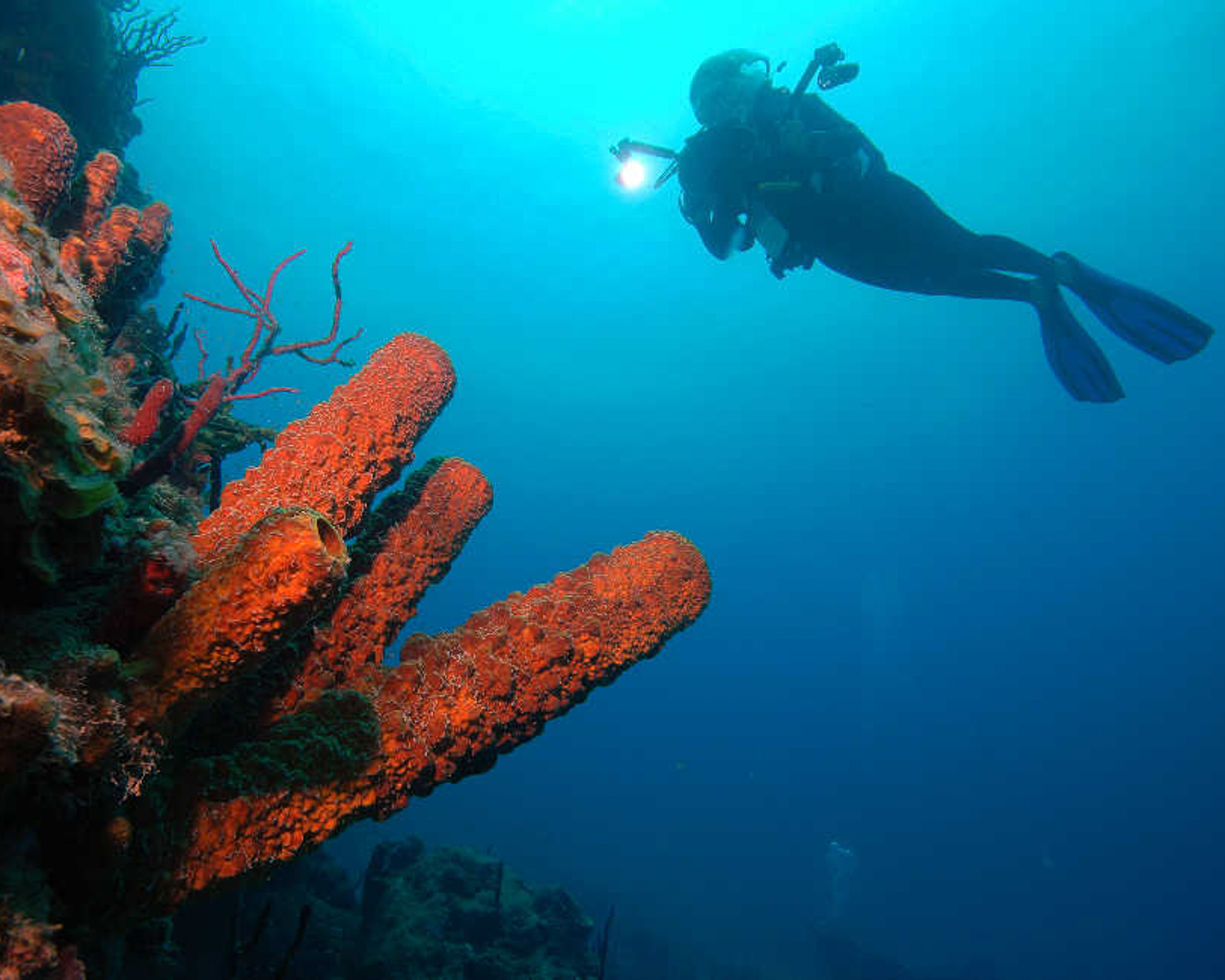 15. Festivals in Nevis
From music and culture to sport and juicy mangoes, here are the Nevis Festivals to look out for when you visit,
Nevis Mango Festival
Nevis is one of the most prolific growers of mangoes, so it makes sense that they would hold a mango festival to celebrate the bountiful crop. The festival is held at the end of June and you can check the Nevis Mango Festival website for exact dates.
Nevis Mango fest takes place over a weekend and includes food tastings, mango eating competitions, quizzes and chef masterclasses. Even if you don't get to the festival, look out for mangoes in the markets and restaurant menus, when you visit Nevis in June and July.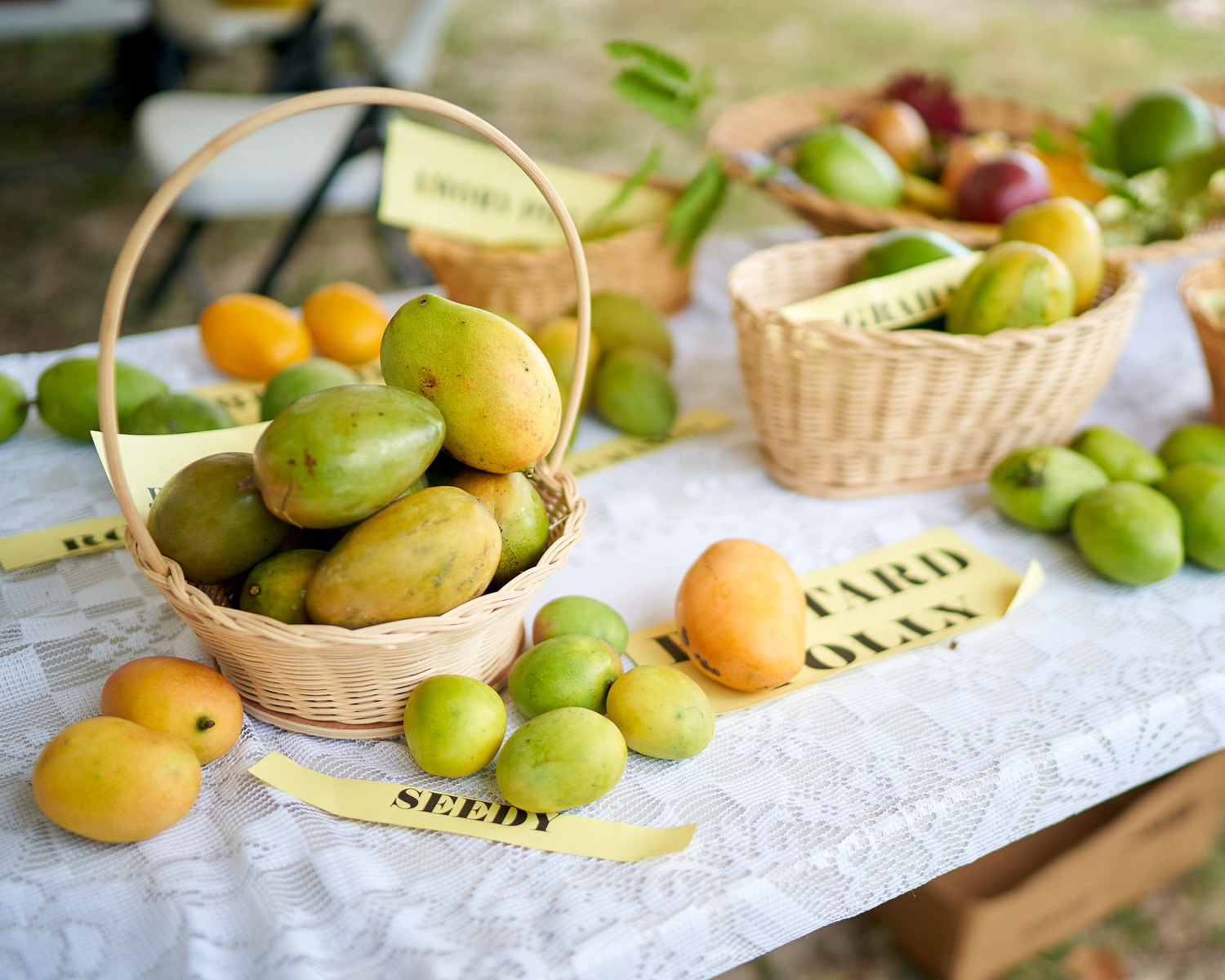 Nevis Culturama Festival
Nevis Culturama is the island's answer to Carnival, a celebration of Nevis arts and culture and emancipation from slavery in the 1830s. The 12 day festival takes play in July and August, with street parades and pageants, steel bands, village fetes and musical events. There's plenty of exuberant music, fun and colour, so this is definitely one to check out if you are visiting when the festival is being held.
Nevis to St Kitts cross channel swim
A swim across "The Narrows" channel between Nevis in St Kitts takes place in March each year. The 2.5 mile swim starts in Nevis on Oualie Beach and ends at St Kitts Cockleshell Beach. Boat transport is laid on for the return trip. Check the event website for more information about registration.
Other sporting events such as the Nevis Marathon and Triathlon also take place in September and November.
Tours on Nevis
Even if you are not staying on Nevis, you can still take these tours from nearby St Kitts
Where to stay in Nevis
We stayed in two gorgeous hotel in Nevis, the Montpelier Plantation and Beach and The Hermitage, both of which we can highly recommend. Here are some of the hotels and places to stay in Nevis that we suggest you check out, depending on your style and budget.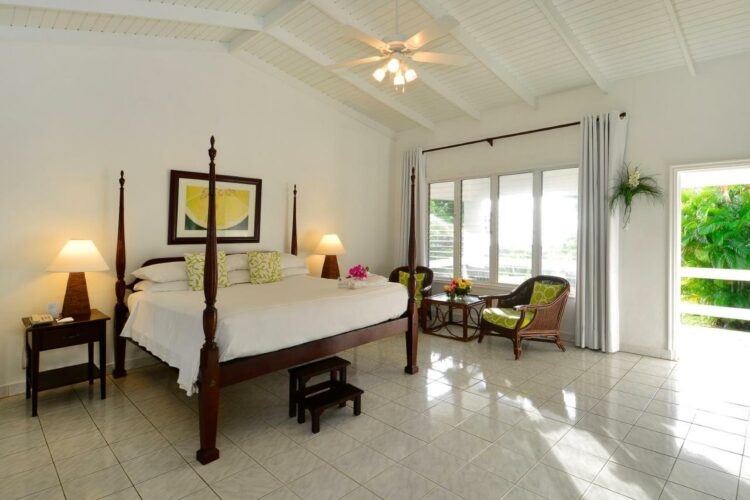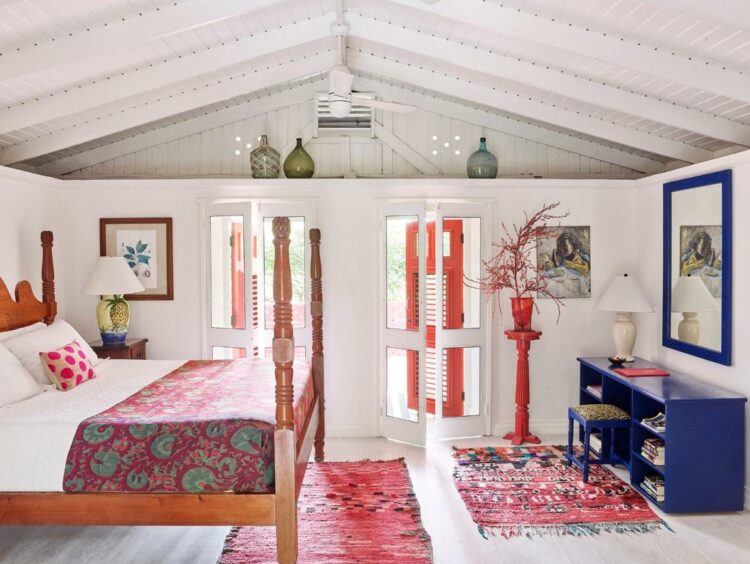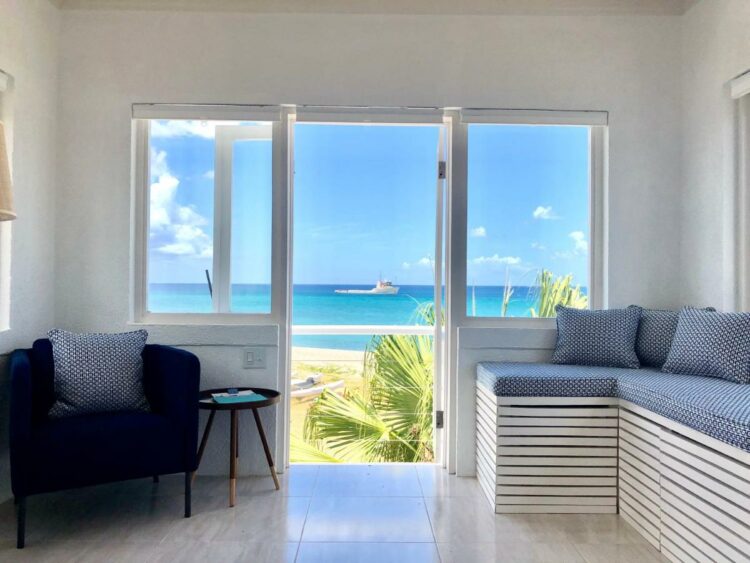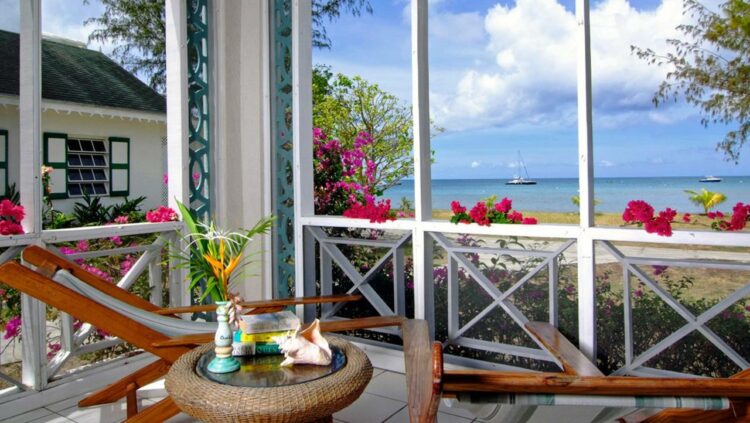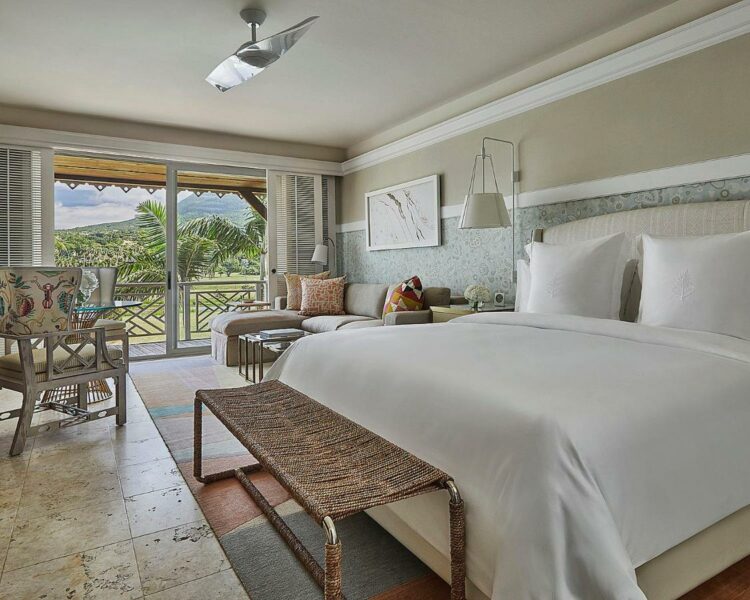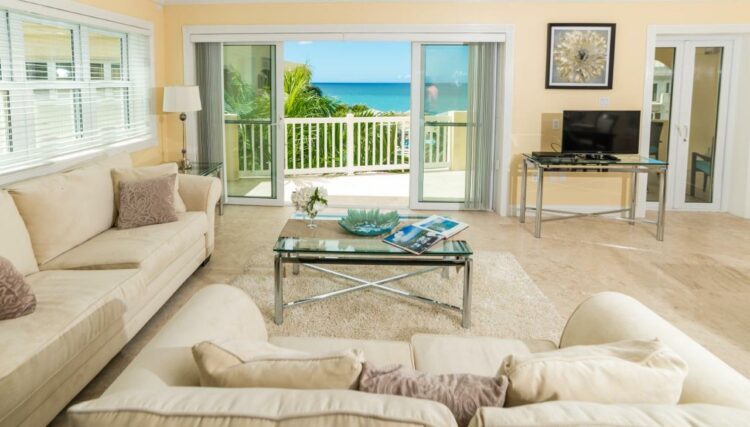 Stay at the Hermitage Nevis – an historic plantation hotel in the Caribbean
How to reach Nevis from St Kitts
It's surprisingly easy to get to Nevis from St Kitts, with numerous ferry or water taxi crossings each day. Here are a few options to get to Nevis
Flying into the Robert L. Bradshaw international airport close to Basseterre on St Kitts you can then:
Take a taxi from the St Kitts airport to the ferry terminal in Basseterre (10 mins / cost $20-25 US). Next take one of the regular ferries that run around 1-2 times per hour to Charlestown, capital of Nevis (30 mins / cost one way 32 EC – $12 US). Taxis from Charlestown ferry terminal in Nevis are available to take you to your hotel (cost $20-25 US). This is the route we used to arrive in Nevis. Take care if your flight arrives late in the day as there are less ferries to Nevis available later in day. Ferries run around every 30-60 minutes throughout the day on the hour and half hour. Exact timetables can be viewed at each ferry port but may be subject to change.
Alternatively your hotel can organise a direct taxi / water taxi transfer to the hotel (cost around $150 US) This is the quickest route to Nevis and advisable if you are arriving late in the day or want a stress free transfer. The private transfer will involve a taxi from St Kitts airport to Cockleshell Beach on the south side of St Kitts (20 mins). From the beach pier a water taxi will be waiting to take you to Charlestown Nevis (15-20 mins). At Charlestown a taxi will take you to your hotel (15 mins)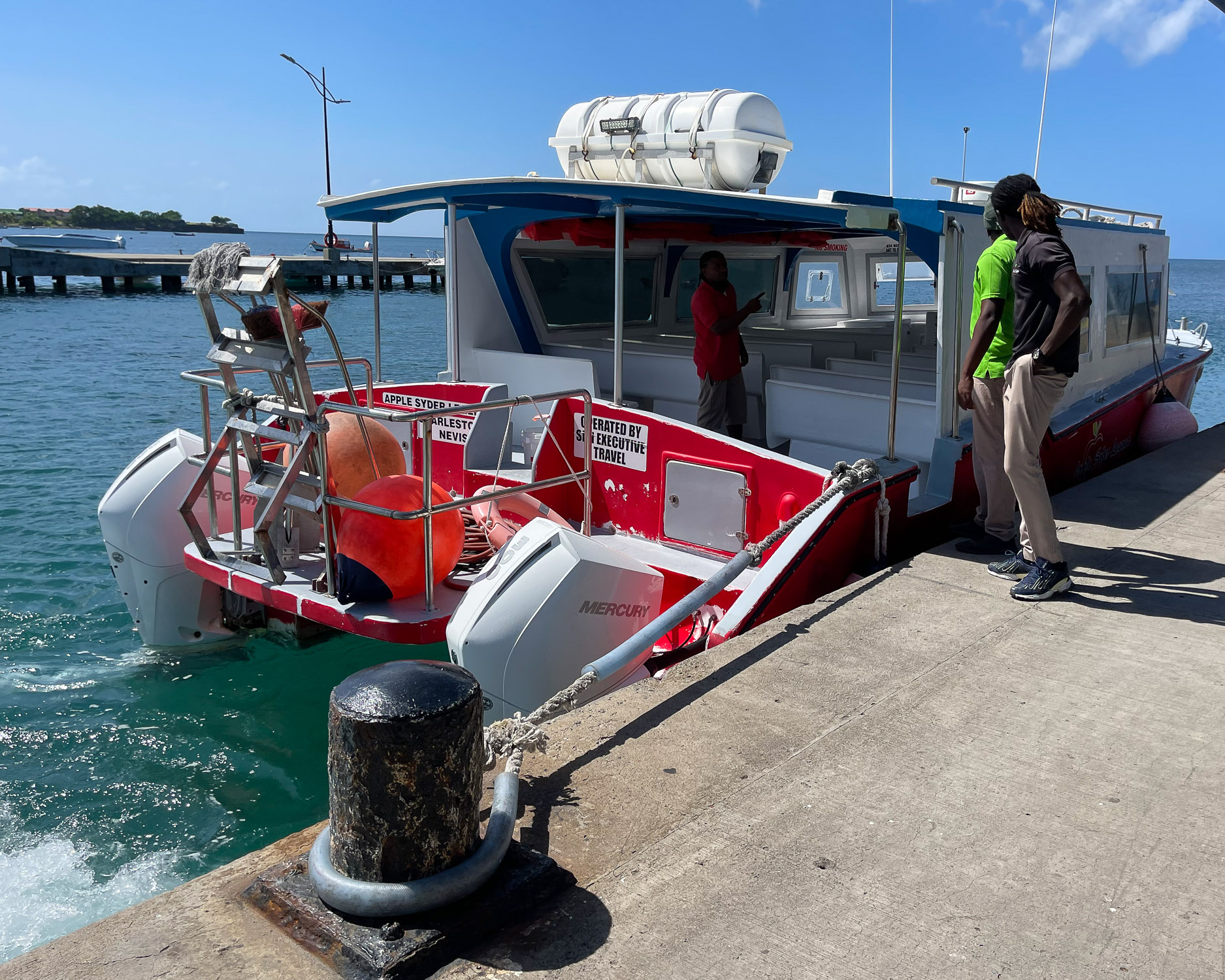 Direct flights to Nevis
There is also Vance W. Amory international Airport in the north of Nevis, which is a possibility for private planes. Direct flights arrive to Nevis Airport from Puerto Rico and a few other Caribbean islands. Nevis airport is a 15-25 min taxi ride to most hotels.
Taking a hire car to Nevis
If you have a hire car and wish to travel with it to Nevis, there is also a car ferry (Sea Bridge) that runs from the south of St Kitts at Major's Bay to Cades Bay on the west side of Nevis. The ferry runs around 3 times per day but can be subject to change.
We could not confirm the exact cost of the ferry but we heard it is $100 US return. You need to check with your car hire company that the car is allowed on the sea bridge. This route is best suited to those who plan to be on St Kitts for a few days before arriving in Nevis and want the convenience of one rental car in both locations.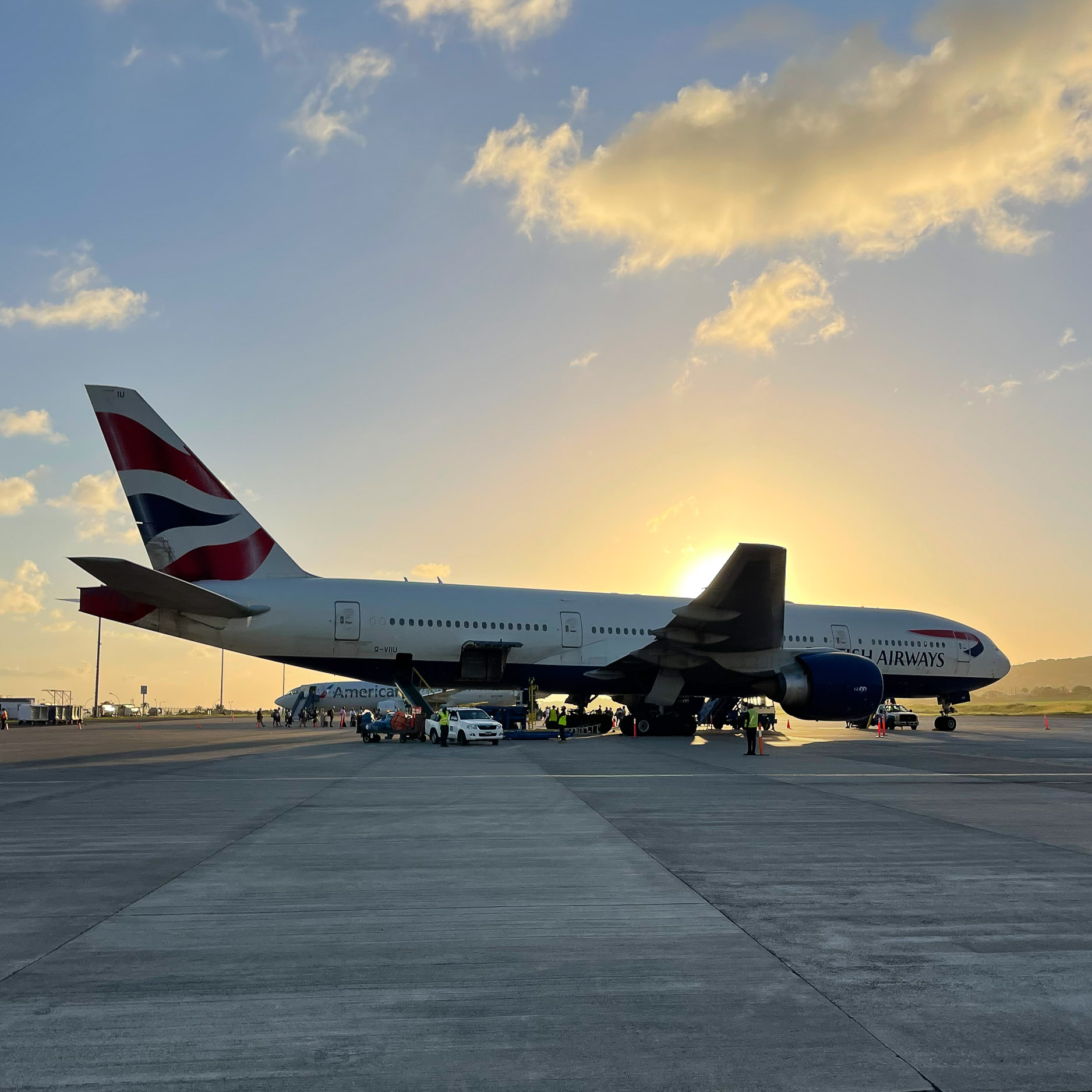 Flights to St Kitts and Nevis
Most international visitors to Nevis arrive via St Kitts airport. From the UK the only direct flight is with British Airways twice weekly (Wednesday and Saturday) from London Gatwick (LGW) with a brief touchdown in Antigua.
Flights from the USA include a popular daily flight from Miami (MIA) with American Airlines who also fly weekly on a Saturday from Charlotte (CLT) and New York (JFK).
Air Canada runs a weekly Saturday flights from Toronto (YYZ). Delta flies weekly from Atlanta (ATL) and flights from other Caribbean islands are operated by Liat, United, Seabourne, Winair.
Note that information is provided based on our experience and best information at time of writing, but you should check for up to date information online or via a travel agent before making travel plans.
Plan your visit to St Kitts and Nevis
If you are planning a visit to beautiful St Kitts and Nevis you'll find plenty more information on the Nevis Tourism website and the St Kitts Tourism website.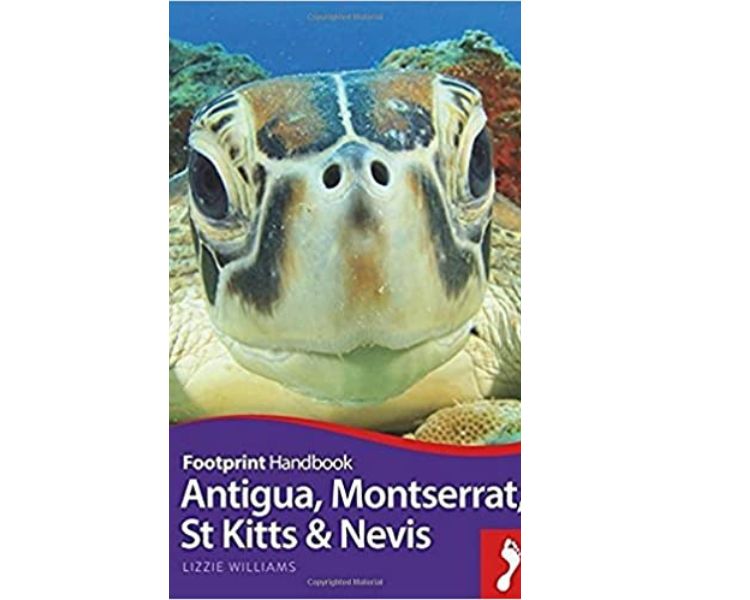 Read Next
Discover the Montpelier Plantation & Beach – a Caribbean boutique hotel in Nevis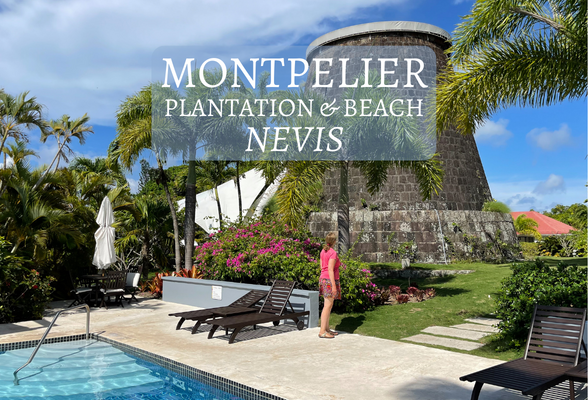 Pin it
Heather's accommodation in Nevis was hosted* by Montpelier Plantation and Beach and The Hermitage
* More info on my policies page
This article is originally published at Heatheronhertravels.com