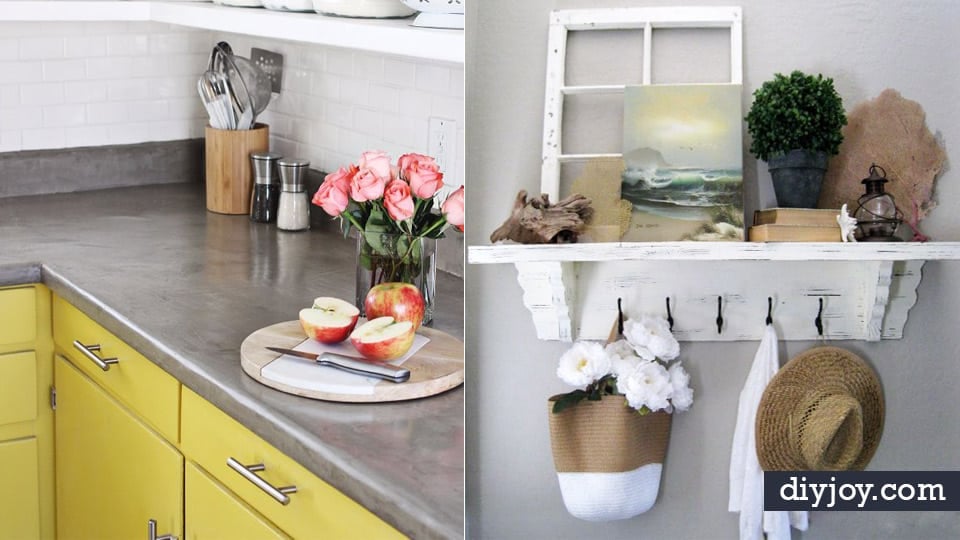 40 Home Improvement Ideas for Those On A Budget
Need to do some updates around the house but think you lack the funds for any worthwhile home improvement projects? It is true that home repair and renovation can be expensive, but there are also some cool things you can do on the cheap. Check out these step by step tutorials for some inexpensive ways to update and improve your home, but on a budget. From DIY kitchen decor ideas to ways to update your bathroom on a budget, cheap living room decor to bedroom furniture, you are sure to find one or more projects to try out this weekend. Recently, I updated my bathroom vanity using the concrete countertop suggestion, and it looks so amazing. Trying to decide which easy home improvement project to tackle next, and super excited knowing I have some affordable options. Cheap home renovation projects and home improvement ideas that are sure to fit your budget, there is now no excuse for not having the home of your dreams.
1. Paint Your Cabinets
Are you thinking about updating your kitchen, namely your kitchen cabinets? Repainting them is easy, but only if you know what you are doing. Proper surface prep is crucial if you want this home improvement project to turn out right. Learn how with this step by step tutorial with this DIY idea for kitchen cabinets.
2. Faux Shiplap Backsplash with Peel 'n Stick Flooring
Another easy home improvement project idea that you can make without spending a ton of money or time, this faux shiplap backsplash tutorial uses adhesive flooring to create an easy backsplash. No serious woodworking or carpentry skills required and of course, no tile cutter needed. If you love the look of a pretty tile backsplash, but can't exactly lay tile yourself or afford it, try this cool tutorial. For DIY countertops you'll love, look no further than this cool home improvement hack.
3. DIY Your Old Bathroom Cabinets
If you are suffering with dated looking cabinets in the bathroom or kitchen that look 80's faux oak here's a special DIY just for you! Of all the DIY home improvement ideas we've seen lately, this one is truly a standout. If you are going for a high impact DIY project for the bathroom, one that is cheap to do but worth your time and money, check out this step by step tutorial for a bathroom cabinet makeover. Make old cabinets look new with this cool technique. For the DIY bathroom of your dreams, this project will definitely have you on your way.
4. Easy DIY Window Trim
No special fancy tools or hardware required for this easy DIY window trim. I really thought you needed a contractor to do anything remotely like this, or at least needed serious woodworking skills. Before you go thinking the same thing for any longer, go check out this easy step by step tutorial that should prove to you that installing a window frame yourself is totally doable. Home improvement DIY does not get any better than this, save money and get something that looks fantastic. Update your old windows now with this cool do it yourself project.
5. DIY Vanity Concrete Countertop Overlay
Nothing says modern chic decor like concrete austere fixtures. So if you have a totally outdated countertop that needs replacing, you could try some tarting up before you make a big investment by adding a DIY concrete countertop to the bathroom vanity and makeover that awful old counter you are so tired of looking at. With this easy step by step tutorial, you can learn how to make a concrete countertop the easy way. The outcome looks very Georgio Armani! 😉
6. Paint Tub & Tile
I moved into a 1950's ranch style home that was packed full of old-world charm, but the bathroom was covered in pink ceramic tile. As you might know, ripping out ceramic tile can be a ton of work and/or costly. We don't have the extra time or money to focus on this bathroom right now. I would rather have furniture and a new kitchen, so I started thinking up ways to just get by until we are ready to tackle it head-on. I figured I would stick to my paint everything method. Again, painting was just a temporary fix for us so that we could save up for two more years for something more long-term.
7. Dresser To Kitchen Island
I absolutely love this DIY kitchen island for a fun and easy furniture makeover idea. I found an old dresser from the 1950s on Facebook Market Place and knew it would work perfectly for this idea. Because we are in the process of remodeling our kitchen. I have wanted an island or workspace since we have limited counter space and I love to craft, cook and bake. I decided with the help of my significant other to create a mobile kitchen island from a dresser. With his help this DIY island dresser was simple for me. As I worked up the idea and he used his wood working skills. Then I finished with my painting skills. I think we make a good team. We pulled a vintage dresser from the garage and decided to give it new life. First by re-purposing it and then making it pretty with Chalk Paint. This was my first time tackling a project like this and using Americana Chalky Finish Paints. If you love this chalk paint idea, be sure to check out our list of the best chalk paint furniture ideas. If you don't have money to buy expensive chalk paint and want to try your hand at making your own, we have an easy chalk paint recipe, too, which can help save lots of money on a project like this!
8. Make A Pallet Wall
Pallets are the ultimate useful item in the DIY repurposing arsenal. I love the look of rustic cabins, but I live in a 1970s condo in the middle of the city. So what could I do to update my bedroom walls from ordinary sheetrock to farmhouse country chic for practically no money? I found the dream tutorial, that's how! This DIY pallet wall is cheap, easy and simply amazing looking! If you love DIY pallet projects, you need this cool rustic plank wall in your home.
9. Add Wood Accents to Furniture
We recently updated our Master Bathroom by making a few simple changes. I have shared a few of the changes in some past posts as it is a work in progress. We are almost to the point where we can officially add it to the "finished project list". But we still have a few little things to work on, and if any of you have ever done a little remodeling, you know how long it can take to get to some of them. Today, I want to share with you how we went about updating builder grade cabinets. This is was a really easy addition that really made the regular old cabinets feel a bit more upscale. We simply added a couple of finial feet to the base of the cabinets. That is it.
10. DIY Painted Bathroom Tiles
Have you all seen those cement tiles that come in so many cool prints? I've fallen in love with all the graphics. Not wanting to replace all my tile got me thinking about how I could accomplish this high impact look for less. Follow this simple tutorial for all the tips on how to create this amazing new floor space. Add a cute DIY rug and your room will instantly transform in just a few hours.
11. Concrete Countertop DIY
Nothing says modern chic decor like concrete austere fixtures.
12. $60 DIY Barn Door Hardware
13. Chalkboard Paint Makeover
14. Shade Pendant DIY
15. DIY Wainscoting
16. Old Door Upcycle
17. Bathroom Tile Backsplash
18. Paint Your Linoleum Floors
19. $5 Fireplace Makeover
20. Stencil Your Walls
21. Paint Your Old Sink
22. DIY Baseboards, Molding and Trim
23. Ikea Hack Billy Bookcase Library Wall
24. DIY Stair Makeover
25. Frame A Bathroom Mirror
26. Update Your Ceiling Fan
27. DIY Shaker Door
28. Add Color To Your Ceilings
29. Budget Friendly Entryway Reveal
30. Faux Thick Baseboard
31. Paint Your Stairs
32. House Number From Paint Stirrers
Get creative with these modern DIY house numbers and increase the curb appeal of your home.
33. Patch Drywall Like A Pro
35. DIY Garage Door Makeover
36. Updated Return Air Grille
37. DIY Planked Peninsula With Corbels
38. Transform Outdoor Light Fixtures
39. Front Door DIY
40. DIY Fireplace Makeover