Thinking about creating your very own coffee nook? With coffee culture at an all-time buzzing high, and modern home working the way of the world, now's a perfect opportunity to seize the caffeine and refuel your space.
If you've got one of the best coffee makers out there, why not make sure it's showcased to the best effect with a dedicated coffee station that delivers a 'home blend' on tap?
If you're in a small rental apartment or lack the space for a fully-frothed coffee bar idea, you can still achieve barista-dreams with a cute coffee nook idea that utilizes an otherwise redundant space and adds value to both your home and everyday life.  
Coffee nook ideas for the perfect blend of style and substance.
The stats say it all – we are a nation of keen bean aficionados! 
Matt Siberry, head of home at Pinterest, comments: 'A fresh cup of coffee never goes out of style, although kitchen cupboards cluttered with coffee mugs and coffee beans certainly do. With more people enjoying the ritual of brewing their own coffee at home these days, at Pinterest we've seen an increase in searches for custom coffee stations, as people seek to carve out a dedicated space in their homes to fix up the ultimate morning cup.'
Fancy 'pouring over' some ideas with the best bean to cup coffee machine 2022 to get you started? We've brewed up some easy coffee nook updates to inspire, try, and taste-test.
1. Install a slim or floating counter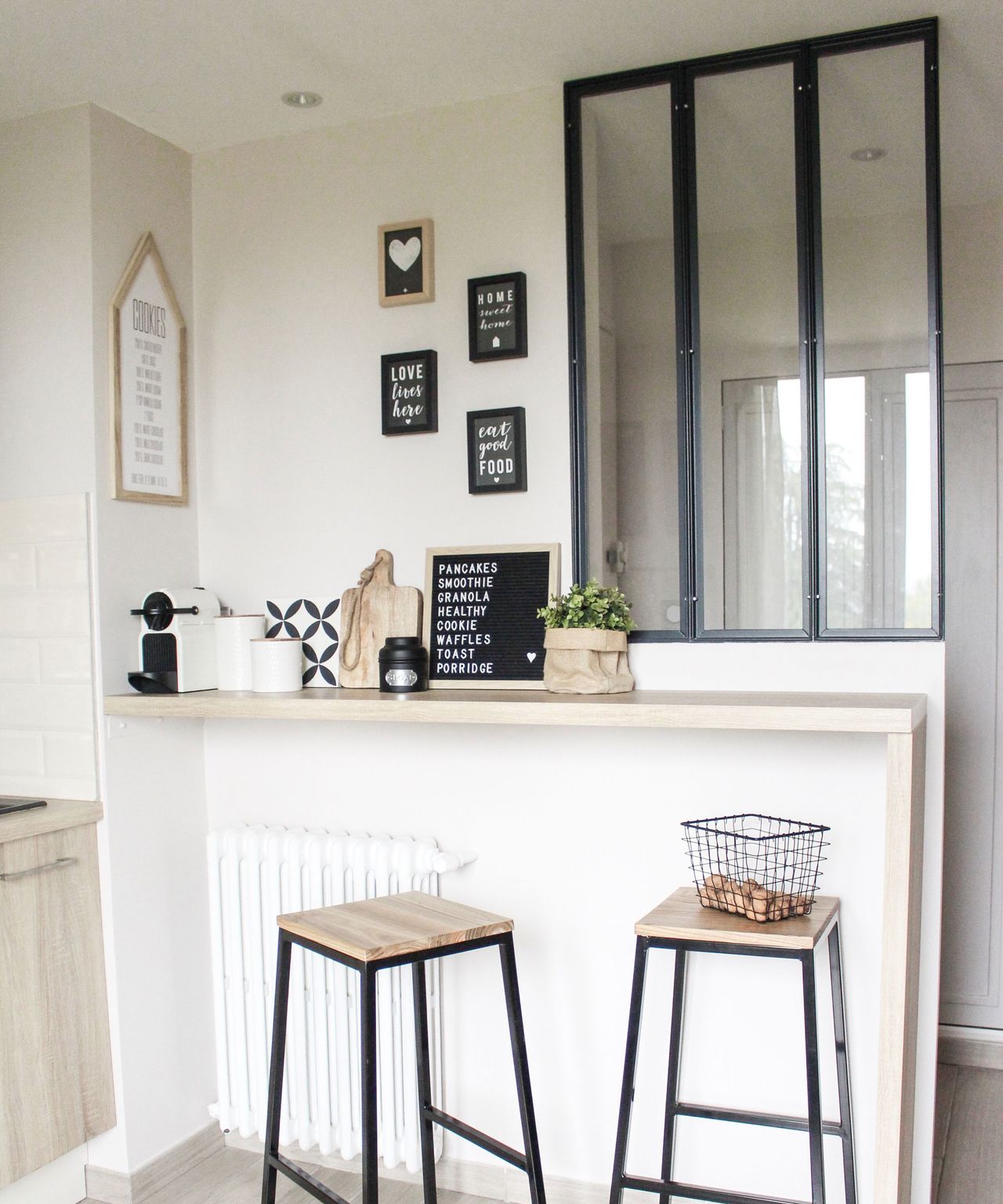 Get your home improvement hat on and create a chic and cute coffee nook in a jiffy by installing a simple breakfast bar or floating countertop addition (Etsy has a huge selection).
Et voila – you'll have a perfectly petite workspace for coffee making and elbow resting. Dress the zone with some 'creme de la creme' coffee bar signs to serve-up scheme-elevating coffee couture at home.
2. Create a double duty coffee station corner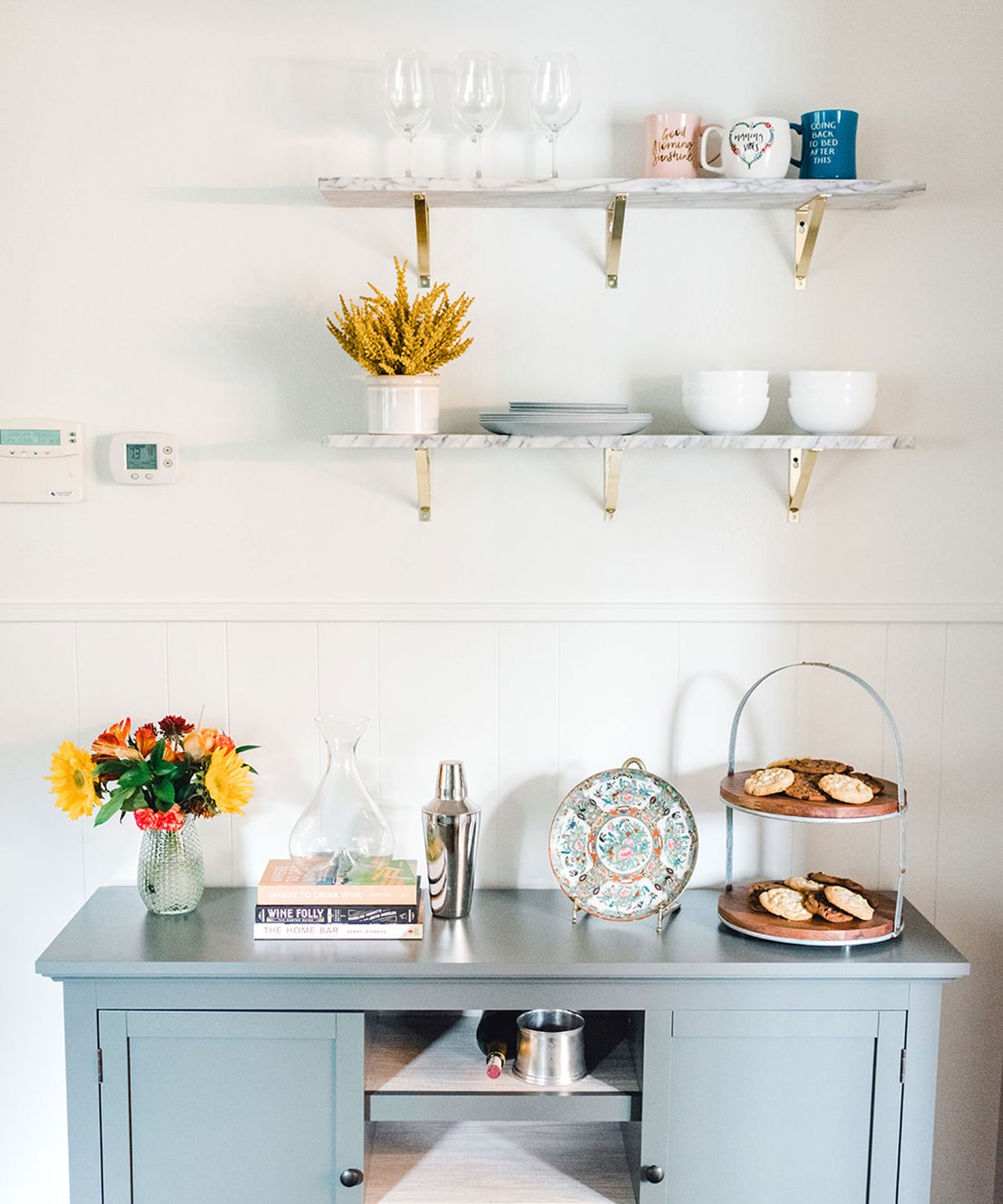 Turn a quiet corner into a versatile home bar idea meets coffee nook pit-stop to service your needs from lights-on latte to cocktail hour espresso martini, with a simple sideboard and open shelves combo. Incorporate a few decorative details of pretty, such as a floral arrangement, gorgeous mugs and glassware, and a transportable tray, for an essence of cafe-bar chic.
Mimi Meacham, Marian Louise Designs, comments: 'I love to create a coffee station that is multi-purpose. If you have the space, a multi-use workstation can do double duty for you. Coffee bar in the morning, happy hour bar in the afternoon! Storage is key, so make sure you have cabinets or a sideboard of sorts with plenty of storage for your coffee mugs, coffee pods, flatware, and of course, the best pod coffee machine 2022.'
3. Turn a cupboard into a discreet micro cafe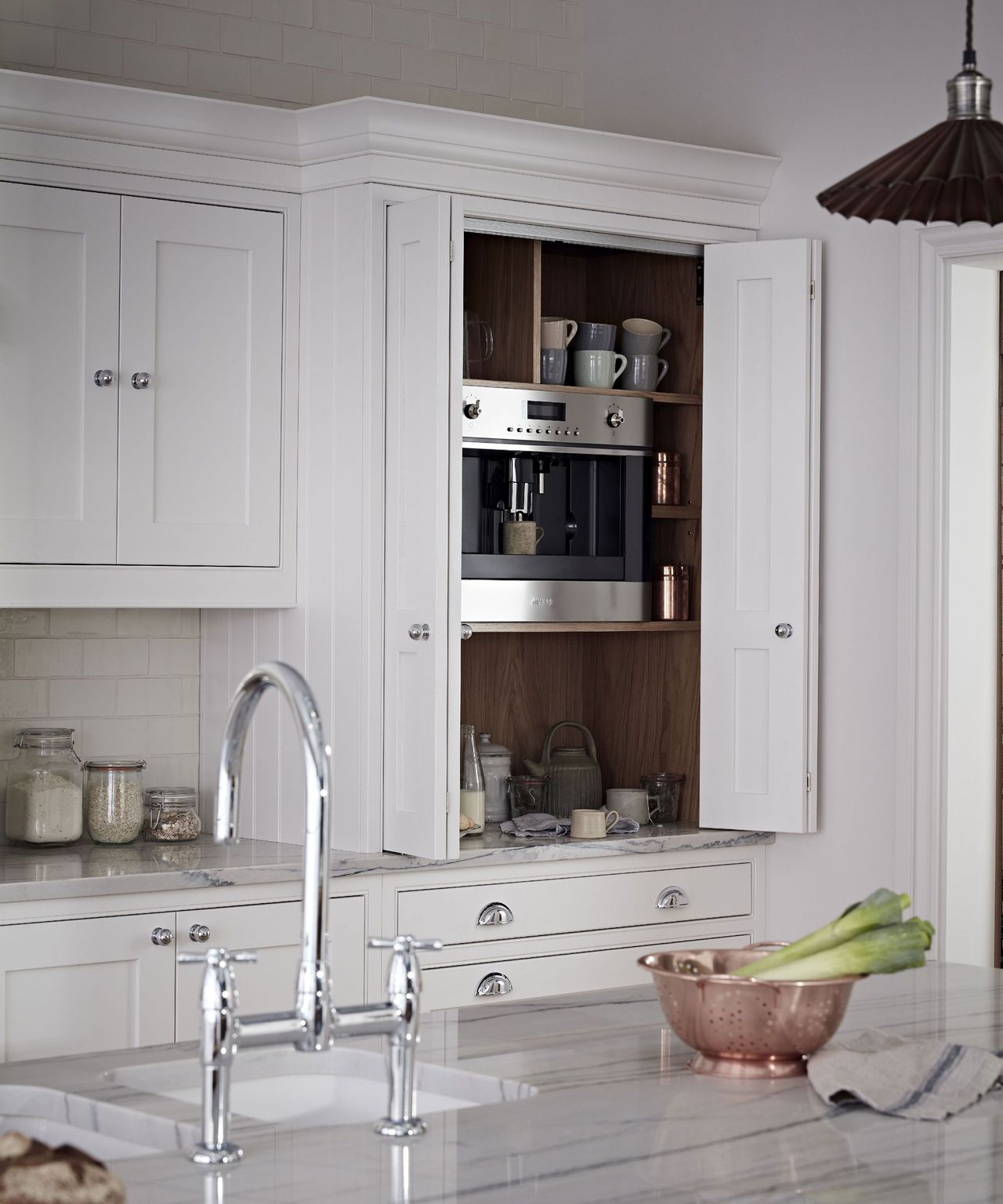 If you're not a fan of clutter and prefer a more minimalist kitchen aesthetic, or perhaps you can't spare the surface area in a small kitchen layout, then try a cozy coffee cupboard cafe idea. Utilize the different levels to neatly organize all your coffee-making essentials in one space.
4. Turn your nook into a destination focal point with a backsplash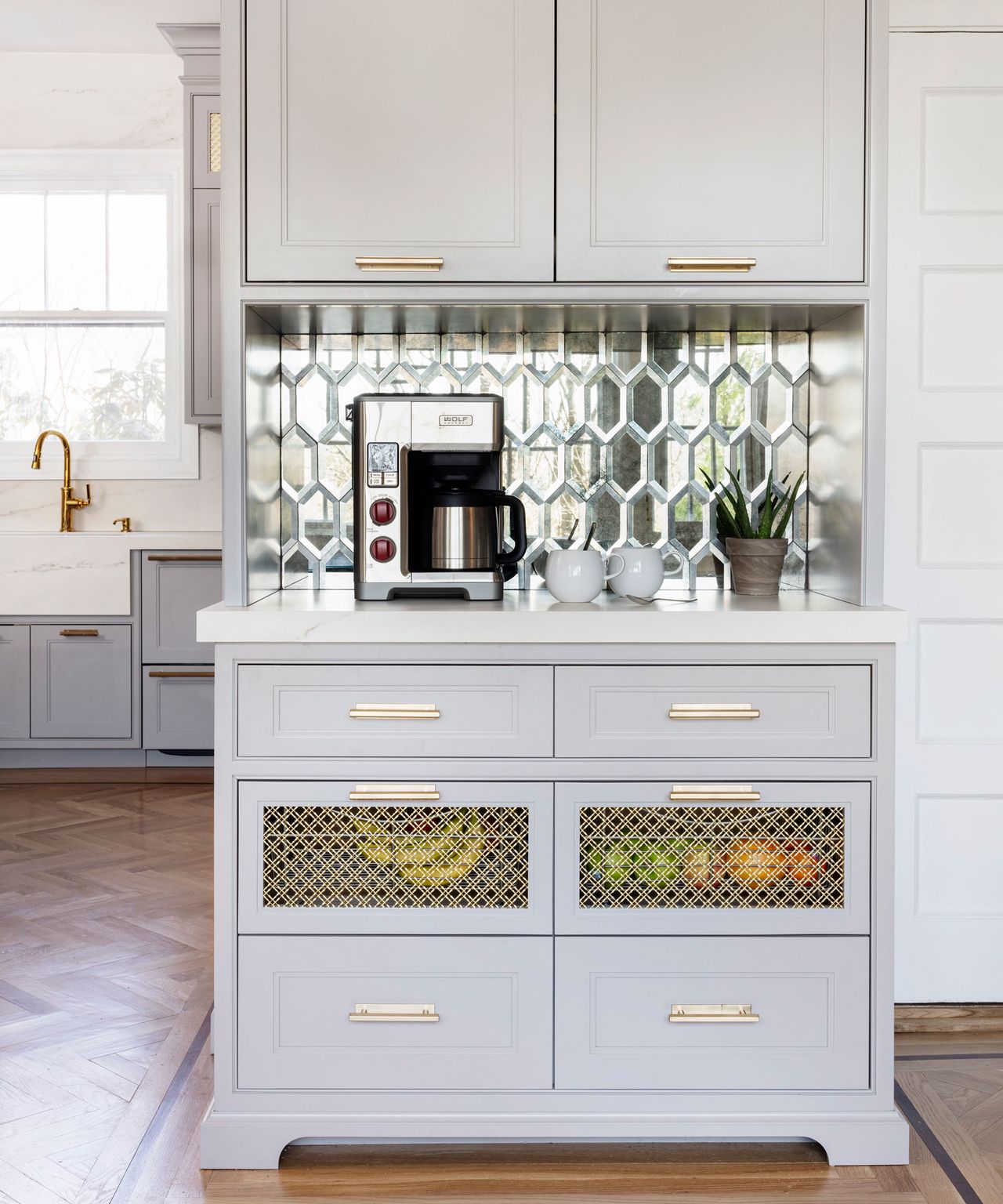 Define a nook and give it personality, with a functional yet fashionable, tiled backsplash idea. Introduce color and decorative details with patterned tiles, or try a mirrored design, like the Beveled Paris Gray hexagon antique mirror tile from Tilebar, to reflect the light, and create a space-enhancing optical illusion. 
Malka Helft, Think Chic Interiors, says: 'A coffee bar in a kitchen is one of the most practical setups you can have. I love the idea of making it a destination within the kitchen – add an interesting backsplash or inventive storage to make it look as good as it functions.'
5. 'Hot desk' with a home office cum coffee nook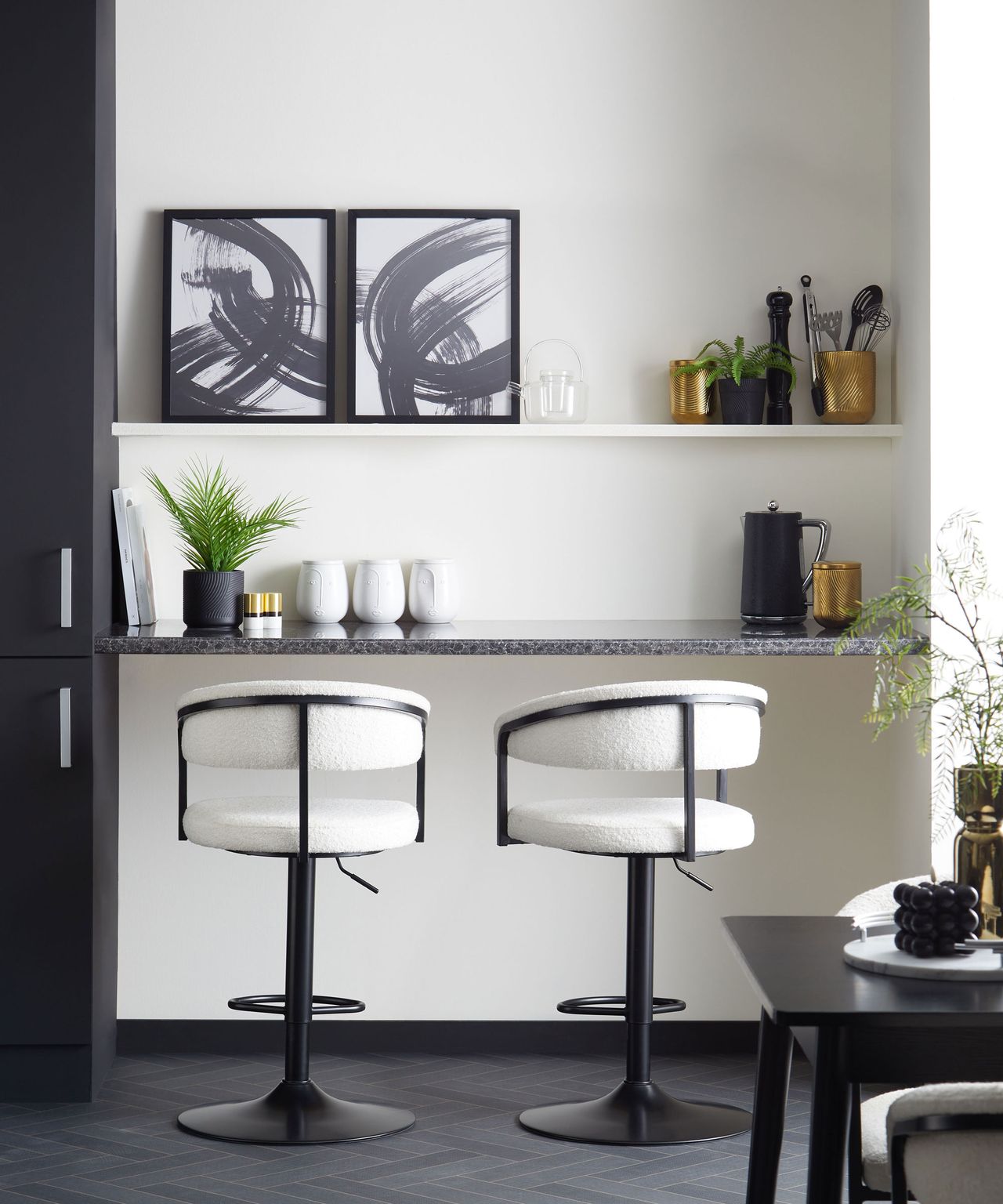 This hybrid modern home office idea makes total sense. Power through in every sense with a motivational set-up designed to refuel and recharge. Add an ergonomic stool or chair and utilize a countertop as a workstation for laptops and coffee breaks. Install an open kitchen shelving idea above to store scrumptious coffee canisters and drinks essentials, that also creates a stylish display and mood-enhancing zone.  
Alex Whitecroft, head of design at I Want Wallpaper, comments on making use of storage: 'While bars can have quite a bit of space, coffee nooks are often quite compact, so good storage options are key. If you have the space, or if you're planning a kitchen remodel, you might want to consider adding a special cabinet to house extra appliances like a coffee maker, espresso machine, and other items to keep the space clear and looking good.'
'Small shelves can be an absolute lifesaver too. They're a great storage option, but you can also place some small decor options on them too – think inspiring picture frames or even add houseplants to add a touch of nature and a splash of color. If you want to save surface space, add hooks to hang your mugs on for easy access.'
6. Enjoy sunshine sips with a windowsill coffee bar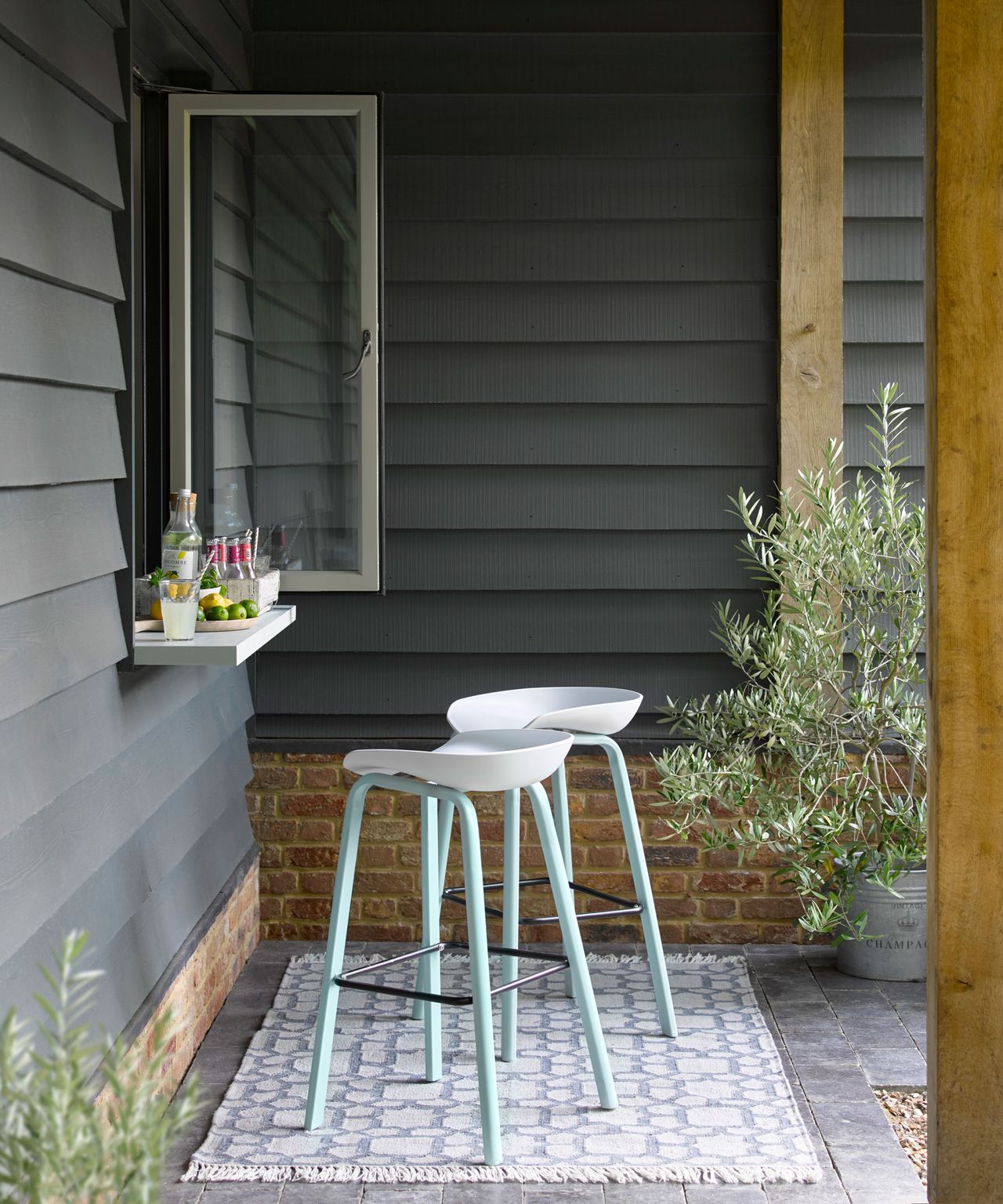 Create your very own alfresco cafe set-up by transforming a windowsill into a makeshift serving station for cold brews and fruity infusions. Pull up a couple of colorful bar stools, like the Amarily patio bar stools in Blue from Wayfair, for a sociable twist, and invest in a beautiful tray to easily transport goods between indoors-outdoors boundaries.
7. Opt for a transportable station with a drinks trolley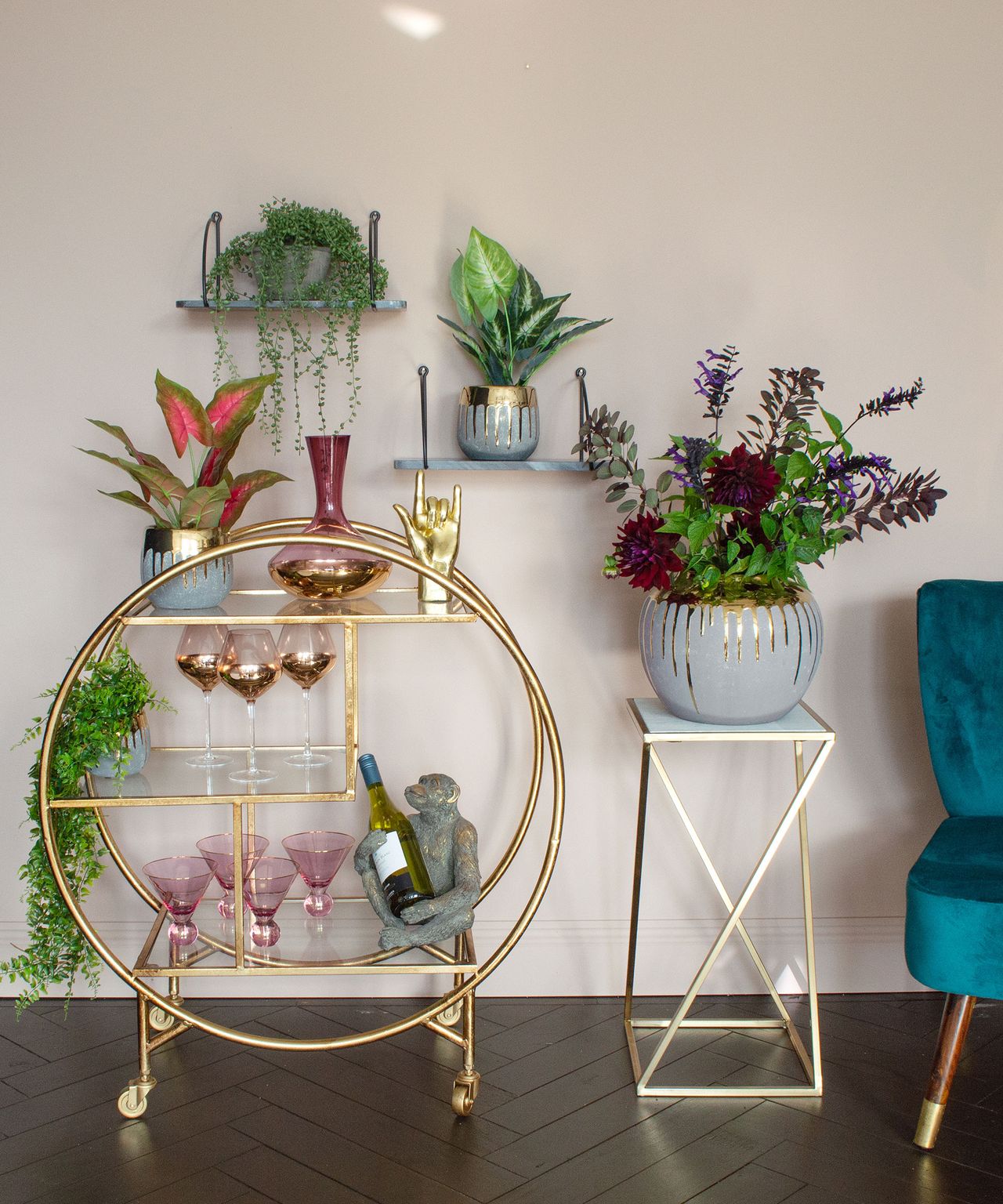 For a virtuous (wheel)spin on the retro drinks trolley idea, switch out the stemware and fill a glamorous design on wheels with artisan mugs, a compact coffee maker, and shiny and new drinks utensils. 
Pop on a few potted houseplants for a verdant lift, and you'll have a compact and portable drinks station that can be easily stored in a cozy nook when not out and about gallivanting. If you're feeling creative, try a fabulous DIY bar cart project to add personality – you'll definitely deserve that extra shot as a reward. 
Where can I put my coffee nook?
Create a cozy coffee nook in a corner, on a wall, or in a closet to turn an unused space into a functional feature that oozes cafe couture chic. 
Install open shelves and make a beautiful display with artisanal mugs, and stylish storage canisters, whilst using a floating countertop or sideboard below to house your chosen coffee appliance, and act as a workstation to make drinks.  
What items should be included in a coffee station?
Coffee machine (pod, bean to cup, or whatever your style and tastebuds desire)
Small storage solutions (a variety of canisters for beans, blends, tea bags, and sugar)
Mug rack
Spoons and stirrers
Coffee bar decor (coffee bar signs, fresh flowers, trays, decorative objects)