Now in its third year, Breakthrough Miami's annual Black History Month Essay Contest generated nine new winners whose essays best reflected this year's theme: Black women in Florida. It's why we chose to publish two of the winning essays during Women's History Month.
The contest was established in honor of the late Miami Times publisher emeritus Garth C. Reeves Sr., who died in late 2019 after a lifetime dedicated to amplifying voices of the local Black community. This year, Breakthrough Miami, a local after-school academic enrichment program, continued that legacy with a focus on women of color who have been impactful – albeit generally overlooked – in South Florida.
Following are the names of the winners from each category and the influential women they chose to write about.
2022 high school winners
1st Place: Evodie Alvarez, 12th grade, Miami Country Day School – "The Symbol of Power: Black Women and Their Impact" on actress Esther Rolle
2nd Place: Bradshyr Mortimer, 11th grade, MAST Academy – "Power of Empathy" on actress Roxie Roker
3rd Place: Gaelle Supplice, 10th grade, Coral Reef Senior High School – "When Black Women Lead, We All Win" on civil rights activist Patricia Stephens Due
2022 middle school winners
1st Place: Nathan Samuel, seventh grade, Belen Jesuit Preparatory School, "Felecia Hatcher Moves the World" on author Felecia Hatcher
2nd Place: Cheyenne Santana, sixth grade, Herbert A. Ammons Middle School – "The Black Leadership" on educator and civil rights activist Mary McLeod Bethune
3rd Place: Sheila Fernandez, eighth grade, South Miami Middle School – "My Doctor, My Hero" on pediatrician Dr. Tina Carroll Scott
2022 elementary school winners
1st Place: Izaiah Afflick, fifth grade, Shadowlawn Elementary School – "When Black Women Lead, We All Win" on actress Esther Rolle
2nd Place: Kaitlyn Burse, fifth grade, Lorah Park Elementary School – "When Black Women Lead, We All Win" on educator and civil rights activist Mary McLeod Bethune
3rd Place: Jayden Santana, fifth grade, Whispering Pines Elementary School – "Mary McLeod Bethune… Women's Voice" on educator and civil rights activist Mary McLeod Bethune
Each first-place winner was awarded with a laptop, provided by Coke Florida, as well as with a $100 gift card. Featured below are two of the winning essays as they were submitted for consideration.
"The Symbol of Power: Black Women and Their Impact" by Evodie Alvarez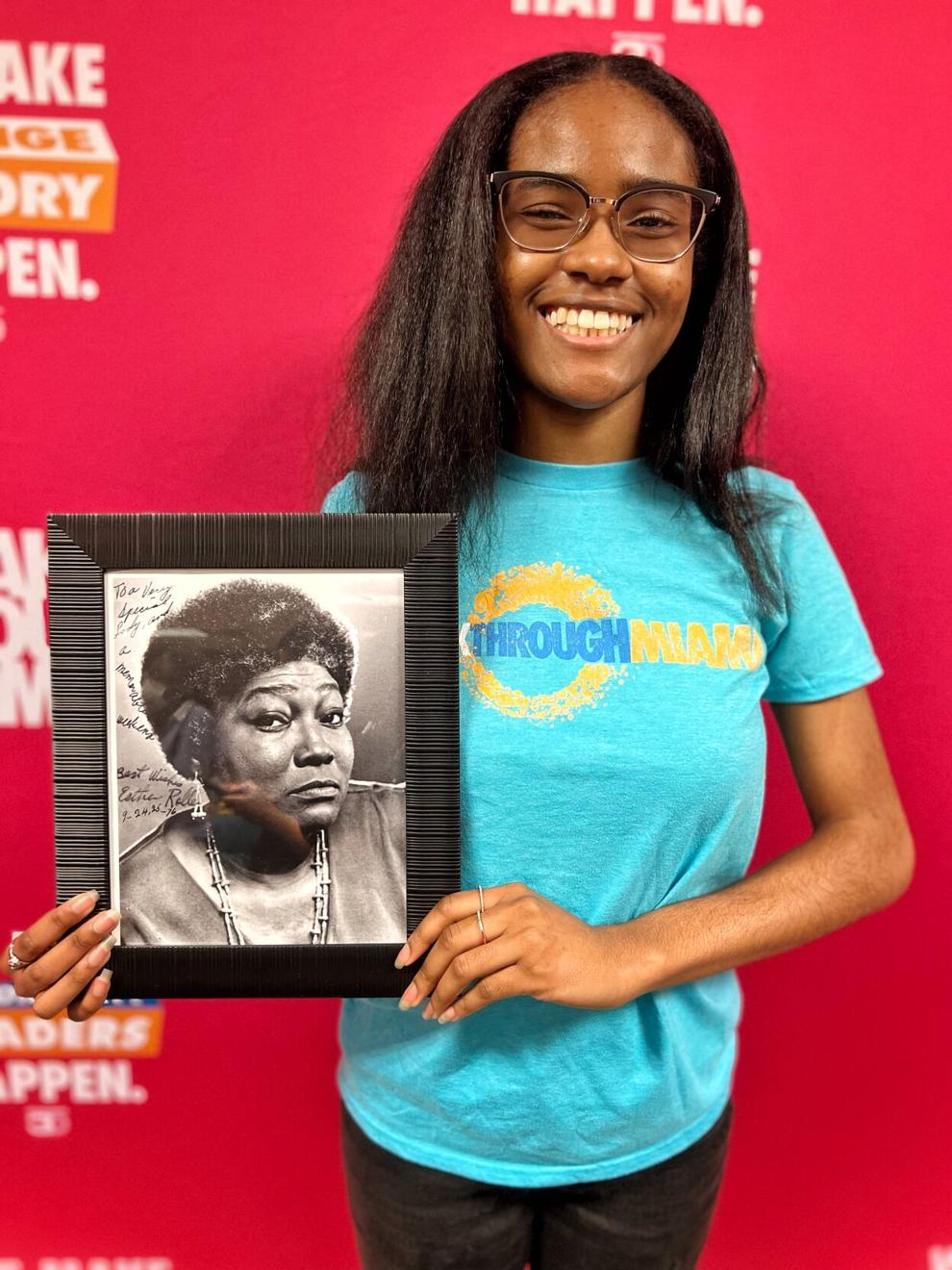 Throughout history, the arts have been an integral aspect of all cultures. From ancient China to even more ancient Greece, creative expression has influenced all facets of society. Presently, the media has taken that influence and spread it to all corners of the world. Because of this globalization, representation of any and all people is a crucial part of how these people are viewed by others. Black Americans have a long, arduous history of minstrels, blackface, and other harmful and demeaning portrayals reaching way back to the era of slavery. When television was invented, these horrible caricatures became fact to others, leading them to consider many harmful stereotypes as the truth. Accurate and inclusive representation in the media is important because of how influential the media is on our worldview, both individually and as a society. The fight for representation has picked up recently, but Esther Rolle is the spearhead of this particular movement; not only did she support better representation passively by playing a variety of roles but also actively by advocating for better representation of Black people in general. We are a culture – a people; therefore, we deserve to be portrayed as such on screen and consequently to the world.
Esther Rolle was a prolific actress that earned many awards including an Emmy Award for Outstanding Supporting Actress in a Limited or Anthology Series or Movie. She also earned the NAACP Civil Rights Leadership Award and the NAACP Eighth Image Award for Best Actress for her work improving the image of Black people. She fought hard not only for James Evans as a positive paternal role on Good Times but also for more relevant themes and topics to be addressed. Rolle was also very involved with the National Organization for Women, for which she has given many public addresses. Her hard work has led to many Black people feeling seen and reassured of their place in the community not only in Florida but also across the country.
Black women have greatly impacted all elements of our community: social, cultural, and political. They are the hidden figures of history; every single major movement in American history has been backed by Black women, from Harriet Tubman in the Abolitionist movement to Sojourner Truth in the Women's Suffrage movement to Rosa Parks in the Civil Rights movement to Marsha P. Johnson in the Gay Liberation movement. Women like this – women who have fought to the death for our basic human rights – paved the way for women like Rolle to address the more subtle, but no less pressing, issues Black people face daily. Stereotypes and microaggressions are insidious; compared to issues such as workplace discrimination and police brutality, they do not seem very pressing. This makes it easy to disregard them, which allows misinformation to spread, fester, and bring our progress as a people to a standstill. Rolle refused to stand by and allow this to happen, so she decided to take matters into her own hands and advocate for realistic depiction of Black people in cinema. Her career as an actress directly confronted inaccuracies while simultaneously thrusting Black women, who have repeatedly been casted aside, and their capabilities into the spotlight. Actresses such as Esther Rolle, Cicely Tyson, and more recently Zendaya and Lupita Nyong'o make it impossible to ignore Black women and our impact any longer, and in doing so, they inspire young Black women to do the same in other fields, including STEM.
The leadership of Black women has taught me that our potential knows no bounds; Black women can and will change the world, and I want to be a part of it. Witnessing Black women permeate so many predominantly white male career fields is plenty of motivation for me to do the same. We now have more Black female doctors, lawyers, CEOs, etc. than ever before. Our Vice President Kamala Harris is even the first ever Black woman to hold such a high position in American politics. This is merely a crack in the dam through which more Black women in power will flow in. I have been inspired to be a leader myself, which is why I intend to earn my PhD in Psychology and open my own practice that treats any and all clients. Black women, despite many trials and tribulations, are the past, present, and future of America. We will no longer be disregarded; rather, we will continue to go down in history.
"Felecia Hatcher Moves the World" by Nathan Samuel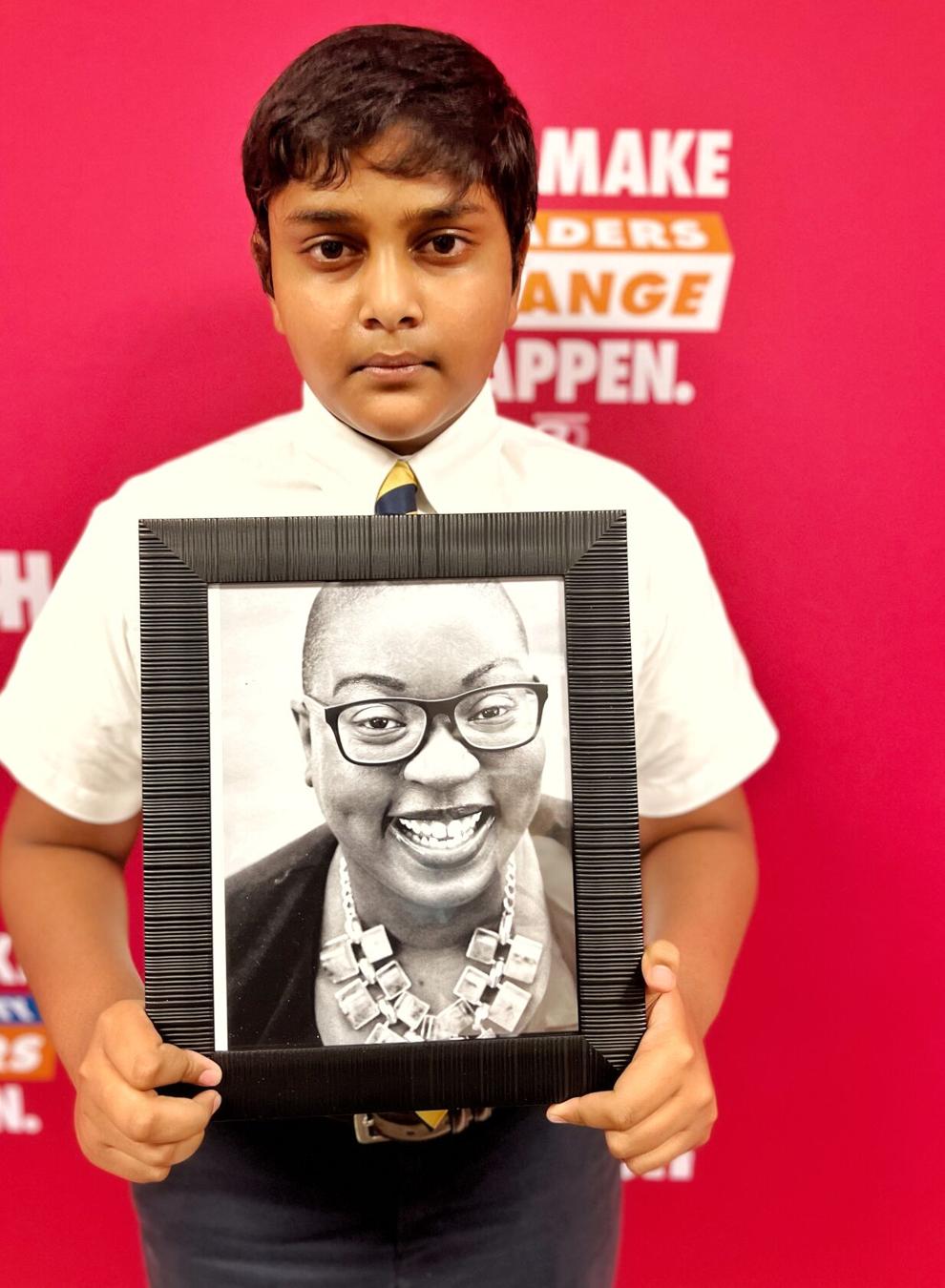 In the challenge for political and civil rights in the United States, countless black women led the way for over 150 years. It started with the Seneca Falls convention in 1848. Black women played an important role in the underground railroad, the Women's Suffrage Movement, and have also created the way for constitutional protection against gender discrimination. Black women have a deep connection to the understanding of the relational nature of freedom; this is mainly because they are involved with various intersections of targeted maltreatment. Black women's leadership is not just defined by their strength and persistence; it is mostly about how they constantly strive to fight for the common right. Whether black women are tapering the wealth gap, or running for office in the nation, when black women lead, we all win.
Felecia Hatcher, a Black woman who lives in Miami, Florida, is an entrepreneur who is leading a mission to free communities across the "world of innovation desert" by working with government officials to create a diverse startup technology community. As a result of her work, the community of Miami has become one of the most diverse startup cities in the country.
Hatcher once stated, "You already have what it takes to follow your most epic dreams." In this quote, Hatcher is trying to emphasize that you are born with the abilities, and don't need anyone's opinion to follow your dreams. Hatcher has committed her life to inspire others to follow their passion.
Hatcher spent countless hours accomplishing her mission to create 10,000 Start-Ups as the co-founder of Code Fever. Code Fever is an enterprise that trains and prepares African American youth in the fields of technology and entrepreneurship. As an author, entrepreneur, and the co-founder of Code Fever, Hatcher has managed to make a significant impact on the African American community. In 2008, Hatcher also co-founded Feverish Pops, a Miami-based gourmet popsicle company that donates money to community programs in South Florida's 13 Targeted Urban Areas.
Hatcher was a keynote speaker who presented engaging talks on entrepreneurship, tech education, and programs such as TEDxMiami and TEDxJamaica. Hatcher is also the author of two very well-known books: How to Start a Business on a Ramen Noodle Budget and The C Student's Guide to Scholarships. Hatcher states, "When you give and become a valuable resource, success comes back to you." In quotes like this, she is trying to address that when you give and dedicate your time to a specific cause, it will result in success.
To help the community of Miami, Hatcher has stepped down from Miami's Center for Black Innovation to lead Black Ambition. Black Ambition is a nonprofit organization founded by Pharrell Williams. Black Ambition was created to fund projects led by Black and Hispanic entrepreneurs. Moreover, the Black Ambition organization identifies and directly funds founders building tech, health care, design, and customer product startups. Not only has Hatcher accomplished so many things, but Hatcher originates from a black background. In the United States, getting a high position and getting a good education and graduation is difficult for blacks, and in this case, Hatcher is a black woman. The top opportunities and scholarships are hard to compete for because countless white Americans are tampering for the opportunity, and for blacks, it is difficult because many have to face racial discrimination. Hatcher had to compete with many white Americans to achieve the position she is in right now. I personally can relate to this. My family is from Sri Lanka, a small island off the coast of India, when my family arrived in America, it was very competitive not only for my parents, but also for my siblings. As of now, I am a 7th grader at Belen Jesuit Preparatory Middle School, everyone at my school is competitive, there are countless white American students competing with me in robotics and STEM, so being from a different race and country, I know that in order for me to succeed, I have to dedicate effort and time just like Hatcher stated.
Throughout my life, I was always inspired by the fields of both technology and entrepreneurship. My older sister, Gayathri, and I watch a television show called Shark Tank. The show provides entrepreneurs an opportunity to bring in their inventions and get advice and investors, as well as to see if they could get an experienced entrepreneur to join their company. Similar to Shark Tank, Hatcher strives to give African Americans the opportunity to enhance their knowledge in the fields of technology and entrepreneurship. Ever since I was young, I was fascinated by the field of robotics. As of now, I am part of my school's robotics and STEM club and I am also part of an entrepreneurship class. After learning about Hatcher, I am motivated to continue my interest in robotics and to use my knowledge to be able to invent something that would be useful to the human world. I've always had a desire to be able to present an innovation that would help mankind, and Hatcher has inspired me to continue to pursue this passion. Through Hatcher, I learned that nothing is impossible, and that anything can be accomplished with determination.
Throughout this essay, I dug deeper into Hatcher's accomplishments and what Hatcher has done for our community. Personally, she has impacted me in a way that few other people have, and that shows how her constant effort has managed to make a difference in the world. She has changed the perspective of many young people, and continues to change Miami into a diverse community. As Jodi Picoult once said, " some women are meant to change the world while others are meant to hold it together." Felecia Hatcher's dedication and commitment will continue to not only hold the world together, but will continue to change others and inspire countless young women.

https://www.miamitimesonline.com/education/garth-c-reeves-sr-essay-contest-focuses-on-black-women/article_dd815542-a476-11ec-9a04-739e54e7cae5.html