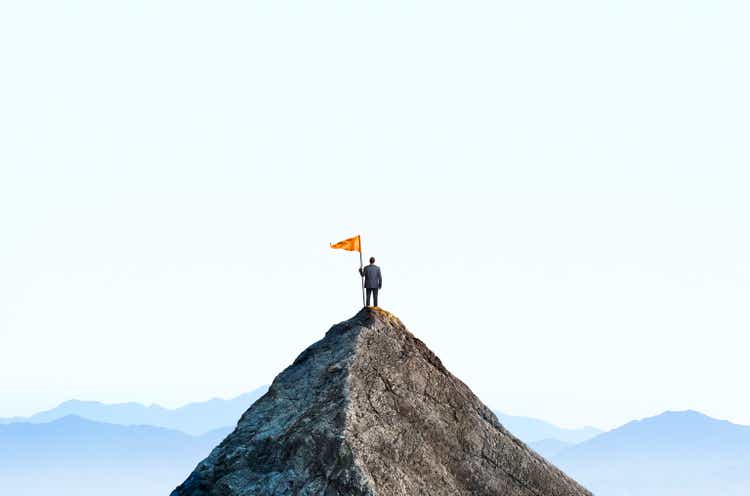 Global X EDOC ETF: Needs Time To Reach Its Potential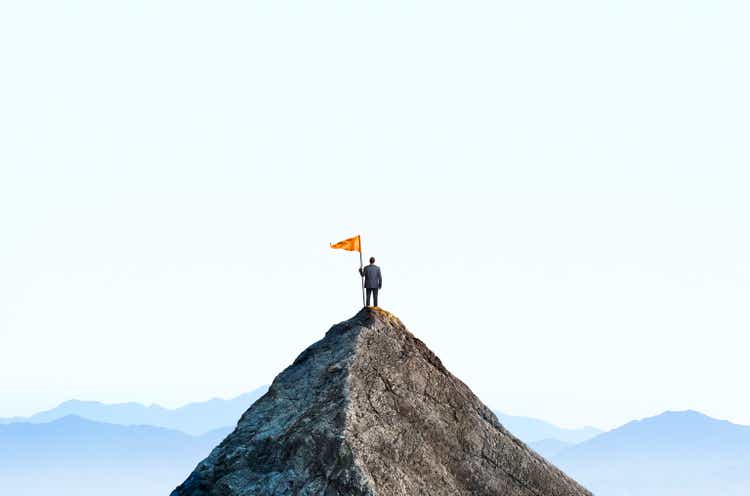 Formed on July 29, 2020, Global X Telemedicine & Digital Health ETF (NASDAQ:EDOC) is a US based healthcare exchange traded fund (ETF) launched and managed by Global X Management Company LLC. EDOC primarily invests in large and mid-cap stocks of companies that are engaged in healthcare analytics, telemedicine, administrative digitization and allied areas. Though it seeks to invest around all the major stock markets globally, almost 90 percent of its investments are in US equity. Solactive Telemedicine & Digital Health Index is considered its benchmark index, which again is focused on healthcare technology stocks. EDOC follows a full replication technique, i.e. all the stocks included in the benchmark index are also included in this ETF.
Global X Telemedicine & Digital Health ETF does not pay any dividend at present. So, EDOC is out of consideration for income seeking investors. A Price/Book of 2 and Price/Sales of 3.1 implies that investors are optimistic, but not excessively enthusiastic about this ETF. Price/Cash Flow of 13 is around the industry average, which once again validates this assumption. Considering an above average P/E, the fund might seem overvalued at present given the fact that price is on a downward trend. However, in my opinion this ETF will be able to generate a steady growth in future, as the growth drivers are largely present. As EDOC has generated average sales, and earnings growth, and exceptional cash flow growth, this ETF surely can sail through troubled waters.

Global X Telemedicine & Digital Health ETF has been in operation for less than 20 months. This ETF was launched at a time when the covid-19 pandemic was at its peak. Due to social distancing, lockdown, and lack of healthcare infrastructure, telemedicine became an essential element of health services. In 2020, the global telemedicine market grew by 35 percent to reach $55 billion. The market has the potential to grow up to $300 billion by 2028. Banking on such enormous growth potential, EDOC generated considerable growth in the first six months of its operations. However, it is losing value since the past 12 months. While the return of EDOC and S&P 500 was almost similar in the middle of February 2021, there is now a huge gap just within a year.

This gap is expected to spread wider, as the market indicates further fall in the price of Global X Telemedicine & Digital Health ETF. As all the long-term moving averages of this fund are above the short-term moving average, the technical indicators are suggesting that EDOC will either stay flat or move downwards. The Price earnings ratio is extremely high at 28.5, which means that the stock is still overvalued. EDOC is also trading at about 14 percent over its 52-week low.

The current composition of major holdings (4 percent or above) of EDOC has generated high returns over the past one year. All 12 stocks have outperformed this ETF. These 12 stocks together constitute 63 percent of EDOC's total holdings. Thus, it is a bit surprising that EDOC has dropped by over 25 percent over the past one year. This surely requires a deeper study into its portfolio.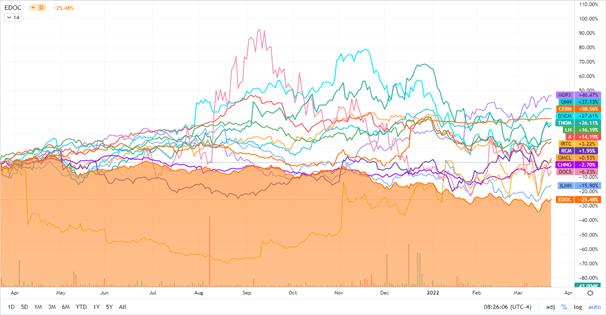 I tried to compare the current holdings with that of 10th May, 2021, when I tracked this ETF last time. I found two stocks that were part of last year's portfolio missing from its list of major investments. They are M3 Inc. (2413JP), and Nuance Communications, Inc. (NUAN). NUAN has been acquired by Microsoft (MSFT), primarily for its path breaking Artificial Intelligence solutions named Dragon Medical One. Whereas, 2413JP, a Japanese healthcare technology firm, that provides medical-related services primarily to physicians and other healthcare professionals through the Internet, has fallen by over 50 percent over the past one year.

EDOC made significant investments in four new stocks – iRhythm Technologies Inc. (IRTC), Change Healthcare Inc. (CHNG), R1 RCM Inc. (RCM), and Allscripts Healthcare Solutions Inc. (MDRX). This portfolio reshuffling surely will provide a boost to EDOC's investors, as all these four stocks generated positive growth in the past six months. And in the past three months, these four stocks have recorded an average price growth of around 10 percent. In the past three months, MDRX, IRTC, CHNG, and RCM have recorded a growth of 17 percent, 17 percent, 4 percent, and 1 percent respectively. Only two other stocks, Cerner Corp. (CERN) and UnitedHealth Group Inc. (UNH) have generated positive price growth during the past three and six months.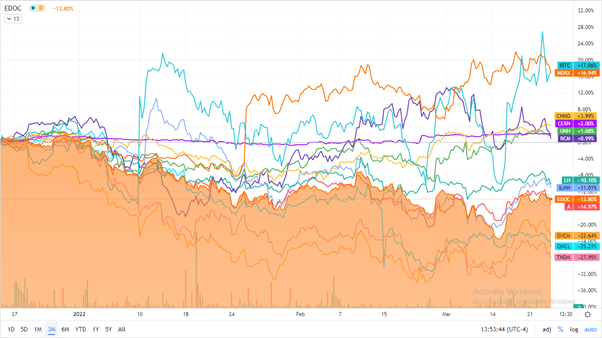 Covid-19 brought about a paradigm shift in how people access healthcare services. Till now, mainly mainstream patients tried their hands at telemedicine options. This is one reason why these stocks suffered after getting a huge impetus during the pandemic. As the internet grows and marginal segments of the society get better connectivity, telemedicine will become a major area of growth. It is estimated that almost half of the world population was out of bounds for essential health care services in 2019.
Telemedicine has solid potential to reach these people and provide sustainable healthcare. There has also been a growing tendency of the healthcare system to rely on big data for making important decisions. Companies which provide and analyze such data are expected to grow in the near future. Healthcare companies are not only using such data for providing better services but also for managing their costs in a more efficient manner.
Despite all these positives, EDOC is neither suitable for short term investors nor for income seeking investors. No doubt, telemedicine is here to stay, as it is more based on the reputation of the respective physician than the technology with which they are assisted. But healthcare analytics and administrative digitization will take time to reach its true potential. Healthcare analytics companies are mainly engaged in providing analytics platforms which may use cutting edge technologies such as artificial intelligence and cloud computing while administrative digitization deals with management of routine ancillary tasks such as billing, revenue management and staffing solutions.
The potential of telemedicine, big data, artificial intelligence, and administrative digitization in the healthcare sector is huge. However, the challenge remains in reaching its true beneficiaries. These companies will only grow if these technologies are put in use for the access of half of the world population to whom essential health care services are still inaccessible. In order to deliver consistent growth on a longer term, and for stocks to realize their true potentials, investors have to be patient and look for a much longer time horizon than other healthcare ETFs. I am of the opinion of holding this fund over an extremely long period as it touches on my three basic criteria of technology based funds – a) future growth prospects b) efficiency of portfolio reshuffling and c) attractive Price multiples.
https://seekingalpha.com/article/4497487-edoc-etf-healthcare-technology-needs-time-strong-potential