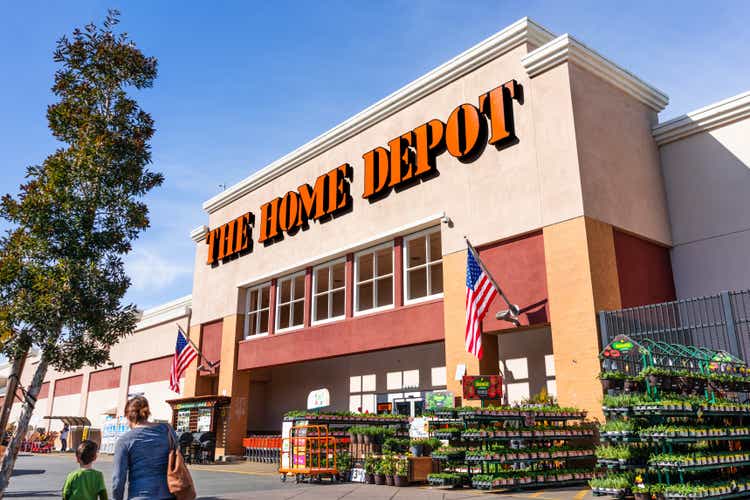 Home Depot Vs. Lowe's Stock: Which Is A Better Investment?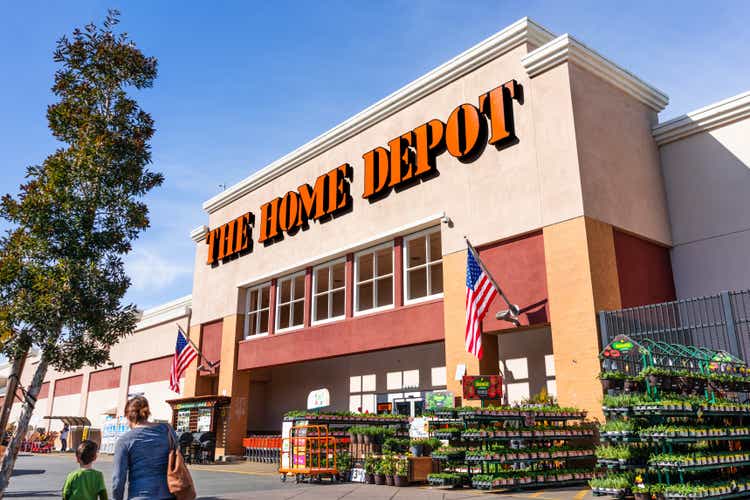 Co-produced by Mark Roussin
The home improvement sector has been red hot since the pandemic hit in early 2020 and things have not really slowed much nearly two years later.
The pandemic kept many at home and that still remains the case for millions that have not returned to the office or may never return to the office with the boom in work from home opportunities. This presented an opportunity and need for many to do some remodeling with their homes.
Here are the results of a poll that was done on why so many did home improvement projects during the pandemic:
According to the poll, the additional time at home was the leading factor to more improvements followed by homeowners looking to add value to their current home. Adding value to the home is interesting due to the fact the real estate market has been insane in terms of price appreciation, many have decided to invest in their current home rather than moving up, hence the low inventory levels we have seen.
Two of the companies that have benefited greatly from this home improvement boom have been Home Depot (HD) and Lowe's Companies (LOW), among others. Over the past year, shares of HD and LOW are up 28% and 35%, respectively, even after the recent dip.
In this piece, we will take a closer look at both Home Depot and Lowe's to see which is the better buy right now.
A Look At Recent Results
The Home Depot (HD)
In mid November, Home Depot reported Q3 earnings that saw the revenue trend continue as company revenues grew 10% to $36.8 billion. This was coming off a quarter in which they saw record revenues of $41.1 billion.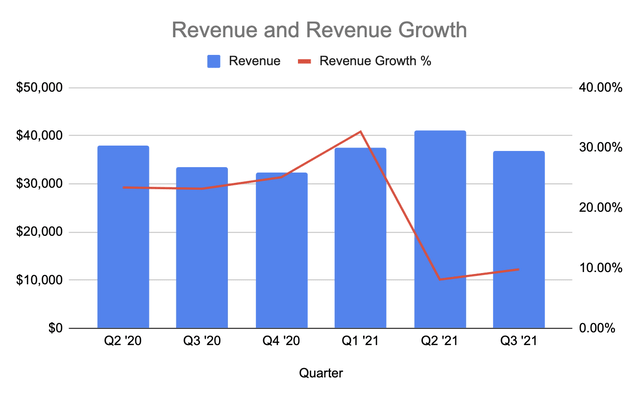 The pandemic skyrocketed home improvement projects as we saw from the poll results earlier, thus comparables were tough in 2021. Looking at the chart above, we can see that revenue continued to grow, just at a slower pace, but it was still another impressive top-line year for Home Depot.
In terms of EPS, Home Depot reported Q3 EPS of $3.92, easily beating the average analyst expectation of $3.37. Gross margins for the quarter came in at 34.1%, which was roughly flat from a year ago.
High inflation has taken a toll on the company from a margin standpoint, as has higher transportation costs. In December, inflation came in at 7%, which was the largest 12-month increase since 1982. Inflation and supply chain issues have been headwinds for many different industries, something that's expected to continue in the short term.
Here's a look at the company's most recent earnings:
Operating income during the quarter saw an increase of 19.4%, which was definitely a bright spot in the most recent quarter. A lot of this was due to the one-time COVID related costs that hit in 2020 when the company was handing out bonuses to keep employees and help them out during the uncertain pandemic.
When HD and Lowe's release their most earnings results, one of the first things I focus on, outside of EPS and revenues, is the following data points:

Comparable sales, number of customer transactions, and average tickets are things I hone in on for HD to give me a better understanding of how the quarter went. In Q3, we saw comparable sales climb 6.1%, which was much slower than Q3 2020, but again, when the country went into lockdown, consumers rushed to perform various home improvement projects. The same goes for customer transactions as 2020 was an unusual year for the home improvement industry.
Lowe's Companies (LOW)
The other side of the home improvement duopoly is Lowe's Companies. Lowe's has been firing on all cylinders and has really been moving in the right direction since CEO Marvin Ellison took the reins in July 2018.
CEO Marvin Ellison was a prior executive at Home Depot, and has seen exactly how Home Depot has managed to become the gold standard in the industry and operate on such an efficient level.
In November, Lowe's reported Q3 earnings that investors cheered.
The same goes for Lowe's as it did for HD, comparables to 2020 were tough given the home improvement explosion we saw in 2020. It does not dampen what the company did in 2021 because the results have been strong, but comparables will be slower.
Here's a look at how the company did compare to analyst expectations:
EPS: $2.73 vs. $2.36 expected
Revenues: $22.92 billion vs. $22.06 billion expected
As you can see, the company beat on both metrics, plus the company raised its outlook for the final quarter of the year.
Again, similar to HD, I look at the other information such as the number of transactions, which were a tough comparable for Q3 and decreased ~7%, but revenues continue to climb and the average ticket climbed 9.4%, which was due to price increases related to pressure from transportation and inflation costs.
Can The Housing Surge Continue In 2022?
A strong housing market has certainly been a huge positive for both Home Depot and Lowe's, but the big question for investors is can they rely on the strong housing market to continue in 2022.
Over the long term, real estate has been a great place to invest as prices have consistently risen over long periods of time. However, more recently, the latest housing data has shown that prices have increased a staggering 18.4% year over year in October, but ticked down 14% in November as the thought of rising interest rates came into focus.
What has been fueling the strong housing market has been the historically low interest rates, low supply, and many looking for more space, even if that means moving out of the city.
Moving into 2022, the Federal Reserve has already indicated we may see multiple interest rate hikes in the next 12 months, which will drag up mortgage rates with it potentially putting some expected pressure on housing sales. Even though rates will rise, they will still be very close to historic bottoms, as such I'm of the belief that it will have a small impact on future buyers but housing will still be solid. If anything, rising rates might fuel more growth due to the fact that future buyers know where interest rates are headed.
I fully expect the housing market to continue its growth path moving forward, which will be beneficial for both Home Depot and Lowe's in 2022. The growth is not expected to be at the pace we have been seeing, but housing demand is still strong and with housing prices very high across the US, home improvement projects should still remain popular in 2022 for homeowners staying put.
2 Strong Shareholder Friendly Companies
Both of these companies have been great to shareholders over the years. Over the past five years, shares of Lowe's and Home Depot have increased roughly 236% and 174%, respectively, compared to the S&P 500 (SPY) returning 105%.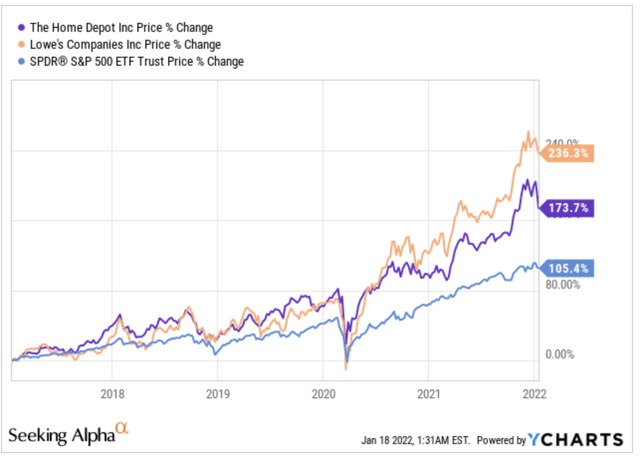 Those returns do not even include dividends paid and compounding that could have taken place as well had those dividends been re-invested.
Lowe's is on the prestigious Dividend Kings list as they have increased their dividend for 58 consecutive years. A Dividend King is one of the most consistent dividend payers on the market. The company currently has a dividend yield of 1.3%.
Over the past five years, Lowe's have increased their dividend an average of 17% per year. The company has a low payout ratio of 26.7% ensuring plenty of room for dividend growth moving forward.

Home Depot on the other hand does not have the same track record as Lowe's, but they are a strong dividend growth stock. The company currently pays a dividend yield of 1.8% and has increased the dividend for 12 consecutive years.
Over the past five years, Home Depot has increased their dividend an average of 19% per year and currently has a payout ratio of 43%.

Investor Takeaway
Both Home Depot and Lowe's are coming off two strong years as we have seen a boom in housing and home improvements that were supercharged by the pandemic and have continued.
Interest rates are expected to rise in 2022, which could potentially have some impact on housing, but the demand appears to still be strong and inventory low, which leads me to believe housing will still perform well in the new year.
Both companies are strong dividend-paying companies and have great potential for strong growth in an industry with solid momentum, making them both good investing options. Both companies are solid dividend growth stocks.
I really like both stocks, but the improvement in Lowe's cannot go unnoticed with the job Marvin Ellison has done to turn that company around. Being that he had a firsthand look at what makes Home Depot so efficient, I believe more improvement is still yet to come for Lowe's. Both stocks are expected to have a strong 2022.
https://seekingalpha.com/article/4481593-home-depot-vs-lowes-which-is-a-better-investment