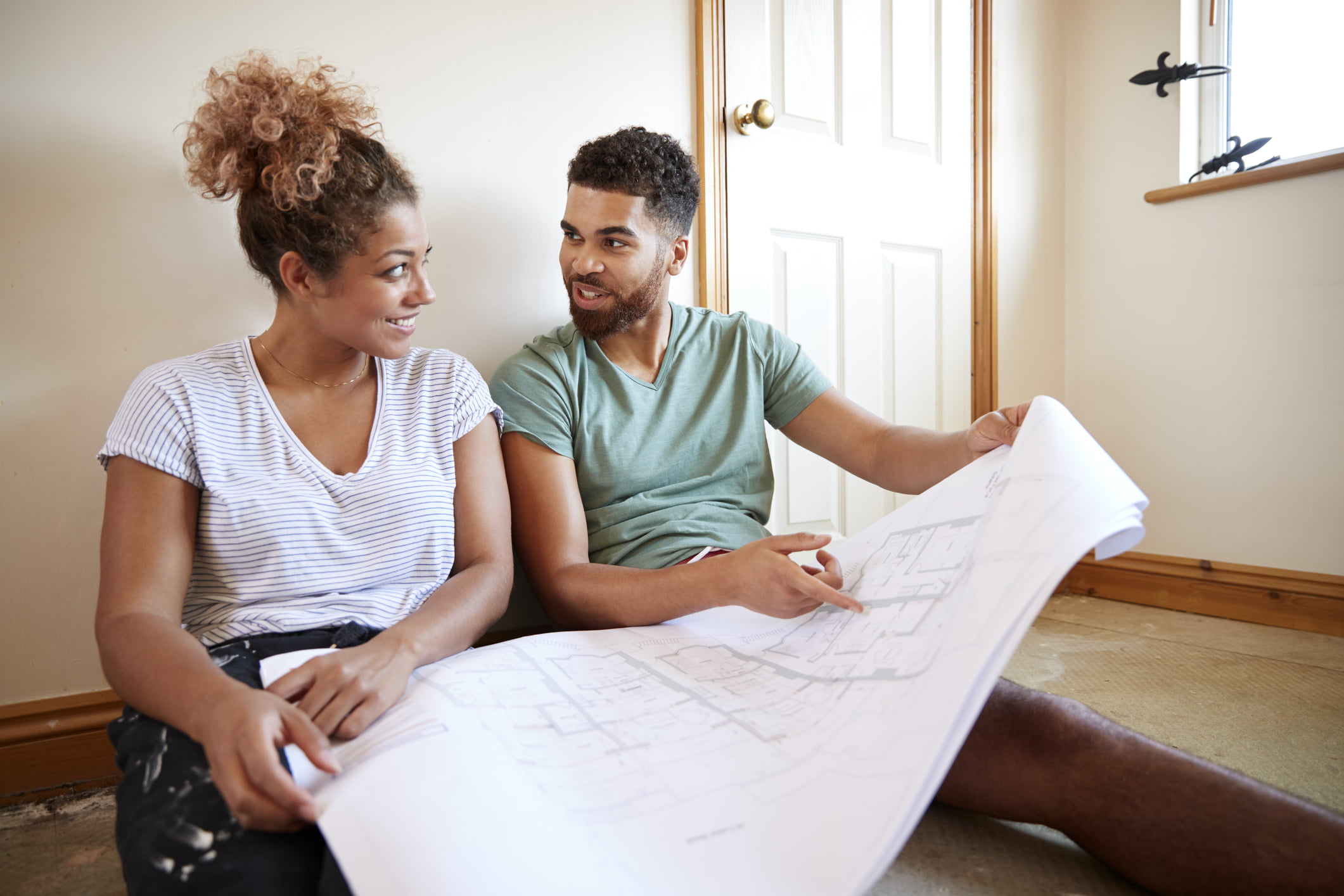 Top energy saving ideas for your home improvement project
Are you thinking about making improvements or upgrades to your home?
There are many reasons people decide to embark on a renovation project, from making more space for a growing family to improving the value of their property. Whatever your reason, it's always worth thinking about how you can improve the energy efficiency of your home during any renovation project. It could help lower your energy bills and cut your carbon footprint.
If you need some inspiration, then look no further! Here are Energy Saving Trust's favourite renovation ideas that will improve the energy efficiency of your home.
Use energy efficient lighting
This is an easy place to start: make sure all the lightbulbs in your home are energy efficient LEDs. If you replace all the bulbs in your home with LED lights, you could reduce your carbon dioxide emissions by up to 40kg a year. And as lighting makes up around 11% of the average UK household electricity consumption, making the switch to LEDs could save you money on your bills too.
Add draught-proofing
Draught-proofing is one of the most effective ways to save energy, money and carbon. For an estimated cost of £240, professional draught-proofing of windows, doors, floors and skirting boards will save you £95 a year and reduce your household carbon emissions by 220kg. If your budget doesn't stretch to a professional job, heavy, lined curtains are an affordable quick fix, helping to keep more heat in your home.
Replace windows and doors
Making your doors and windows more energy efficient will reduce your energy bills and lower your carbon footprint. Double glazing is the most popular option, although costs vary depending on the materials and style. PVC windows tend to be cheaper, for example, while hardwood frames are the most expensive. By installing A-rated double glazing to windows in an entirely single-glazed semi-detached gas heated property, you could save £145 a year and reduce your carbon emissions by 335kg a year.
Install heating controls
By installing and using heating controls effectively, you could save money on your heating bills and lower your carbon emissions. Set your thermostat to the lowest comfortable temperature, typically between 18°C and 21°C. Turning your thermostat down by one degree can typically save you around £105 a year, while installing and correctly using a programmer room thermostat and thermostatic radiator valves could save you £130 each year in an average semi-detached house.
Insulate your loft
Unless you live in a mid-floor flat, heat will escape from your home through the roof. While most homes have at least some loft insulation, often it's not enough. Topping up from 120mm to at least 270mm of insulation will help – and it'll save you around £25 each year on your bills. What's more, if your loft is easy to access and has no damp or condensation problems, it should be easy to insulate – and in many cases, it's possible to do it yourself.
Insulate your walls
Did you know that about a third of all the heat lost in an uninsulated home escapes through the walls? Now's the time to add some insulation. Most homes in the UK have cavity walls, and the gap can be filled with insulation. We estimate that insulating your cavity walls could save you around £285 a year on your energy bills and cut your carbon footprint by 670kg.
Install solar panels
If your budget stretches to some bigger home renovation ideas, consider installing solar panels. These are the most common domestic renewable energy source in the UK and, once you've paid for installation, your electricity costs will be reduced – saving you around £475 a year on your bills (based on a typical installation with occupants at home all day). They'll also reduce your carbon footprint by an impressive 750kg of carbon emissions a year.      
Switch to a heat pump
We've saved our favourite home improvement for last: switching to a low carbon heat pump. Heat pumps are an attractive longer-term, sustainable heating option. The most common heat pump for homes is an air source heat pump, which will cost you around £7,000 – £13,00 to install. While the impact on your energy bills will depend on several factors, including what fuel you're replacing, the efficiency of your heat pump, as well as the design of your central heating system, your carbon footprint will see an impressive drop. Replacing your old gas boiler with an air source heat pump, for example, will reduce your carbon emissions by up to 6,000kg a year.
Last updated: 18 May 2022